The German Tree Cake is made from layers and layers of caramelized cake batter with a hint of rum and marzipan taste. It's a delicious piece of art that we mostly enjoy at Christmas time.
There are variations of this cake in other European countries, too, and a German baker brought this cake to Japan, where it is one of the most loved cakes.
The Tree Cake (Baumkuchen in German) is also called the "King of Cakes".
We don't really know who invented it. It seems that it has been a wedding cake in Hungary for a long time but some claim that the idea goes back to Greece. However, there is written proof that it has been a wedding cake for the rich since the 15th century in Germany. The recipe and technique have changed over time but not our love for this wonderful cake!
Layers and Layers of Love
If you bake this cake at home, it will take some time to create the layers. Each layer has to be baked one after another on top of each other. Each layer is spread as thin as possible, letting the previous layer shine through. The batter then caramelizes under the broil of the oven, creating the tree-like lines of the cake.
Taken the labor and time that is needed for this cake, I think it's fair to say that this cake is a work of love!
Of course, the bakers in Germany don't do it this way. They have machines that help them baking this cake and how that is done, you can watch in this video:
Fresh for Long
A good thing, that this cake isn't going to be dry after a day or two. Actually, it stays moist for quite some time like 5 days – if it survives that long! With the cover of chocolate, it stays moist even longer and without the chocolate, it is perfect for freezing. In my video, you can actually find me baking one extra cake for Christmas that will go into the freezer until then. I will take it out two days before Christmas and taw it, then glaze it with chocolate the next day.
How long does the Baking take?
When making this cake, I actually didn't stop the time but I would say that baking the layers took about 45 minutes and I had to stay at the oven the entire time.
Buy or Bake a Tree Cake?
I sometimes see Baumkuchen in groceries in November and December. They are imported from Germany and either a whole tree cake or cut into bites and covered with chocolate. You might want to buy them if you don't have the time or passion to bake this at home. The store-bough Tree Cake is not nearly as moist and delicious as the freshly baked one. It will, however, give you an idea of the taste and whether it's worth baking it – in case I couldn't convince you, yet.
Pin Tree Cake / Baumkuchen to Pinterest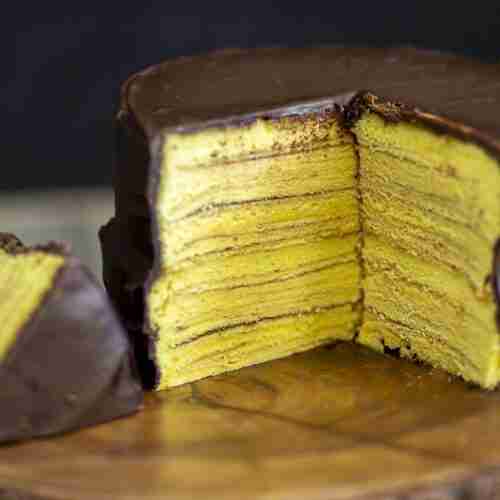 Tree Cake – Baumkuchen
Ingredients
100

g

Marzipan

30

ml

Rum

or some water + Rum Extract

12

ct

Eggs

250

g

Butter

soft

3

g

Salt

1

tsp.

Vanilla Paste

or Vanilly Extract

350

g

Sugar

125

g

Flour

125

g

Corn Starch

or Potato Starch

200

g

Chocolate

semi sweet, milk or dark

2

tbsp.

Apricot Jam
Instructions
Crumble the 100g marzipan into a mixing bowl, add the 30 ml rum (or water and rum extract) and mix until soft.

Separate the egg yolks from the egg whites.

Add the yolks one by one to the marzipan while whisking.

While whisking, add the butter, salt, and vanilla paste.

In a different bowl, whisk the egg whites with the sugar until stiff but don't make them too stiff.

Add some of the egg whites to the mix with the egg yolks, also some of the flour and starch, and carefuly mix with a large spoon.

Repeat until the entire egg whites, flour, and starch are mixed into the yellow batter – keeping the fluffy texture of the batter.

Turn on the broil function of your oven.

Prepare a baking pan with a layer of parchment paper.

Spread a thin layer of batter into the baking pan.

Bake for a short time in the oven under the broil – careful, hot!

Remove the baking pan when the top of the batter starts to change its color to a light brown. Usually after 1-2 minutes.

Add another layer of batter and repeat the baking – layer adding – baking – layer adding … until the batter is all baked and the cake has a lot of layers.

Melt some chocolate and heat some apricot jam.

Brush the cooled cake with a layer of apricot jam all around. Let set for a bit.

Cover the cake with the chocolate all around.

Cut and enjoy a heavenly slice of cake.

If you bake for later:

Freeze without the chocolate and glaze after thawing.