At the request of a viewer, I made this video about Liver Dumplings. We call them Leberknödel in Germany and they are a specialty from the South of our country. My grandmother in Bavaria made them very often.
Like the dumplings from rolls, you will need rolls from the previous day. The recipe is actually quite similar, just that you add liver but no bacon and marjoram instead of a wagon load of parsley. But there are some differences in how to make them.
Liver – not very pleasant
From all meat parts, I think liver is the most unpleasant part to work it, simply because it smells. It's also quite bloddy and if you are to shy with salt and spices, it can taste bitter or weird. But if you are doing it right and brave the scent, you will be rewarded with a very unique and well-tasting dumpling. In my opinion, they taste best if they are made with veal liver.
Hot to eat Liver Dumplings
These dumplings are usually eaten in a broth. We call that meal "Leberknödel Suppe" – so if you travel to Munich and you see that word on the menu, now you know what it is.
A different way to enjoy liver dumplings is with an onion sauce and sauerkraut. I've never had that version, though.
Handmade or with kitchen aid?
In the video, I made the liver dumplings with my kitchen aid and the dough was very smooth. My grandmother didn't have such a machine. she made it all by hand. Her dumplings had a more rough texture but the taste was the same.
You don't like your liver dumplings?
Well, it might happen that you are not a big fan of this dish but I promise: Your dog will LOVE it! I fed some leftover to our neighbor's dog (he is with us when they go on vacations) and he went all crazy for it!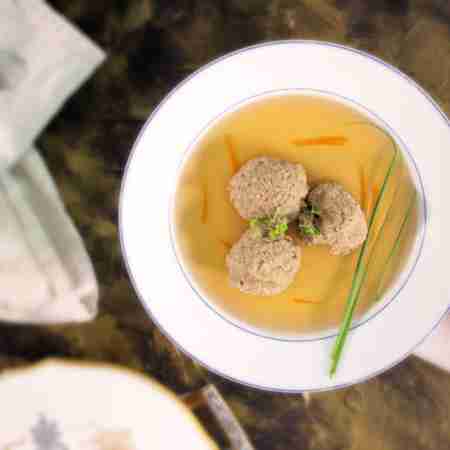 Liver Dumplings / Liverdumplings
Ingredients
500 - 700

g

liver (veal is best)

1

onion

1

small piece

butter

2

rolls from the day before

250

ml

warm milk

1

egg

250

g

bread crumbs

some

parsley, cut

some

marjoram, cut if fresh

some

salt (you really need to be generous here)

some

pepper

some

nutmeg (optional)
Instructions
Cut the onion in cubes and fry them in a little bit of butter.

Set the fried onions aside.

Now cut the rolls into small cubes.

Put the bread cubes into a different bowl and then pour some of the milk over it, mix well, so they all get a little soaked but not too wet.

With a sharp knife, cut or scratch the liver into tiny pieces, as seen in the video. If you have a kitchen aid, just cut it into large pieces and use the machine to cut it.

Now add the fried onion cubes, the bread cubes, the egg, herbs, salt and pepper to it and mix well.

Put into the fridge for 1 hour.

Bring a large cooking pot with salt water to a boil and reduce heat to a simmer.

Shape small dumplings (about the size of a plum) and carefully set them into the water.

When the dumplings start floating to the top, wait 10 minutes for the dumplings to simmer in the water.

Take the dumplings out and add them to a plate with hot beef broth. Add some cooked vegetables or fresh herbs for a richer taste.