I found an easy way to make Quark from whole milk kefir and in my opinion it tastes absolutely delicious and much better than Quark from buttermilk. The buttermilk version is faster though and perfect for baking. Some people even like the taste of buttermilk, so if you are one of them, that's OK.
I am more the whole milk person, so this version is perfect for me if I want to eat my Quark with fruits or herbs or as a dip for veggies et cetera. Since I have a Quark machine, so far that has been my favorite way to make Quark because it is so convenient. Since the machine, the shipping, and the converter add up to some investment (see below), you'd really have to be German or obsessed with Quark to go that far. So I have come across this method to make Quark from Kefir and I must confess: This is the best tasting Quark I ever had since I am in the US! Even my machine-made Quark can't hold the match to this!
First, you have to turn your milk into Kefir – easy peasy with the Kefir culture that you can order at Amazon (1 package has 6 pouches). Basically, all Quark is made with a cultured milk. Some years ago a "Senner" (someone who lives with the cows high in the Alps and makes cheese) told me, that she would just put some fresh milk in a jar overnight and make Quark from it the next morning. Since our milk is always pasteurized (all cultured killed together with the bad bacterias), this won't work, so we have to add a culture. The Kefir culture works great!
Quark from Kefir is very mild and creamy. It is less sour in tasting than the Quark from buttermilk. I didn't even want to add anything to it when I tried it the first time. But of course, you can add fruits (especially strawberries, blueberries, peaches, apricots or cherries) to it and drizzle some honey over it.
Can I just buy Kefir and use that?
If you can get Kefir in your area, you can absolutely buy it there and make Quark from it … but: It will be a lot cheaper to make the kefir yourself!
Look at this price tags – and that's not even half a gallon … I was shocked when I saw these prices.
Germans love Quark
I've stated it before, in the article about how to make Quark from Buttermilk: We can't live without Quark! And now I can even show proof since google trends shows it so nicely in this search volume graphic:
Buying a Quark Machine
OK, you decided to go with the machine, great! Let me help you with ordering it in Germany:
The machine is called "Quark Bereiter" but the one that I recommend is a French product, called "LAGRANGE Yaourtière Fromagère" – it's a newer version of my machine.
As of today (June 13, 2018) the machine, shipping, and the converter will add up to roundabout $100.
To make the Quark, you will also need a culture and some rennet.
Now you are all set for making Quark!
Add milk to the container (with the basket in it) that comes with the machine, add a little bit of the culture (about 1/4 teaspoon) to it, stir. Add some drops of rennet to it, stir and bring to a halt. Set machine to 13 hours.
Once the time has passed, remove the container from the machine, put it into the fridge. When it's cooled completely, elevate the inner basket like part of the container, so the whey can drip into the container and the Quark remains in the basket. After some hours or overnight you will have the finished Quark.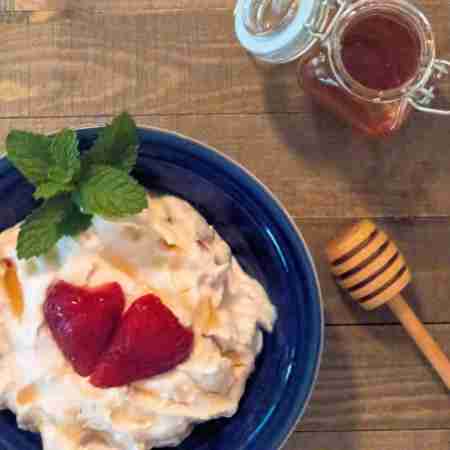 Make Quark from Whole Milk Kefir
Ingredients
1800

ml

whole milk

2

pouches

kefir culture:

https://amzn.to/2MouyJi
Instructions
Pour almost all of the milk into a large bowl or pitcher.

Add some remaining milk into a small bowl and mix with the kefir culture powder.

Stir the culture until most of it has dissolved.

Now add the culture mix to the large bowl with the milk and stir.

Cover and let stand for 24 to 36 hours.

Put a cheesecloth into a colander and set the colander on an empty bowl.

Pour the kefir into the cheesecloth and let stand in the fridge for at least 3 hours - better overnight.

The whey (very healthy, drink fresh with some juice) is now in the bowl and the Quark is in the cheesescloth.

Remove the Quark from the cheesecloth and add to a smaller container or mason jar. It will be good for 1 - 3 weeks if stored in the fridge.