Wonder how to make delicious creamed spinach? Look no further, I have the perfect recipe for it! Even if you hate spinach (I think I know why), try this recipe and become a real spinach fan.
It came to my attention that a lot of Americans really hate spinach … probably even more than broccoli. In Germany, on the other hand, spinach is loved by young and old. Why? Because it is always made in a way that eliminates the bitter taste and the weird feeling on the teeth. We buy our creamed spinach ready to use in a frozen package, just need to thaw it, heat it and then serve it. But of course, we also know how to make it from scratch and I will share how we do it in Germany.
Video for "How to Make Creamed Spinach"
German vs. American Spinach Recipes
While some recipes here in the US for creamed spinach seem quite similar, there are a couple of differences: Some recipes ask for frozen spinach but I would always use fresh spinach since it is not a given that the frozen spinach has been blanched. Then, American recipes often use half and half instead of heavy cream … well, that's up to you … and also add cheese to the spinach – we don't do that. Last, they usually leave the spinach whole while we blend it. To me, it seems that the American version ends up in a bit of a slimy, gooey consistency – not my thing. Also, in some restaurants here, the experience with spinach as a side dish has been mostly disappointing with unblanched spinach.
Spinach and That Weird Tooth Sensation …
If you eat spinach and then feel like you just ate chalk, you can be sure that your spinach has not been blanched (correctly). Spinach contains oxalic acid which is the culprit here. Oxalic acid is probably the spinach's defense for insects and it seems to be working on quite a few humans, too … unless it's prepared as I recommend. But there is more to Oxalic acid: It is also a nutrition blocker, blocking the body from absorbing calcium. Yes, that is a bad thing, especially for us women who are always at a greater risk of Osteoporosis. So, the salvia in your mouth contains calcium and reacts with the oxalic acid and that gives that chalky sensation on the teeth.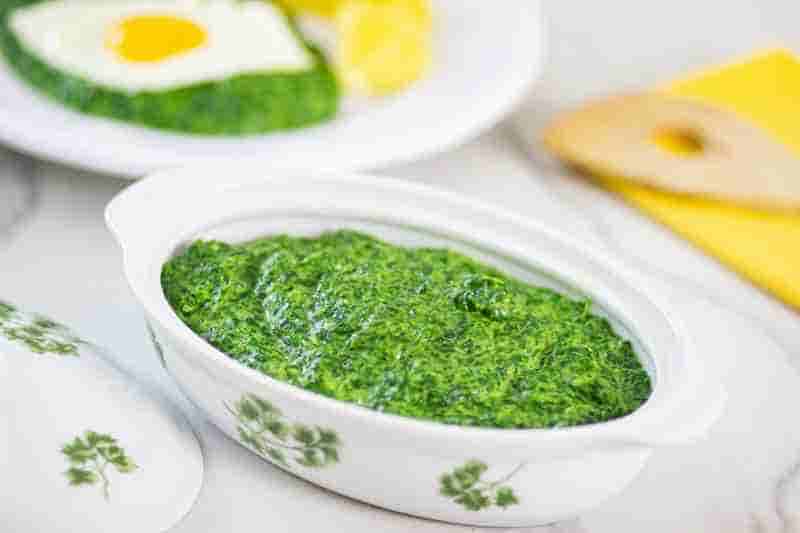 How to get rid of the Oxalic Acid in Spinach
It's pretty simple: Just blanch the spinach! But you have to do it correctly, otherwise, it won't work. So here is how it works:
You boil the spinach leaves in salted water for 30 to 60 seconds (not longer) and then immediately put it into ice water (not just cold water).
This process not only eliminates the oxalic acid, it also keeps the color of the spinach bright and removes any bitter taste.
Can We Safely Reheat Spinach?
Yes, BUT: You have to reheat it gradually! Do not use full power, no matter how much you want to rush the process. The reason for this is is a bit difficult to explain and I want to leave that to those who seemed to have embraced the task while I continue to stay away from Chemistry topics. It's just not my strong side, let's say that. So, here is explained why: Foodsguy.com
Leftover spinach should be put into the fridge asap, don't leave it out more than two hours.
Can I Freeze Creamed Spinach?
If you want to prepare a larger amount of creamed spinach to use in the future or have a leftover, you can absolutely freeze that. I would recommend freezing it in ice cube containers (if you have enough of them) or in flat bags so the thawing won't take too long. Here again, it is important to get the spinach to the desired temperature slowly.
Best practice: Let thaw in the fridge overnight, slowly reheat in a pot to serve immediately.
Also, Check out this Recipe:
Creamed Spinach Pin Picture
Recipe: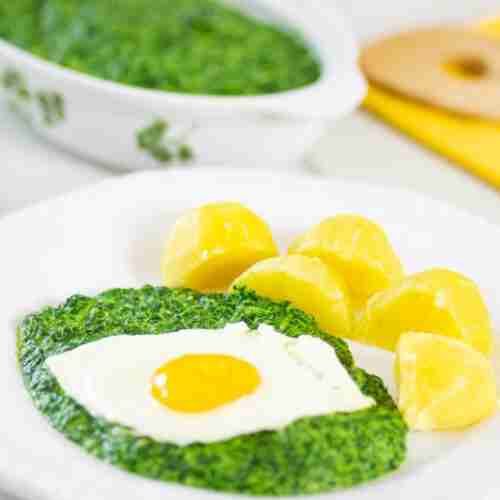 Creamed Spinach
Ingredients
750

g

Spinach

fresh

2

l

Water

lightly salted

Ice Cubes & cold Water

in a bowl

2

tbsp

Butter

1

Onion

small

2

cloves

Garlic

4

tsp

granulated Vegetable Broth

disolved in little water

150

ml

Heavy Cream

2

tbsp

Flour

some

Salt

some

Pepper

some

Nutmeg

ground
Instructions
Blanching
Wash the spinach until the water is clear.

In a large pot, bring the lightly salted water to a boil.

Add the spinach to the boiling water – you might need to do it in several portions to fit all of it.

Let boil for 30 to 60 seconds, then immediately take it out and put it into a bowl with ice water. Discard the cooking water.

Remove the spinach from the ice water once it has cooled and put it into a colander. Press the spinach by hand to remove as much water as possible. Let continue to drain while you continue with the next steps.
Preparing the Creamed Spinach
Dice the onion and heat a pot with the butter.

Fry the onions in the butter and peel the garlic.

Once the onions are cooked until translucent, add the garlic with a garlic press and fry for 30 seconds, then add the spinach and stir.

Next, add the broth and the cream (as explained in the video) and stir.

4 tsp granulated Vegetable Broth,

150 ml Heavy Cream

Let cook for some minutes, then use an immersion blender to blend it all.

Mix the flour with a bit of cold water and mix into the spinach.

Add salt, pepper, and nutmeg to taste.

some Salt,

some Pepper,

some Nutmeg

Serve with potatoes or mashed potatoes and a fried or boiled egg.
Nutrition
Calories:
250
kcal
Carbohydrates:
14
g
Protein:
7
g
Fat:
20
g
Saturated Fat:
12
g
Polyunsaturated Fat:
1
g
Monounsaturated Fat:
6
g
Trans Fat:
1
g
Cholesterol:
66
mg
Sodium:
239
mg
Potassium:
1126
mg
Fiber:
5
g
Sugar:
2
g
Vitamin A:
18309
IU
Vitamin C:
55
mg
Calcium:
236
mg
Iron:
5
mg
Summary
Recipe Name
Creamed Spinach - German Version
Author Name
Published On
Preparation Time
Cook Time
Total Time
Average Rating





Based on 3 Review(s)