Loaded ham rolls with mashed potatoes is my goto recipe when I have little time to cook.
Getting work and family needs covered is often a struggle and I think it's ok to sometimes use short cuts and make an easy, quick meal. But if you have more time, you can as well do everything in this recipe from scratch or prepare it ahead and just reheat it in the oven or microwave.
Video How To Make This Recipe
The Sauerkraut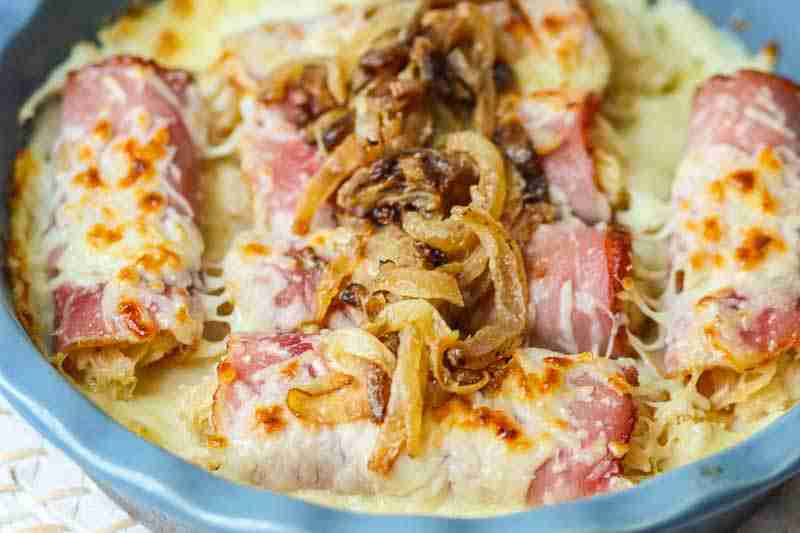 This recipe contains sauerkraut and if you have watched my video for creamed sauerkraut then you will find this preparation very similar. I love putting cream into my sauerkraut to reduce the acid. With the much milder taste, even sauerkraut haters get convinced. Now, if you made creamed sauerkraut and have a leftover, this meal here is perfect to use it!
I also have a recipe for sauerkraut made from cabbage, which you can find HERE.
Sliced Ham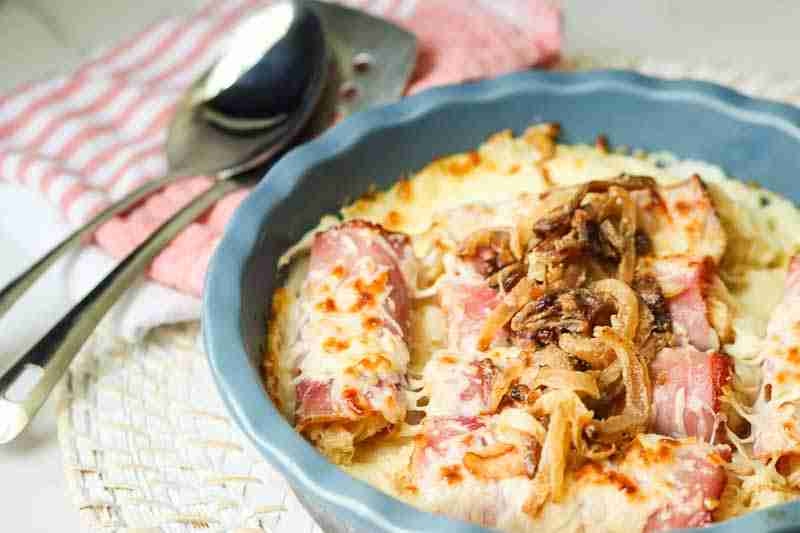 I like to get a fresh, moist ham for this. Most pre-packed cold cuts are either very dry or somewhat slimy so I go to the service and let them cut some fresh slices from the ham. It needs to be thick enough to not fall apart but also thin enough to get rolled.
Whether you want it as honey ham or smoked or whatever they offer, just choose what you like!
The mashed potatoes
I love mashed potatoes and at some point in my life I was basically living on mashed potatoes with a fried egg on top. Still one of my favorite things to eat! Obviously I prefer to make it from fresh potatoes and it's what I always try to use but sometimes I just can't find the time to make it from scratch. My family knows that my schedule is on fire when I use a package like here in the video … they will then volunteer to clean the kitchen and unload the dishwasher etc. so it's basically a signal for help, haha!
Pin Loaded Ham with Mashed Potatoes to Pinterest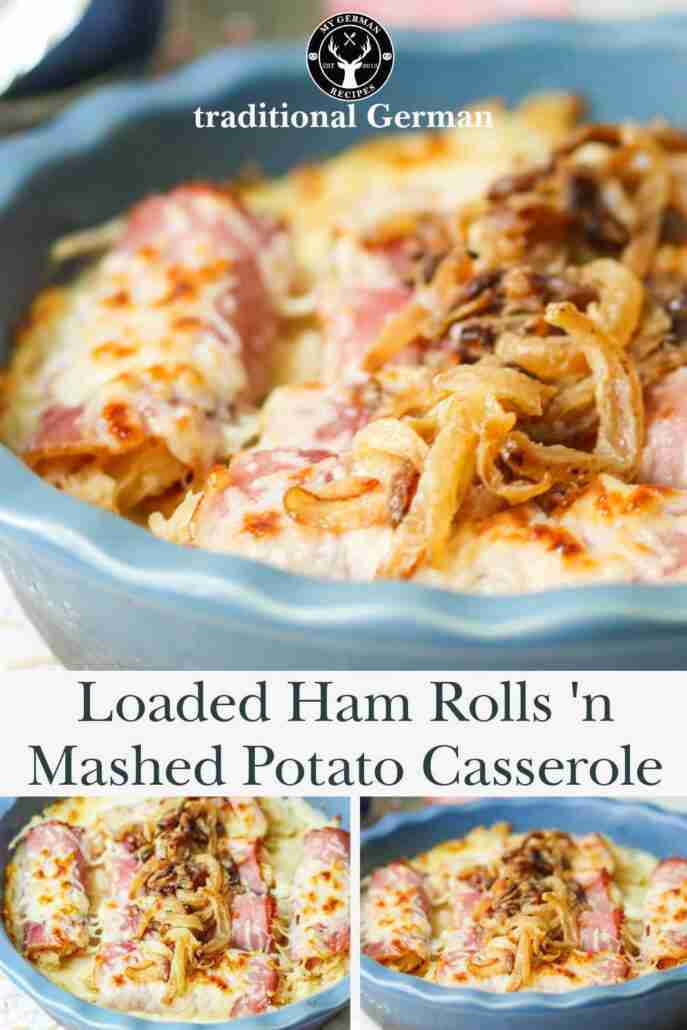 Loaded Ham Rolls with Mashed Potatoes
Ingredients
1

Pouch

Instant Mashed Potatoes plus needed ingredients

or leftover mashed potatoes

4

Tbsp

Heavy Cream

1

small can

Pineapples

6

slices

Ham

½

jar

Sauerkraut

30

g

shredded cheese

i.e. Mozarella

½

Onion

Some

Butter
Instructions
Put the sauerkraut into a pot, add the cream. Cut the pineapples into small pieces and add it with a bit of the juice. Bring to a boil and simmer on medium heat for a 10 minutes.

Preheat the oven to 350 F/180 C.

In the meantime, prepare the mashed potatoes according to the package instructions.

Fill the mashed potatoes into a casserole.

Take a slice of ham, put some of the sauerkraut on it and roll it to a tube. Place it on the mashed potatoes. Repeat with all ham slices.

Sprinkle the cheese on top and put into the oven for 10 minutes.

While the casserole is in the oven, cut and fry some onions in butter until browned. Garnish the finished casserole with it.
Nutrition
Calories:
814
kcal
Carbohydrates:
28
g
Protein:
49
g
Fat:
57
g
Saturated Fat:
28
g
Polyunsaturated Fat:
5
g
Monounsaturated Fat:
21
g
Cholesterol:
196
mg
Sodium:
5199
mg
Potassium:
1424
mg
Fiber:
14
g
Sugar:
13
g
Vitamin A:
1168
IU
Vitamin C:
72
mg
Calcium:
352
mg
Iron:
8
mg