When I was little, I called Russian Bread "ABC Cookies". These crisp cookies come in the shape of our alphabetical letters, just like the Alphabet Cookies here in the US.
With the name Russian Bread, one would think of bread from Russia like a rye bread or so. I had to do some research to learn about how it came to have this name. Apparently, a German baker learned the recipe for the batter when visiting Russia. Back home in Germany, he then decided to make these cookies. I don't know why he made them in the shape of letters but I think that makes them so special.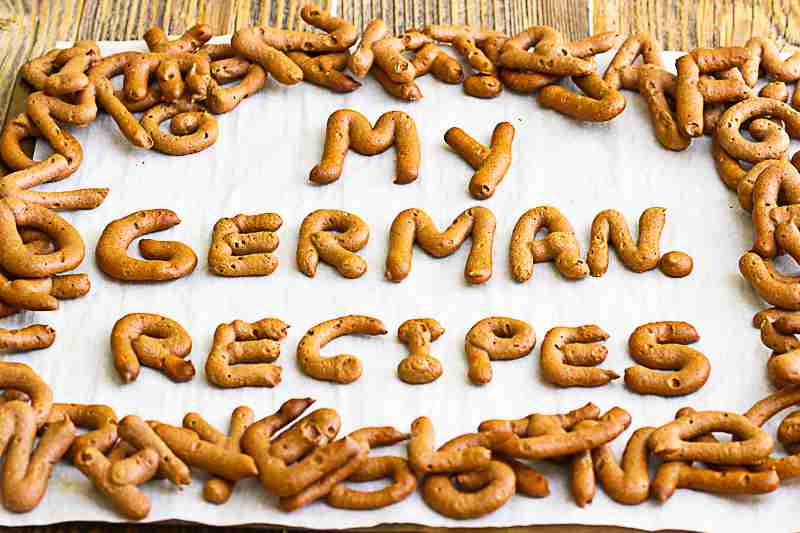 Video for Russian Bread Cookies
Russian Bread is light and crisp, they just disappear into your mouth and you just want more and more of them. We also used to dip these cookies into our tea, which is delicious, too. They are great to write something or learn the alphabet and kids just love these cookies.
Don't Bake Too Long!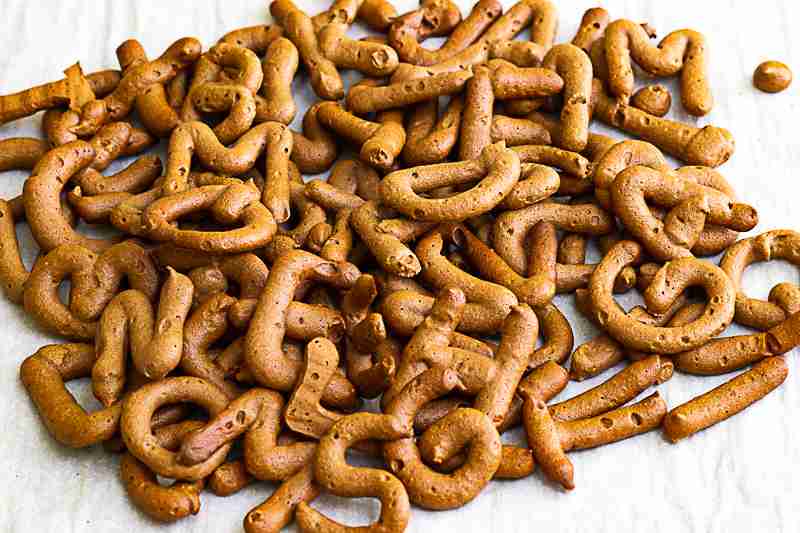 As some might know, cookies continue to bake for a while after you took them out of the oven. So, don't wait until they are fully baked in the oven because if they bake too long, they will become rock hard and difficult to eat (but still tasty!). Your cookies will be right if they are crisp and light in texture.
Pin Russian Bread to Pinterest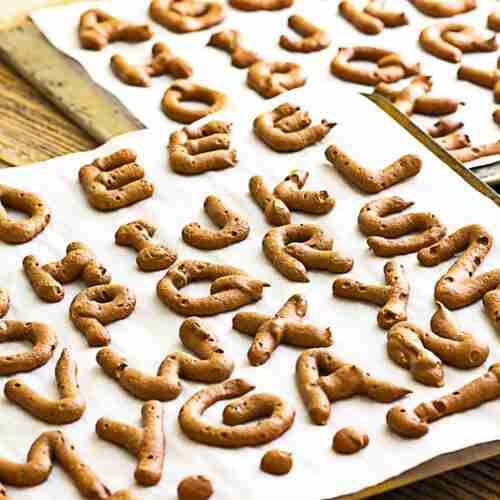 Russian Bread – German Alphabet Cookies
Equipment
piping bag with round tip
Ingredients
4

Egg White

1

pinch

Salt

150

g

Sugar

150

g

Flour

20

g

Cocoa powder

unsweetened
Instructions
Start to whip the egg whites with the pinch of salt and once they become foamy, slowly add the sugar and vanilla sugar (or extract). Whip until egg whites keep their shape.

Mix the flour with the cocoa powder. Through a sieve, give the mixture on top of the egg whites.

Carefully fold the dry ingredients into the egg whites until well combined.

Fill the batter into a piping bag with a medium-sized round tip.

Prepare two baking sheets with parchment paper or a silicone mat.

Pipe the batter onto the baking sheets in the shape of letters and numbers.

Let the letters and numbers dry for about 20 minutes, meanwhile, preheat the oven to

170°C / 340°F.

Bake the cookies for about 16 to 18 minutes – it might be less or more time, depending on your oven – check oven in between and make sure you don't bake them too long! Remember: The cookies will continue to bake after you took them out of the oven!