There is a restaurant in Hamburg, called "Schweinske". It's very popular and almost all of their dishes are with pork. Over the years they got so successful, that there is a Schweinske in almost every district of Hamburg and they have even expanded to other cities in Germany.
Many years ago my husband and I had a delicious "Schweinie" there, basicly a Pork-Coleslaw Sandwich and ever since we are making Schweinies at home.

The word "Schwein" sounds probably familiar to you (thanks to the Swine Flue), it means "pig". While in the English language the meat of pigs is called pork, in Germany we name it after the animal it comes from: "Schweinefleisch" = pig meat, or short just "pig".
Schweinies are great on a hot summer day – we have a lot of them here in Texas – or when I am in a rush and need to fix a quick meal. It just takes a few minutes and it is so good! Even my youngest one, who is not big in eating, finishes her Schweini / Piggie!
Since pork is cheaper than most other meats, it is also great if you have to stay in your budget. Four Schweinies cost me roughly $12  (well, in Texas, 2015). For good eaters, you might want to plan 2 Schweinies for an adult, but for my family one per person is usually enough.
Here is my version of a Schweinie / Piggie / German Pork Sandwich and I'm quite sure you will like it as much as we do!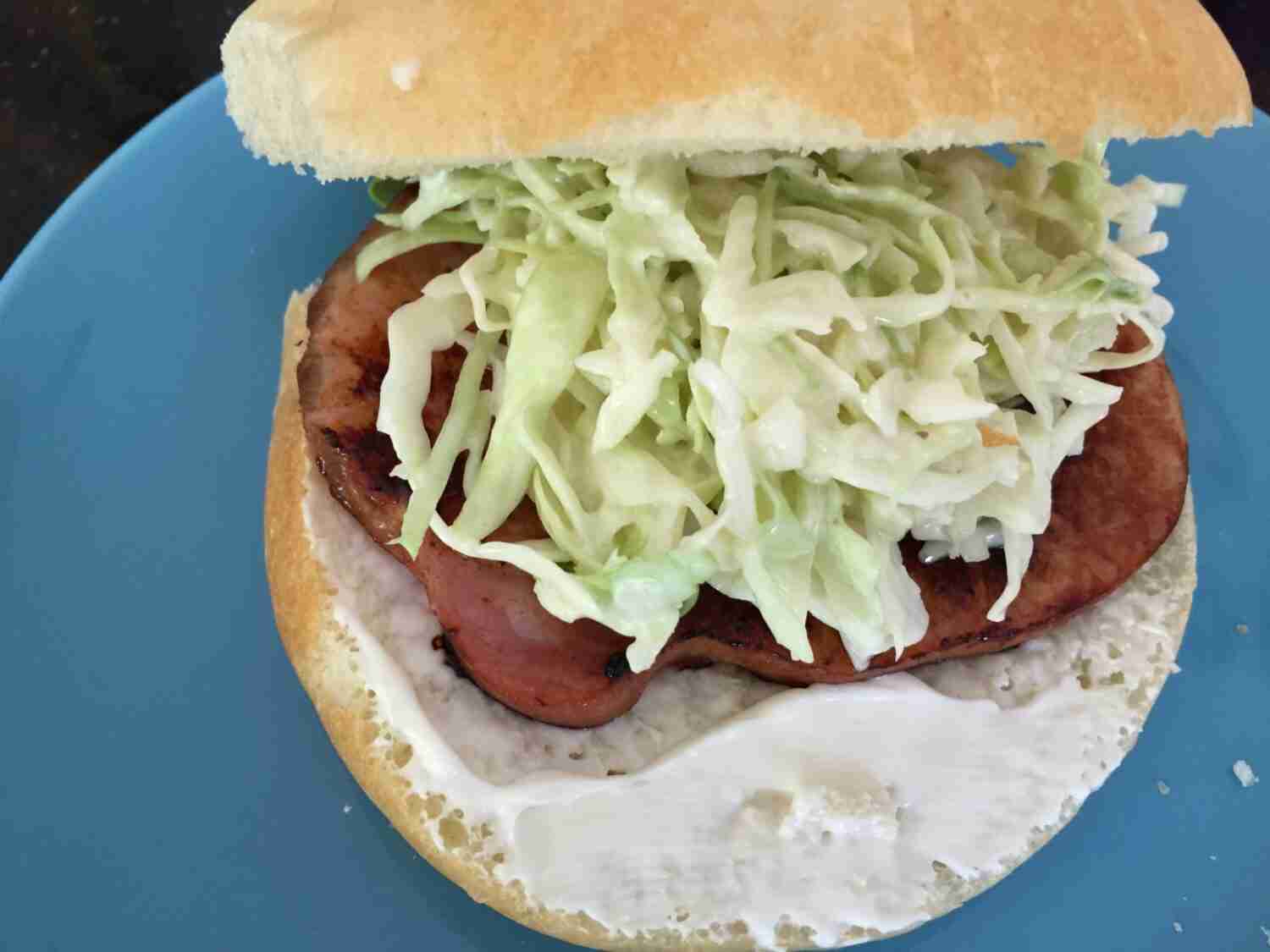 Schweinies / Piggies
Simple, quick, inexpensive and very delicious!
Ingredients
4

slices

smoked pork chops / loin

(if there are bones, remove them)

1

bag

coleslaw

(anglehair works best)

1

cup (about)

coleslaw dressing

some

mayonaise

4

dinner rolls or hamburger rolls

1

tbsp

oil

to fry the pork
Instructions
Put oil into a pan and heat.

Add the pork chops to the pan and fry from each side for a few minutes so they are hot and a little bit brown.

Mix coleslaw with the dressing.

Cut the dinner rolls and spread some mayonaise on each half.

Put one slice of pork on the bottom half of the roll.

Add Texas style if you want: BBQ sauce on top ... ;-)
Notes
Smoked Pork Chops are called "Kassler" in Germany. If you can't get them in your supermarket, use a thick slice of ham instead. It's just as delicious!
Where to buy Pork Chops in Texas
You can find them at your HEB at this area:
This is what the package looks like: