Whether you want your egg salad on a sandwich or for a brunch at Easter, this recipe is failproof, fast and tastes wonderful. It's also very light but not at the cost of the taste!
Not so heavy
There is not too much to write about egg salad since this is very well known in the US, too. But though I have seen sandwiches to buy at the airport or coffee shop, I guess nobody here is selling them on a roll for breakfast. In Germany, you can just walk into a bakery and ask for a roll with egg salad and they will make you one.
They used to be quite heavy with a lot of mayonnaise but meanwhile, we found ways to have the same great taste with a lot less of the fat in it. We simply mix some mayo with a good yogurt and voilà – a lot healthier!
Boiling eggs
Some people seem to struggle with boiling eggs on point. Yes, there is always a little bit of a guess involved but my method has never really let me down so far:
Put the eggs in a cooking pot and cover with cold water.
Set on the stove and bring to a boil.
Once the water starts to boil vigorously. measure the time.

soft egg yolks: boil 3.5 minutes
hard boiled: boil 5 minutes
wax soft for egg salad: boil 4 to 4.5 minutes
Your cooking time might differ a little, depending on your altitude and the size of the eggs so if this time doesn't do the trick, remember to add or subtract time according to your result the next time you boil eggs.
The Trick to cut the Eggs Fast
I came across this trick with the potato masher last Easter when I asked y friend for her egg salad recipe. She described it to me and I was like "Why didn't I think of that?". Her method is so much faster and also a lot more fun! Just mash the eggs with it and they will be in perfectly tiny cubes. This makes the egg salad so much better to spread!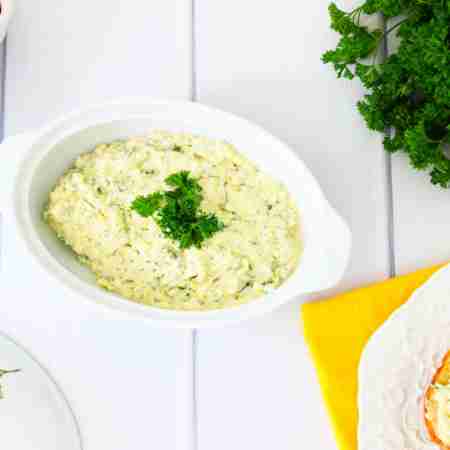 Egg Salad
A quick and light Egg Salad with all the taste!
Ingredients
6

Eggs, wax soft boiled

1

cup

Yogurt

1

Tbsp

Mayonnaise

2

tsp

Mustard

1

tsp

Capers

optional!

8

Cornichons

1

clove

Garlic

some

Salt, Pepper, Cayenne Pepper

½

bundle

Parsley
Instructions
Cut the Cornichons into small cubes.

Cut the eggs in halves and put them into a bowl.

Mash the eggs with a potato masher until they are in small pieces.

Add the Yogurt, Mustard, Cornichons, Mayonnaise, Capers (optional) to the bowl.

Put the garlic through a garlic press or use a fine grater to rasp it. Add it to the bowl.

Wash and cut the parsley.

Add the parsley to the salad, stir and put into the fridge over night.

Enjoy on rolls, toast or bread.