Wurst Salad is very similar to the Fleisch Salad that I posted a while ago. At least, some of the ingredients are similar but it is made with a vinaigrette and enjoyed as a side dish, not on a slice of bread.
Wurst Salad …
is very refreshing and perfect on a hot summer day to have a light meal or snack with a glass of beer or so. In my video, I explain the difference between the Bavarian and the Swiss Wurst Salad, which is basically just adding some Emmentaler cheese for the Swiss version.
Radish
Adding some red radish gives this rather pale salad some color but in Germany, we also have a different radish, which is white and except for the color looks like a huge carrot. That kind of radish is also enjoyed my just cutting thin slices, put some salt on a slide and just eat it like that. Very common at a Biergarten as a snack but it can also be added to this Wurst Salad.
Add more Color to the Salad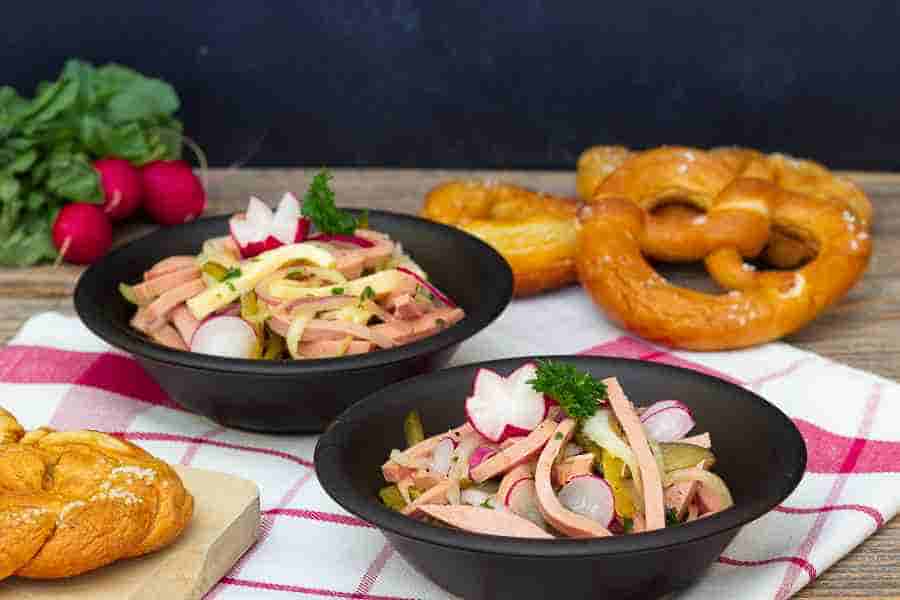 This salad also gets more color if you use some red onion with the yellow onion. Red onions are a little sweeter than their yellow sisters, which is great in this dish. I like to add some parsley for contrast, too.
Changes to the Recipe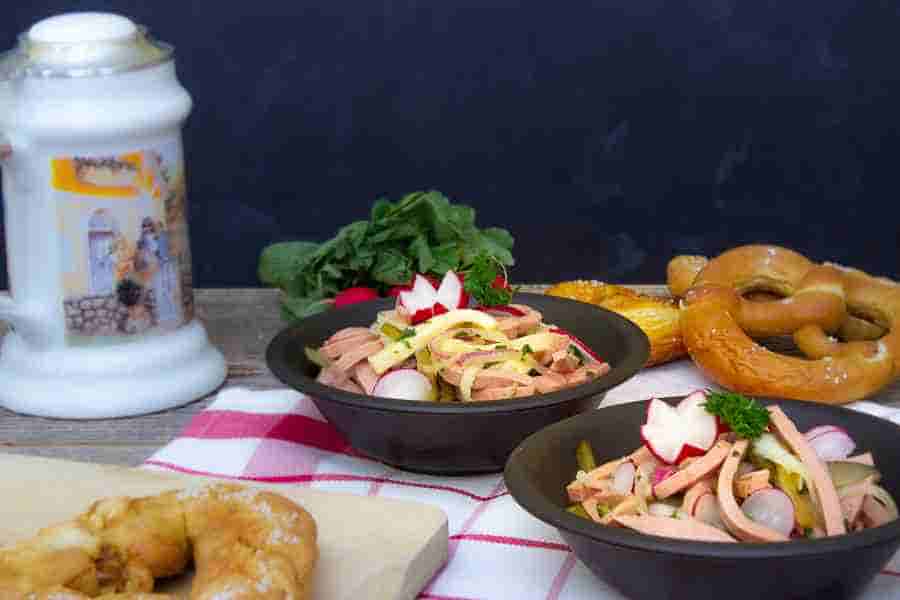 The recipe here is the basic recipe but your are of course free to experiment a little with it. I.e. if you want to add a little more sweetness or can't get the sweet bavarian mustard and don't want to make it yourself, just add a bit of honey!
If you like your dressing a little more intense, use less of the broth.
You can use different kinds of "Wurst" here. If you have access to a German butcher shop, you might want to try this with some Zungenwurst or Blutwurst.
It doesn't have to be Emmentaler cheese unless you are Swiss. Since imported cheese is often pricy, feel free to use a mild cheddar or other cheese from the country you are living in.
Pinterest Picture
Bavarian Wurst Salad & Swiss Wurst Salad
Ingredients
600

g

Bologna

or Mortadella, Lyoner, Regensburger …

1

yellow Onion

medium size

½

red Onion

4

Pickles

2 – 4

tbsp

Pickle Juice

3

tbsp

Apple Cider Vinegar

3

tbsp

Sunflower Oil

or other neutral oil

250

ml

Beef Broth

1

tbsp

Mustard

mild or spicy

1

tbsp

sweet Bavarian Mustard

alternative honey

½

tbsp

fresh Horseradish

or 1 tbsp. storebought Horeseradish

½

tbsp

Mustard Seeds

soaked in 1 tbsp. broth

some

Salt

some

Pepper

4

radish

optional

300

g

Emmentaler Cheese

optional

some

Parsley

for decoration
Instructions
Cut the Wurst (Bologna) into thin stripes and put into a large bowl.

Thinnly slice Onion rings from the yellow and red onions and add them to the Wurst.

Thinnly cut the Pickles into slices and also add to the bowl.

In a different bowl, mix the pickle water, vinegar, oil, horseradisch, both mustards, mustard seeds, and the beef broth, and salt & pepper. Mix with a whisk until well corporated.

Pour this over the wurst and mix well.

If you want to have the Swiss version: Cut the cheese into thin slices and also add to the bowl with the wurst.

Chop some parseley and add to the salad for some contrast.

Optional: Cut some radish into thin slices and mix with the wurst salad. Decorate the salad with additional radishes.

Serve with a pretzel or a slice of rye bread and a cold beer.