Usually, I am getting my Sauerkraut at the grocery but I as asked to show how to make Sauerkraut the way we do it in Germany. So here is my Sauerkraut recipe for everyone who can't get it at the grocery.
You have probably seen my recipe for Creamed Sauerkraut, which is the absolute favorite of everyone who has tried it. In order to make it, you will need Sauerkraut and you can make it at home with just a few ingredients.
To be honest, I didn't know how to make it until someone asked me to make a video of it. So I did some research and I was surprised because I have always assumed that there would be vinegar involved. It's not. The sour taste is the result of the fermentation and that happens thanks to the lactic acid bacteria which are very healthy for your gut.
Work Clean
In order to grow the right bacteria, you need to work very clean: clean hands, clean tools, and a clean jar or glass.
It is also recommended that you get an organic cabbage for this. The commercially grown cabbage has been treated with all kinds of chemicals to make it last longer and that will most likely have affected the lactic acid bacteria on its leafs. So I think one can assume that an organic cabbage has more of these bacteria and therefor will ferment better.
Leave some large leafs
In my video, I forgot to save some of the large leafs before cutting the cabbage. You will need one or two large leafs to put them on tom of the sauerkraut in the jar, to make sure everything is submerged and no stray cabbage pieces are floating on top.
Spices
You can make your Sauerkraut with just a cabbage and salt and maybe some water if needed. That will totally work and taste good. But I like it when things are a little more complicated and have more taste to it. That is why I decided to add juniper berries and a bay leaf and even some apple slices. I, however, didn't use the caraway seeds since I don't like the taste. But you can feel free to add some caraway seeds to your Sauerkraut – either now or later when you cook it.
Cooked or Raw?
Did you know that you can eat your Sauerkraut raw? It is even more healthy than having it cooked. So, both ways are possible and delicious and you should definitely give a raw sauerkraut a try!
Fermentation Jar
This is the jar I am using in the video. I got it on amazon here.
Pin to Pinterest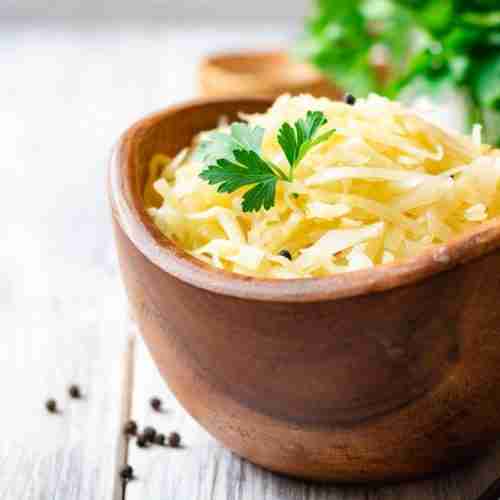 How to make Sauerkraut from Scratch
Ingredients
1

kg

cabbage

20

g

salt (20g per 1 kg cabbage)

10 – 15

Juniper Berries

1-2

Bay Leafs

some

caraway seeds (optional)

some

apple slices (optional)
Instructions
Take 1 – 2 of the large cabbage leafs or the cabbage and put them aside for later.

Cut the cabbage into quarters and then cut it into very thin slices or shred it with a machine or mandoline.

Put the cut cabbage into a large bowl and add the salt.

Start mixing the salt with the cabbage and knead the cabbage.

Keep kneading until the cabbage has become very soft and a lot of liquid has come out of the cabbage.

Add the spices to the fermentation jar.

Put some of the cabbage into the jar and then press it down with your fist or a tool to make sure there are no air bubbles. Press down very much!

Add more cabbage and press down again.

Continue doing this with the remaining cabbage and optional add a layer of apple slices between the cabbage.

When all cabbage is in the jar, press down again, then add the large leaves on top and put the weight on top to keep cabbage from floating.

The liquid of the cabbage should completely cover the cabbage leaves on top. If not, add some filtered water until everything is submerged.

Close the lid acording to the instrucions of your jar or glass..

Leave on the kitchen counter for 3 to 6 days, then move it to the fridge for an additional 21 days.

After 21 days in the fridge, your sauerkraut is ready. You can keep it in the fridge for up to a year.