Even in Texas it can get cold and the most delicious way to get warm after a stroll in the cold, is drinking an egg schnapps "Snowflake". I can still see my grandmother and her friends sit together in the afternoon and sip some Eierlikör in my memory. It is especially enjoyed at Easter and also an ingredient for countless cakes and cocktails.
So simple – so delicious
This is so easy and quick to make, you can even make it with half frozen fingers after shoveling snow! There really isn't much to it and if you are in a special hurry to warm up, just put some Eierlikör into the microwave to carefully heat it.
The hot Verpoorten Egg Liquor and the cold whipped cream make this so special. I always add a little more cream to the Verpoorten to have a milder alcohol taste – but that's just me being … a snowflake ;-) .
You can order Verpoorten online here: https://www.totalwine.com
More Recipes
My bottle actually came with a little booklet with more recipes and I will definitely make some more with it next spring around Easter. I might need another bottle then, though, since this cold fall seems to forecast a cold winter here in South Texas.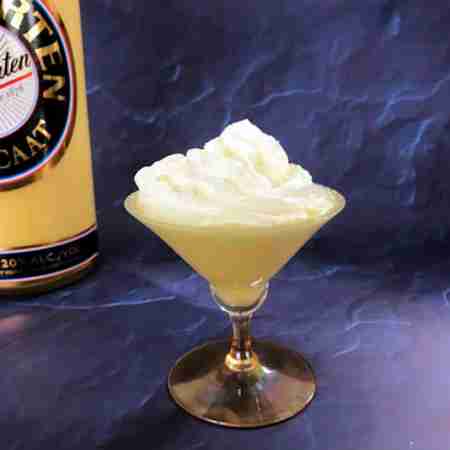 Snowflake - Hot Verporten Egg Schnaps
Ingredients
⅓

cup

Verporten egg schnaps

1

hip

wipping cream

1

can

whipped cream, cold
Instructions
Pour the Verpoorten into a sauce pan.

Add some cream (optional).

Carefully heat, don't let it get too hot.

Pour the Verpoorten into two shot glasses.

Top with the cold wipped cream.

Optional: sprinkle some coco powder on top.