Every year, about the end of August, I find sugar plums at the grocery and immediately go bananas! I buy them all – no plum left behind!!! It's the kind of thing I can't really explain, just like my drawer full of empty pizza sauce glasses. It's something deep inside me that tells me: You need that! You need plum cake!
How to make German Plum Cake with Crumbles
My Plum Cake History
Plum cake isn't even a childhood memory since my mom wasn't into baking. The first time I have a memory of baking plum cake was about 23 years ago when my oldest daughter was little.
Back then, I baked a bunch of plum cakes and froze them, so I had some cake in case of visitors. You can read about the traditions about cake and visitors in this blog post? Throughout the year I thawed the cake, piece by piece, and ate it – with or without friends. I put each slice into the microwave for about 70 seconds and enjoyed it warm with some cold whipped cream and sometimes I added a scoop of vanilla ice cream to it – hmmm!
Houston, We Have a Problem!
Now, I really can't stop myself when it comes to sugar plums, especially since I am in Texas and they are not so easy to find. In Germany, the plum season is actually a big thing since quite a few people are crazy about plum cake just like me.  There is this scent that pours out of the German bakeries at this time of the year. No one can resist that! Plum cakes fill the bakery shelves and lure people in. And there are several options when it comes to the dough. This recipe is the most common in my home country. It hasn't really been my favorite for a long time, to be honest. The reason is, that the original recipe usually doesn't have a lot of sugar in the dough but since I added more sugar, I love it as much as my other plum cake recipe. The other recipe is without yeast. I hope to find more plums, so I can show you version 2, too.
Yes, this dough is made with yeast!
You could almost call this a plum pizza ;-) . It is supposed to be very fluffy and soft. My personal challenge here in Texas used to be, that my oven had only heat from the bottom. From Germany, I am used to a convection oven where the heat comes from all sides. My old Texas oven burned quite a few of my cakes from underneath and to avoid this, I baked this cake on a high rack. When I saw the sides getting brown, I stoped the heat, lowered the rack and then instead used the broil for a little bit. This way all sides got the heat they needed to get baked through. The down side was, that the cake was not as moist as it should have been. Meanwhile I was able to switch the old oven for a new convection oven and things are easier now. If you have a convection oven, call yourself happy and bake it at 340°F for about 20 to 30 minutes.
No Sugar Plums for this Plum Cake?
I know, sometimes it's difficult to get these plums. But don't worry, you can make this cake with the regular plums from your grocery. The taste is not so much different and it will still work out just perfectly!
Less work:
If you happen to have a bread maker like me, then you could use it to make the dough! It is so convenient. In the instructions below, I put the pan onto my scale. This way I didn't even need an extra bowl for measuring. I explain the "traditional way" and the "bread maker" way to prepare the dough.
Pin German Plum Cake to Pinterest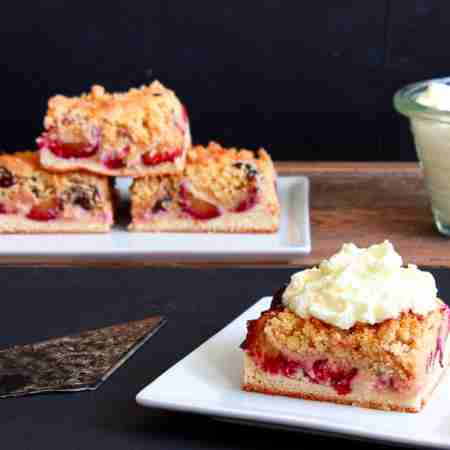 Pflaumenkuchen - Plum Cake, Version 1
German Plum Cake recipe with yeast dough.
Ingredients
For the dough:
500

g

flour

(all purpose)

1

package

yeast

(or about 2-3 tsp)

75

g

sugar

(I use 100 g and would recommand doing the same)

2

tsp

vanilla sugar

or some vanilla extract

250

ml

milk

(warm)

75 - 100

g

Butter

(melt in microwave)

1

dash

salt
For the streusel / crumbel
300

g

flour

(all purpose)

150

g

sugar

1

package

vanilla sugar

or some vanilla extract

150 - 200

g

Butter

softened

1

dash

cinnamon

(optional)
The Plums
6

lbs

plums / sugar plums
Instructions