Walnut Bread with figs, baked in a jar! Great as a giveaway to friends and neighbors.
First of all: You can do this with any bread recipe! But this walnut bread with figs is really delicious. I highly recommend baking it as I describe it in this post, before experimenting with other bread recipes.
Safety DISCLAIMER
For legal reasons: I do not guarantee that your bread in a jar is safe to eat after several days. I do not take responsibility for any harm that may or may not have been caused by eating canned bread. Everyone should make their own decision, and do their own research about whether this is safe or not. While several articles in the US warn of Botulism with bread and cake in jars, it only seems to be a concern on German outlets when using inpropper methods.
It seems that American articles referr to breads and cakes that are only baked in jars and then closed while in German articles breads and cakes in jars undergo an extra step after baking. So, please be aware of ALL the steps I describe in my post/recipe.
Video for Walnut Bread in a Jar
Why Making Bread That Lasts up to 6 Months?
I'm not a prepper but I like to be prepared for the little "crisis" which for a German is: Not having any bread in the house!
So, while I always have bread in the freezer, I also like to have some canned bread in the pantry. Why? Well, I live in Texas and the power is off quite often, especially during thunderstorms and hurricanes. Especially hurricanes require us to always have some food that doesn't perish fast and can be prepared without water and electricity. I keep a whole box of this kind of food and other emergency supplies in a corner under our stairs.
I also bake this bread in a jar to give to my son in college. He doesn't need a whole loaf of bread since he is having some meals on campus. The canned bread has just the right size for one person to eat it before it goes bad.
How To Can Bread
There are several things you should pay attention to, before, while and after you bake canned bread.
Before you bake:
Make sure you are using jars that have the opening as wide as the jar is. Otherwise, it will be difficult to remove the bread from the jar!
Use oil or butter on the inside of the jars and then some flour. This will help the bread to slip out right away later.
Make sure the rim of the jars are absolutely clean. You want to be able to close the hot jars perfectly with the lid so no air can get in.
While you bake:
Make sure the bread is baked through entirely!!! I must reach a temperature of 200°F or 95°C at the center.
After you bake:
When you turn off the oven, open the oven door for steam to escape and let the jars stand in the oven for at least 10 minutes. This will let the steam get out of the bread before you close the lid. This is very important!
Close the lids of the jars as tight as possible – be careful, the jars are very hot and you will need to use oven gloves or something like that.
Put the jars into a pot with 1-2 inches /2-3 cm of water and boil them for 30 minutes. Then let it cool.
Optional: Extra Step for safety
Some recommend to cook canned goods an additional time after 24 to 48 hours to make things extra safe. I have not tried it with bread but I wanted to mention it.
One More Thing
We put flour in the jars to make them glide out later. I recommend doing that. But it looks kind of ugly and could be mistaken for mold. Some people use breadcrumbs instead of flour, you should consider it.
For the pictures, I removed the bread from the jars and cleand the jars before putting the bread back in … that is just a picture styling thing.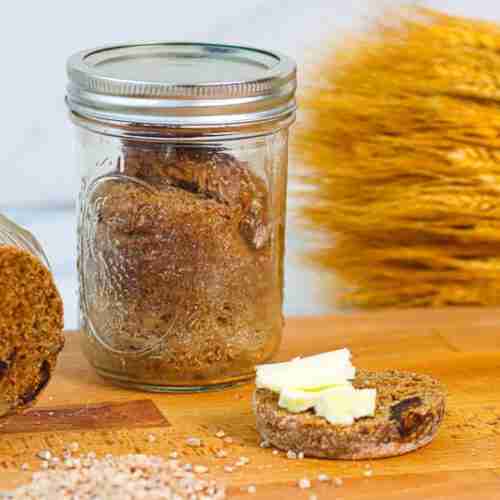 Walnut Bread in a Jar
Equipment
Ingredients
500

ml

Buttermilk

1

tbsp

Salt

75

ml

Molasses

7

g

Yeast (dry)

125

g

Rye Flower

125

g

Spelt Flour

250

g

Whole Wehat Flour

50

g

Walnuts

50

g

Figs

dried

some

Butter or Oil

for the jars
Instructions
Mix the buttermilk, salt and molasses in a saucepan and warm it up slightly, like babybath temperature.

In a bow, mix the flours.

Sprinkle the yeast onto the buttermilk and let sit for a couple of minutes.

Add the buttermilk mixture to the flour and mix for 10 minutes to create a dough.

In the meantime, chop the nuts if they are too large but don't chop them too small. Also, cut the figs (removing any stems) into smaller pieces.

At the end of the mixing time, add the walnuts and figs and mix them in.

If you bake this bread in jars:

Grease the jars, then add a little flour and let it cover the inside of the jars.

Fill the jars with dough to about half.

If you bake in a loaf pan, just fill it in.

Cover and let ferment for about 1 hour.

If you bake in jars: Make sure the rim of each jar is clean.

Preheat the oven to 180°C or 350°F.

Bake the bread until the center of the bread has reached a temperature of 200°F / 95°C!

With my jars, it took about 1 hour.

With a loaf pan it will take about 1 hour 45 minutes.

If you are baking in a loaf pan, let the bread cool, then it's ready.

If you are baking in jars, continue:

Open the oven door a bit to let the steam get out but leave the jars in the oven.

Test: Put a lid on one jar, wait a moment and check if water collects on the inside of the lid. If yes, wait longer. If no, continue …

Screw the lids on the jars, make sure the rims of the jars are clean and the lid sits tight. Careful, the jars are very hot!

Use a large cook pot (or several), Place a towel on the bottom and fill about 2 inches / 3 cm with water.

Put the jars into the pot and bring it to a boil. Let simmer for 30 minutes (for larger jars, simmer longer!).

After the cooking time, leave the jars in the pot while cooling. You are done.

If you want to be extra careful, repeat the cooking step after 24 to 48 hours.