"Bring me some Grain Rolls!" said my husband, when I left for the bakery. That was last year while we visited Germany. Our vacation apartment was in the center of Hamburg and a grocery nearby, so I felt confident that I would get any kind of rolls that he wished for. Little did I know!
It turned out that the grocery was under construction and only part of the store was open. That part did not include the bakery! So I checked google maps for other bakeries – can't be that difficult in Hamburg – and headed to the next place. That bakery turned out to sell croissants, only. OK, keep searching! I finally found a little place that was selling some rolls but it wasn't what I knew as a traditional German bakery. So, what happened?
Big Grocery Chains Killed the German Bakeries
I had read about it before but didn't know it was already that bad: Groceries stared to sell freshly baked rolls about 25 years ago, I do remember that. And it was often more convenient to just grab some rolls while already shopping instead of heading to the bakery afterward. The rolls didn't taste nearly as good as those from the bakery but sometimes I decided they are good enough. However, everybody complained about the bland taste of those grocery rolls. But apparently, over time, people got used to it and more and more traditional bakeries had to close because they couldn't make a living anymore. So, the number of bakeries has massively declined over time.
I eventually got the grain rolls at a different place the other day but it wasn't as easy as I had expected. My husband enjoyed them even more since I had to hunt them down. It made them even more precious!
Baking our own Grain Rolls
Knowing that my husband is craving these rolls, I decided to bake them at home, once back in Texas. So, back home I researched the recipe, twisted it a little to our taste, and found the perfect grain roll recipe for us. These are so easy to make and much faster than my other rolls. We all love them and they are very filling.
I hope you will enjoy them as much as we do!
My Favorite Grain Roll Toppings
As mentioned in the video, I especially love to eat them with scrambled eggs on top. Sprinkled with some chives – mmmh!
But they also taste great with cold cuts like salami or with a slice of good cheese. If you prefer a sweet taste, honey and jam are delicious with the grain rolls, too!
Pin Grain Rolls to Pinterest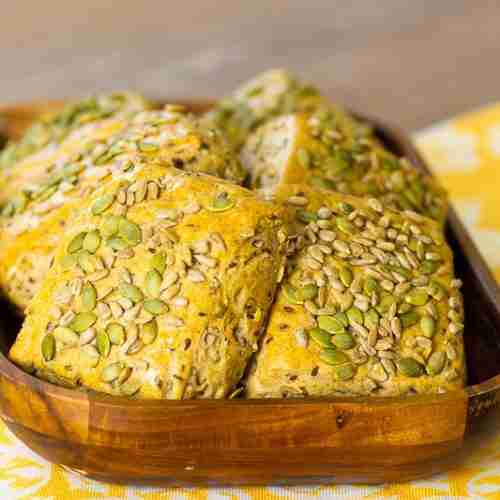 Grain Rolls
Ingredients
50

g

Flax Seeds

85

g

Pumpkin Seeds

+ some extra for the top

65

g

Sunflower Seeds

+ some extra for the top

500

g

Bread Flour

(or All Purpose / Regular Wheat Flour)

200

g

Rye Flour

300

ml

Water

(divided into 100 ml + 200 ml)

7

g

Dry Yeast

(any type or 20g fresh yeast)

1

tbsp

Salt

1

tbsp

Sugar

50

g

butter

soft

1

ct

egg
Instructions
Put the pumpkin seeds, sunflower seeds, and the flax seeds into a bowl and cover with boiling water. Let sit for about 10 to 15 minutes.

Add the sugar to the 100 ml (⅓ cup )water and sprinkle the yeast on top – stir and let stand for about 5 minutes.

Mix the remaining ingredients except for the egg in a large mixing bowl. Start mixing the ingredients and slowly add the 200 ml ( a little less than 1 cup water). The dough should be soft and stick well but needs to be shapable. Don't use too much water.

Mix for 5 minutes, then put give it a quick knead by hand.

Now, roll the dough to a rectangle. It should be about 2 cm or a little less than 1 inch high.

Cut 9 square rolls from that shape, put them onto a baking sheet, cover with a towel, and let rise for about 1 hour.

Preheat the oven to 180°C / 350°F at the end of the rising time.

After one hour: Scramble the egg and brush the top of the rolls with it.

Sprinkle additional sunflower and pumpkin seeds on the top.

Bake for about 20 minutes or until they are golden brown.

Let cool end enjoy the same day. Keep leftover rolls in a paper bag, they will still be soft the next day.