We call it Eierlikör, here it is called Verpoorten or Advoacat and I have talked about this in some previous recipes. We especially enjoy this Egg-Schnaps during Easter. Like so many things, the homemade recipe tastes much, much better than the store bought version.
Make it Safe
The tricky thing about making Verpoorten from scratch is that you want to avoid salmonella bacteria in your drink. That is why I hesitated for a long time to make it myself. But I came across a recipe that explains how I can make it safe. Now, one might argue that the alcohol could kill any salmonella in this drink but I wouldn't want to bet my health on that since that might not be enough percentage of alcohol.
To make the Advocaat safe, you need to gently heat it and keep it at the right temperature for eight minutes. After that, your Eierlikör should be good for four weeks.
Video
Eggs – Quality is Important
For a good, creamy Verpoorten, you should only use high quality eggs. I am using organic eggs from chickens that are fed with grains. These make a delicious Verpoorten!
What to make with Verpoorten (Advokaat)
There are tons of recipes that require Verpoorten either as an ingredient or by itself with some additions. It tastes wonderful on some ice cream, you can (and should!) make my delicious Eierlikör Torte, hot drinks and cold drinks are made with this, you can pour some of it onto a pound cake, fill Berliner with it and the list goes on. I will most likely do a recipe with this every now and then, so pay attention and maybe always have some at hand.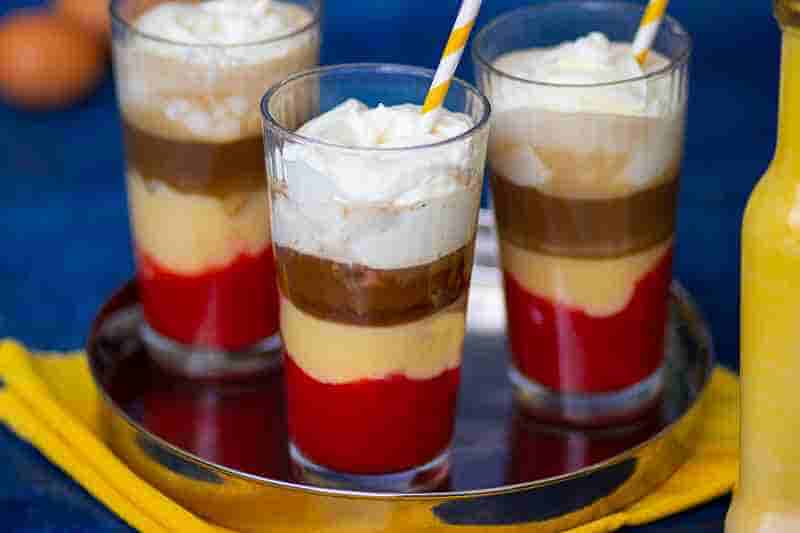 Old Lady Schnaps?
For some reason, Verpoorten (or Advokaat) has the reputation to be a Schnapps for older people, especially old ladies, who come together for coffee and cake. There might be a little truth to it but by no means this should keep younger folks from enjoying it.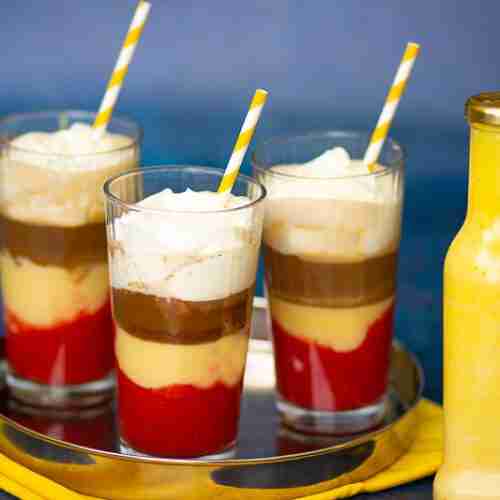 Verpoorten (Advokaat)
Ingredients
8

egg yolks

organic, grain fed

250

ml

White Rum or Vodka

250

ml

heavy Cream

250

g

Confectioners Sugar

some

Vanilla Extract or paste

optional
Instructions
Using a metal bowl, add all ingredients and whisk until mixed.

Heat water in a saucepan and put the bowl on top – not touching the water.

Don't let the water boil!

While on the pot, whisk constantly and heat the mixture to at least 70°C / 158°F to remove salmonella bacteria.

When it reaches this temperature, continue to stir at this temperature for eight minutes.

The mixture will thicken somewhat.

After eight minutes, let cool and fill into a bottle.

Keep chilled in the fridge and it will be good for 4 weeks.

Take out of the fridge about 20 minutes before serving. This makes it easier to pour it.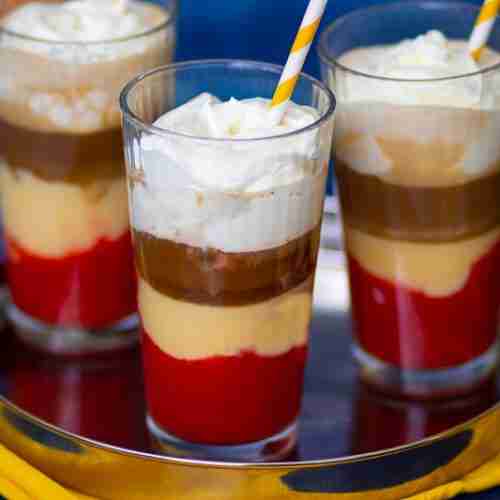 Verpoorten Strawberry Latte
Ingredients
150

ml

Verpoorten

150

ml

Strawberry Purreé

made from strawberries & sugar

150

ml

Coffee or Espresso

150

ml

whipping Cream

whipped
Instructions
Fill the strawberry purreé into a tall glass.

Add the Verpoorten while pouring over the back of a spoon to avoid mixing.

Next, add the coffee the same way.

Finish with the whipped cream on top.