There must be a reason, why I am already doing a third German Gingerbread Cookie recipe on my blog, right? Maybe I really, really like Gingerbread? Must be it!
I think the scent and taste of Gingerbread in the house are what gets me into the Christmas spirit the fastest. Already in Oktober, I start searching for German Gingerbread to buy at the stores. Marshal sometimes has some, Aldi always. However, when they arrive here in Texas, they are not as moist as they are supposed to be and the really good brands are hard to get here. So, baking them myself is the best solution and it is very easy. There are two ingredients though, which I must order in time. They need a while to get here and if I am not fast enough, they might be sold out already … I'm obviously not the only one who loves Gingerbread Cookies!
How to bake German Gingerbread Cookies
Backoblaten
Oblaten or Backoblaten are some kind of wafer paper and might remind you of a communion. They are basically the same thin thing, just without a blessing I guess. They are the base of your Gingerbread cookie. Though I really recommend having them, if you can't get them in time you might just leave them out and glaze the bottom of your gingerbread cookies with chocolate later. This would also be a good solution to make them gluten-free since the Backoblaten are made from flour, starch, and water.
You can buy the Backoblaten at Amazon but be aware: They come in different sizes. For this recipe, you want the larger ones. And one package will go a long way! I used 90 mm diameter Oblaten but it seems that Amazon in the US sometimes only has the 70 mm as the largest size … makes more cookies ;-) .
Click on the picture to order them at Amazon.
Is it Gluten-Free?
Except for the Backoblaten, this recipe is gluten-free. So, if you are gluten intolerant, just leave the Backoblaten out and place the batter directly onto a parchment paper on a cookie sheet.
Gingerbread Spice
German Gingerbread spice mix is often sold out before Christmas, but don't worry, you can make it yourself! Here is the recipe for it: German Gingerbread Spice Mix Recipe
Best German Gingerbread to buy
The best Gingerbread is made in Nürnberg (Nuremberg) and there is no arguing about it. My grandmother used to send each grandchild a package filled with Nuremberger gingerbread each Winter. It must have cost a fortune but it was very appreciated. They came in beautifully decorated tins and I still have some of them although she had passed away more than 20 years ago. These tins are a beautiful memory!
One of the best gingerbread brands besides the Nuremberger Gingerbread is "Bahlsen" and the product is called "Contessa", you might get it at the World Market or Amazon.
The Recipe
Back to the recipe! It is easy to mix the ingredients together. I recommend to grind fresh nuts, they have more moisture and therefore taste better.
The batter has to rest in the fridge for 10 to 12 hours so you either start your gingerbread early in the morning and bake them in the evening or you start the batter in the evening and continue the next morning.
Stir the batter before using it on the Backoblanten. But if after stirring it, the batter has a lot of liquid, don't use that liquid. If you do, your gingerbread will get flat and spill over the Backoblate on the baking sheet. There is no benefit to using it, just try to leave it in the bowl or remove it.
Pin Elisen Gingerbread to Pinterest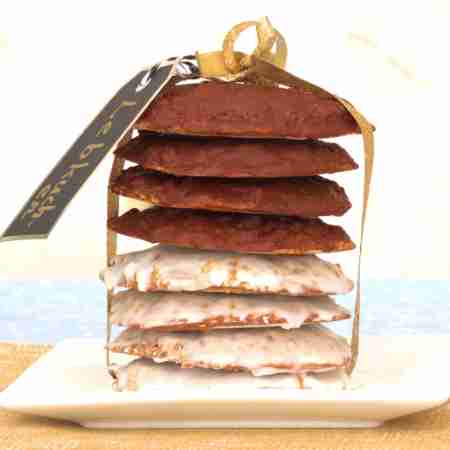 Candied Gingerbread Cookies – Elisen Lebkuchen
German Gingerbread like Elisen Lebkuchen
Ingredients
150

g

hazelnuts, whole

150

g

almonds, fresh ground

3

eggs

100

g

brown sugar

90

g

candied orange peel

3

Tbsp.

Honey

3

tsp.

German ginger bread spice

1

tsp.

lemon zest

20

Backoblaten (wafer paper), round 70 mm

(leave out for gluten-free diet)
For The Glaze
120

g

chocolate dark or milk or a mix of both

80

g

powdered sugar (confectioniers sugar)

a little

lemon juice or water
Instructions
Grind the hazelnuts to the same size as the almonds, set both nut sorts aside.

In a large bowl, beat the 3 eggs, the sugar, and the honey until the sugar is dissolved.

Add the almonds and also the hazelnuts.

Add the candied lemon peel and the candied orange peel.

Now measure 3 teaspoons of German Gingerbread Spice and add it to the bowl.

Last, add the tsp. of lemon zest (fresh is best) and stir it all with a large spoon.

Cover and set in the fridge for 10 to 12 hours / over night.

Preheat the oven to 320°F.

Turn a glass or mug in the size of the Backobleten upside down and place a Backoblate on top. Now put some of the batter on the Backblate and evenly spread it to a hight of about 3/4 of an inch.

Bake the Gingerbread Cookies at 320°F for about 15 to 20 minutes (depending on your oven).

Let the Gingerbread Cookies cool completely before glazing them.
The Glaze
Melt some chocolate.

Mix the confectioners sugar with a tiny amount of lemon and water. Mix until an even paste is created – not too runny but also not to dense.

Spread either some chocolate or some sugar glaze on each Gingerbread. Make sure to cover each cookie completely so it stays moist.

Optional: Put four slices of Almonds in the center of the Elisenlebkuchen.

After the glaze has dried, store in an airtight container.