Every time I buy Kohlrabi here in Houston, the cashier asks me what it is so they can look it up for the price. Every time I tell them: "It's kohlrabi – with a k as a first letter!" Next they want to know what I do with it and what it tastes like. Really, this happens without any exception and next time I will just give them a card with my blog address so they have a chance to try it for themselves.
But I am not so sure if I will buy another kohlrabi in the near future. This has two reasons: Distracted by the kohlrabi conversation, I never really paid attention to the price. Since it is a very cheap vegetable in Germany, I didn't expect it to be expensive. But for my video, I went to the store just to buy 3 kohlrabies, nothing else. When the cashier asked me for $9 and something I was almost fainting. Ok, not really. I let her double check if that is correct and it turns out that they charge $2.99 (including tax) for one kohlrabi. Wow!
Second reason: Of those three kohlrabies I had to return one since it was moldy inside. I never had that before in my entire life. So not only they are horrific expensive, but they are also a very low quality. I am usually very happy with my grocery but not this time. But let's move on.
How does Kohlrabi taste?
Kohlrabi is a vegetable that has kind of the texture of an apple but tastes more like a mild radish – but somehow not. It's hard to explain. In Germany, we only have the green kohlrabi but here it seems that there is a purple version, too. I only got the purple one and it tasted a little less spicy than the green one.
How do you use it?
We sometimes eat it raw, often with an herb dip. It's a regular snack for teething toddlers. Or we use it in a vegetable soup. But most of the time I use it as a side dish i.e. for Frikadellen (German meatballs) or other meat dishes. I first cut and cook the kohlrabi and then make a white sauce where I mix the cooking water and later add the kohlrabi. It's delicious and a great comfort food.
The trick with the white sauce (bechamel sauce)
The sauce I am making here is called "Bechamel Sauce" in Germany and it is a sort of standard sauce that I make with a lot of other vegetables, too. I also use this sauce for Lasagne. The difficulty is, to make it without having lumps in it and there is a simple trick to it:
Make sure that when you add the flour, the butter is still the dominant ingredient. This means that there should still be more butter in the saucepan than flour so that the mix doesn't become one big lump. If you leave the butter-flour-mix sort of as a thick fluid, you should be able to mix the milk in (VERY SLOWLY!) and get that incorporated without any lumps. Don't give up if you fail at the first time, it took me a while to get this right, too.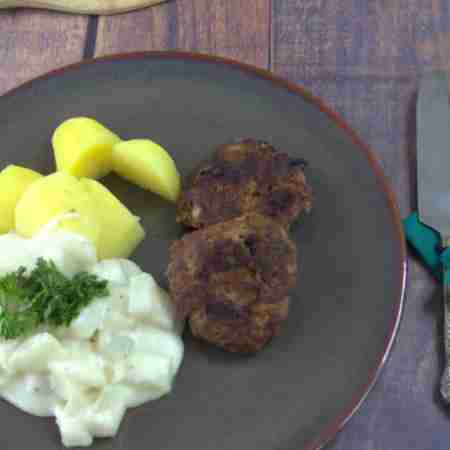 Kohlrabi in White Sauce
Ingredients
2-3

kohlrabi

2-3

tbsp

Butter

2-3

tbsp

flour

½ to 1

cup

milk

some

nutmeg

some

salt

some

pepper, fresh ground
Instructions
Bring to a boil and let boil until the kohlrabi is soft (about 10 - 15 minutes).

Set the kohlrabi aside.

Add another tbsp. of flower, keep stirring. You need to keep the content of the pot somewhat fluid so don't add too much flour.

Carefully add a very small amount of milk and keep stirring. Allow the milk and the flour-mix to merge.

Keep adding very small amounts of milk and keep stirring!

When the content of the saucepan is like a thick sauce, start adding some of the kohlrabi cooking water.

Keep adding cooking water until the sauce has the consistency that you wish. It should be a little bit like a warm pudding.