Glühwein – mulled wine – comes in several different versions and Baked Apple Mulled Wine is my translation for a Bratapfel-Glühwein. It is a particularly delicious spiced apple wine that I had just recently at a German Christmas market in Hamburg.
I'm not that much of a wine fan but a traditional German mulled wine at the markets in December is a must. So, when I went with my oldest daughter and she got us some "Bratapfel Glühwein", I felt a little "meh". Then after just one sip, I loved this drink so much that I actually favored it over the traditional Glühwein.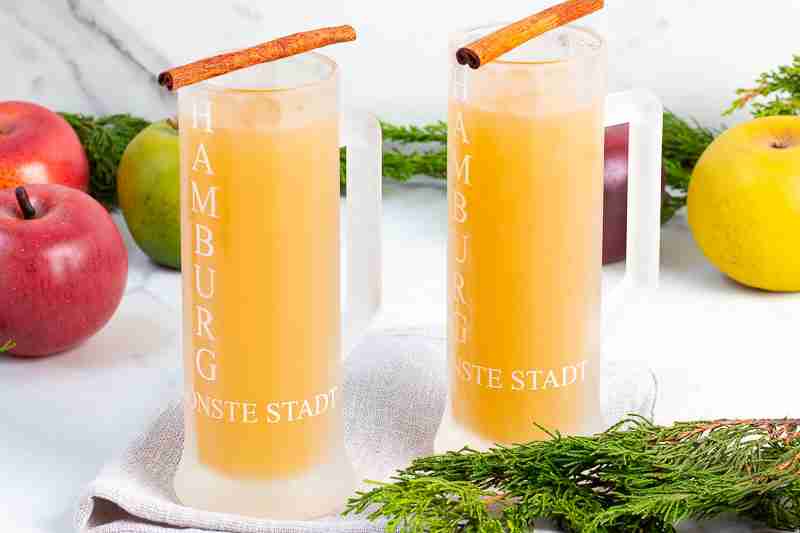 Germany's Apple Tradition
Apples are traditionally the winter fruit in Germany. My grandparents used to harvest them in the fall, wrap them in newspaper individually, and stored them in the basement. Their basement always smelled like apples, even in summer.
Later, in the cold month of the year, it is quite common to carve the core out of the apples and fill them with marzipan, nuts, cinnamon, raisins, and rum and bake them either over the fireplace or in the oven. We call that "Bratapfel" – baked apple. So this is where the name of this recipe comes from though no apple has been baked for this recipe.
Finding Apple Wine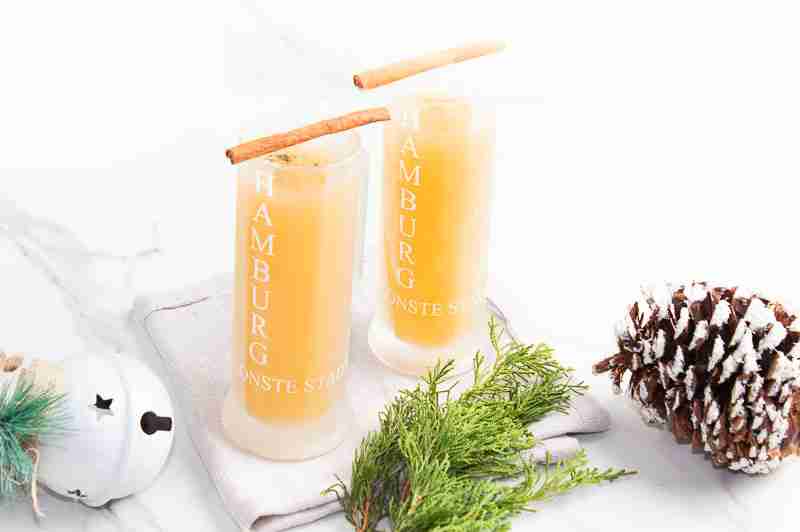 Apple wine is very common in Germany and other Northern European Countries. Here in Houston, Texas, I was thinking that Angry Orchard could be the equivalent of our wine but I couldn't find any. Maybe they only offer it at certain times of the year? I was too busy to go to a liquor store so when I found a bottle of "Moscato and Apple", I decided to give this a try. The bubbles will disappear when you heat it so that's not a problem. I think it was a good choice, the apple mulled wine tasted delicious. One thing though: Since this is a semi-sweet wine, you might want to reduce the amount of honey in the recipe if you don't want this drink to be too sweet.
Don't Boil Mulled Wine!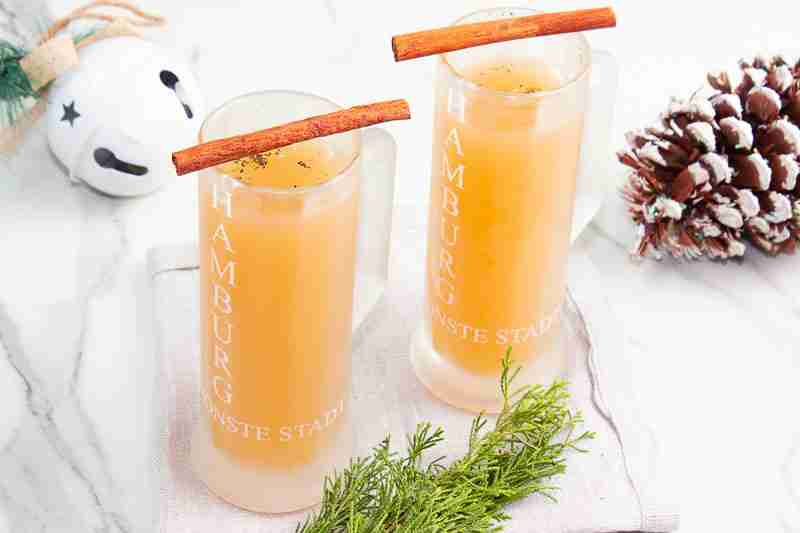 This recipe has rather little alcohol, which I think is great since one might still be able to drive after a glass of it (no guarantee though, use your own judgment and stay safe!). But if you boil this drink, that little alcohol will be gone and you are left with some hot apple juice, which you could have had for less money. So, make sure you just heat the baked apple mulled wine, then turn off the heat and let it sit for several hours or overnight (with a lid!) to increase in taste. Then, before serving, reheat it, fill it in glasses and enjoy.
Use A Real Vanilla Bean
One might not like to have the little black dots in the wine which comes from the vanilla pod. If you don't like it, just cut the pod in length without really opening it and adding it to the pot. A real vanilla bean used in the mulled wine tastes much better than vanilla extract and you can later use the pod for your homemade Vanilla Sugar.
Pin to Pinterest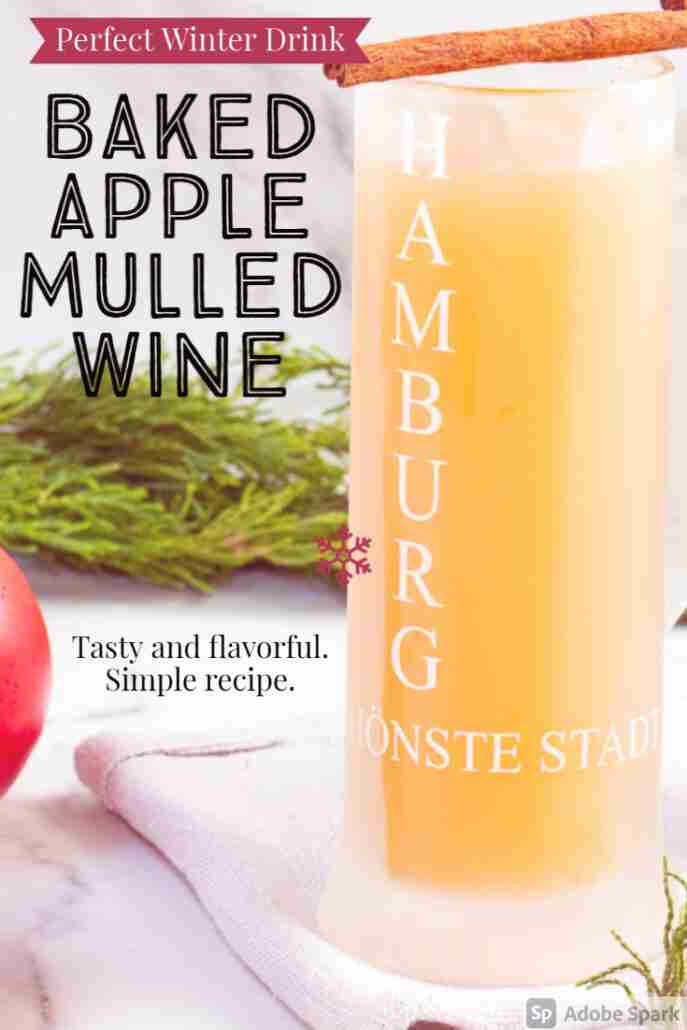 Baked Apple Mulled Wine
German Bratapfel-Glühwein
Ingredients
1400

ml

Apple Wine

i.e. Angry Orchard, Moscato & Apple

600

ml

Apple Juice

natural or filtered

120

g

Honey

2

Cinnamon Sticks

1

pod

Vanilla Bean

6

Cloves
Instructions
Cut the Vanilla pod lengthwise in halves.

Put all ingredients into a large pot.

1400 ml Apple Wine,

600 ml Apple Juice,

120 g Honey,

2 Cinnamon Sticks,

1 pod Vanilla Bean,

6 Cloves

Heat the content but DO NOT LET IT BOIL.

Turn off the heat and let sit for at least three hours or overnight.

Reheat before serving.

Remove the cloves, cinnamon sticks, and the Vanilla bean. Fill in glasses and drink hot.