On hot summer days, we Germans like to eat our German Cucumber Salad. It just takes a few quick steps and is served cold as a side salad or as a snack.
Especially in the north of Germany, we like to eat German Cucumber Salad. There are actually two versions of German Cucumber Salad:
Cucumber Salad with a Vinegar Vinaigrette
Cucumber Salad with a Yogurt dressing
… they both taste delicious and refreshing. In this recipe, I will do the yogurt vinaigrette!
Video: German Cucumber Salad Recipe
Slicing the Cucumbers
First of all, we Germans usually remove the skin of our cucumbers, unless we have grown them in our own garden. Honestly, I think that step is not necessary, we could as well just wash them really well. We are basically peeling off the vitamins. I only peel my cucumbers if they have a thick skin, like the one in my video.
When it comes to the slicing, it is common to slice as thin as possible. One can really look through the slices, that's how thin they are sliced. Since I prefer a little more "bite", I don't slice them paper thin. I make them a tiny little bit thicker but not much. With the thin cucumber slices, the vinaigrette can cover more of the salad ingredients and gives the salad to a richer taste.
Yogurt Dressing for German Cucumber Salad
I grew up with this German Cucumber Salad and most of the time my parents made it with the vinegar vinaigrette but my grandmother always made the yogurt dressing, which I like better.
You can use any yogurt! In Germany, we don't have Greek Yoghurt and we use just a regular yogurt. So, no matter which yogurt you will be using, it will work equally well. I recommend using fresh dill though. dried it has only half the taste.
Vinaigrette and Dressings in Restaurants
Talking about vinaigrette: When I order a salad in an American restaurant, they give me all kind of stuff on the plate, like salad leaves, fruits, and nuts but they vinaigrette or dressing barely touched anything of that. It's like they just put a mist of vinaigrette on it. Very upsetting and I almost always have to ask for some extra. No idea why this is.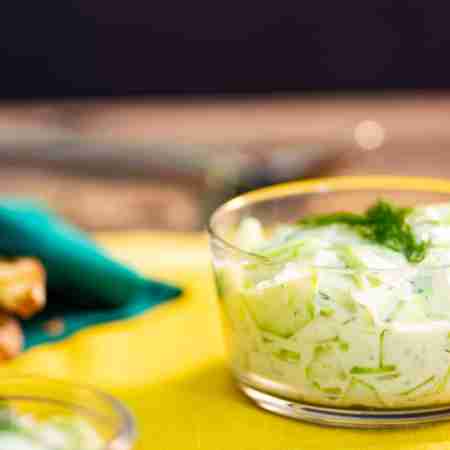 German Cucumber Salad
A refreshing salad with yogurt dressing.
Ingredients
1-2

English Cucumbers

2-3

tbsp.

Yogurt

1-2

tbsp.

Sugar

1-2

Tbsp.

Apple Cider Vinegar or Lemon Juice

1

Tbsp.

Olive Oil

2

pinch

of Salt

some

fresh ground pepper

2

strands

of fresh Dill
Instructions
Using a mandoline, thinly slice the cucumber and set it aside.

In a different bowl, mix the 2 to 3 Tbsp. Yogurt with the 1-2 Tbsp. of Sugar, 1-2 Tbsp. Apple Cider Vinegar, 1 Tbsp. Olive Oil, the 2 pinches of Salt and the pepper.

Mix it all well so the sugar dissolves.

Wash and finely cut the dill and add it to the dressing.

Mix the dressing with the cucumbers.

Chill for an hour and sever as a side salad or snack.
[av_one_half first av_uid='av-4s36t4′][/av_one_half]
[av_one_half av_uid='av-1zai3c'][/av_one_half]