What a weird name for a dish, right? Well, here is the story: I used to cook this dish for my kids and it never had a name. Once a little friend of my son came home with us after pre-school and we had this for lunch. She liked it very much and asked, what it is called. I looked at it and thought: Well, it has the colors red, yellow, and green, just like a traffic light, so we decided to call it "Ampel-Menü" (Ampel = traffic light).
It's still a kid's favorite and it is quickly cooked, doesn't break the bank and is healthy, too. I cooked it yesterday and decided to take some pictures and share it with you. Not a German classic but delicious anyway!
I serve this meal with some bread, either fresh from the bakery or oven baked. Usually, it's a baguette. Feels like in France!
Make sure you have the parsley, it is very important for the taste!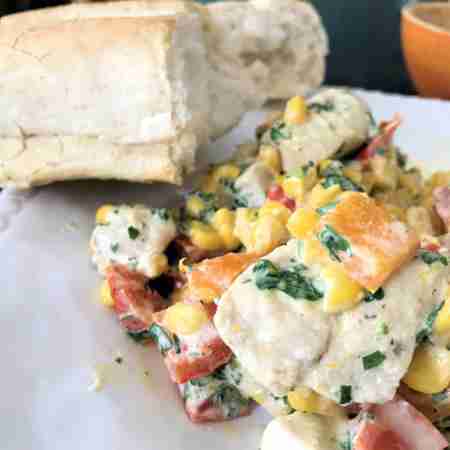 Traffic Light Dish
Ingredients
3-4

large

chicken breasts

3-4

red bell peppers

1

can

sweet corn

1

bunch

parsley, fresh

6-10

Tsp

sour cream

2

Tsp

cooking oil

½

cup

chicken broth

(optional)

salt

pepper
Instructions
Cut the chicken breasts in bite size cubes.

Cut the bell peppers in bite size cubes.

Heat the oil in a large frying pan.

Add the chicken breasts to the hot oil and season with salt and pepper.

Fry the chicken breasts from all sides and add the bell peppers and the corn.

Fry alltogether for a couple of minutes to get the bell peppers soft.

Stir well and serve with a fresh baguett (or oven baked baguette).
Notes