I love pretzels but I like soft pretzel braids even better! They are so fluffy and much easier to eat with butter or other toppings. With this recipe, you can make soft pretzel rolls or the soft pretzel braids that I show you in the video.
The Pretzel Dough Recipe
There is a difference between the recipe for Pretzels and the one for Pretzel Braids so don't switch them out.
In this recipe here, I also want to have certain properties like a light and fluffy crumb. For this, I am adding some ingredients that help the dough to rise better and increase the taste. We call these supporting ingredients "Backmittel" which I can only translate as "baking stuff" – haha. You will need some dry Malt, which I have already introduced in other recipes like the Schrippen Rolls. This alone will already give your rolls a nice brown color and a great taste. Now, you can just use 15g of that in this recipe or use 10g of dry malt and then add 3g of Dextrose and 2g of Soy Lecithin. This will further increase the light texture of your rolls.
Sodium Hydroxide (get it on Amazon HERE)
Pretzel Baking with Lye
Now, I have made some blog posts and videos on other pretzel topics but this time I want to bring it one step further: I want to teach you how to make pretzel products with lye instead of soda. This is a different level of baking pretzels and so worth doing it!
If you make pretzels and pretzel braids or rolls with lye, the taste will be better, they will stay fresh a little longer and will have a better color than if you are using the baking soda method. However, you will have to work carefully with lye and I list all the safety measures that I know of in the next paragraph.
Working With LYE for Pretzel Baked Items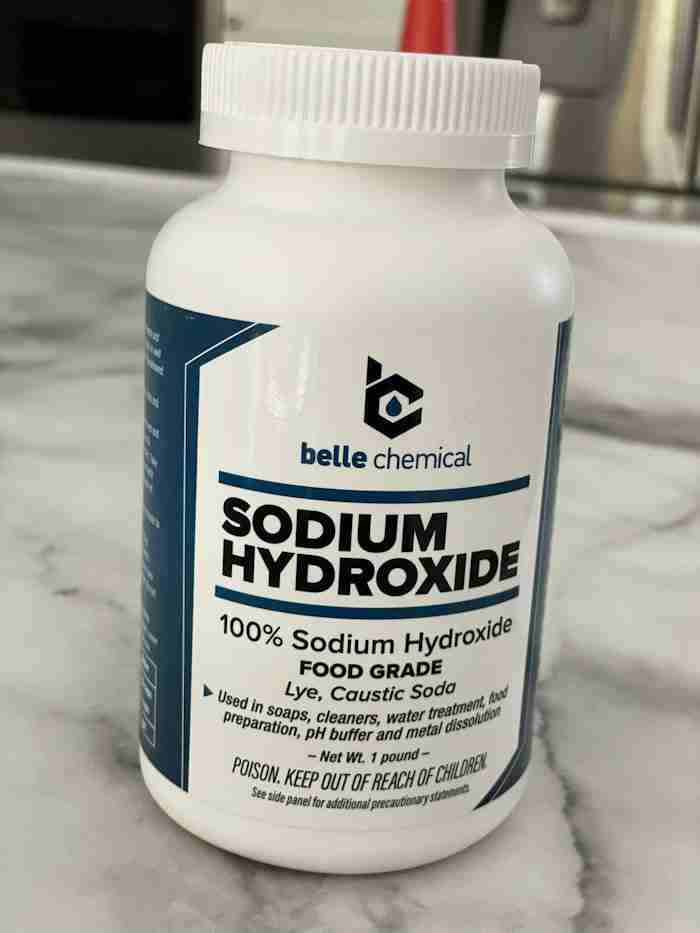 Sodium Hydroxide
Caustic Soda
Lye
Lye is called "Lauge" in German and we call the pretzels "Laugenbrezn" and the rolls "Laugenbrötchen" and the braids "Laugenzöpfe" and so on.
For all these recipes on pretzel-things, you will need a 3.5% to a maximum of 4% lye. For this, you must have food-grade Sodium Hydroxide (get it on Amazon HERE).
Lye is corrosive, safety measures are very important, please make sure that:
you wear safety glasses and protective clothes like an apron. Maybe also wear chemical-resistant gloves.
you use cold water
you use a glass or plastic bowl and utensils.
you don't touch the lye or items that came in contact with lye
you put the sodium hydroxide into the water not the other way around!
you rinse your skin thorowly with cold water if you get lye on your skin.
you rinse your eyes with cold water for 20 minutes and immediately go to an eye doctor if you get lye into your eyes.
you keep leftover lye in a closed plastic or glass container out of reach from kids.
you dispose lye in the drain while running the cold water at the faucet, deluting it further.
you rinse all utensils with water after working with lye and before your put them into the dish washer.
Please understand that this is all that comes to my mind about lye and safety, this list might not be complete and you are working with lye on your own accountability.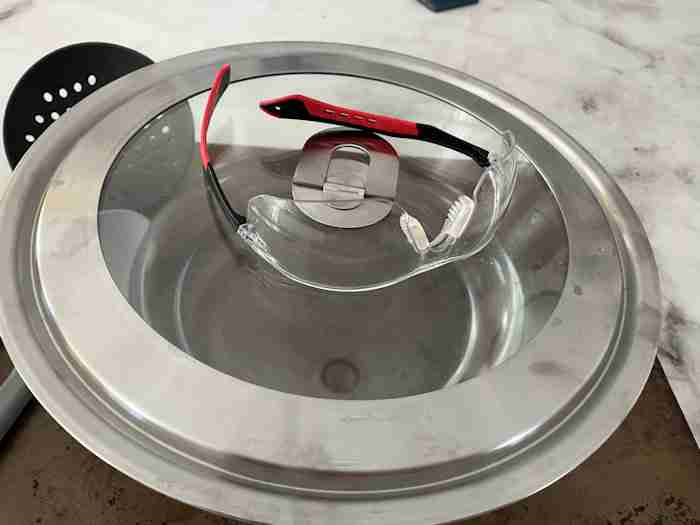 More about Lye
You can reuse the lye several times, just keep it in an airtight plastic container far away from kids. When you use it again, stir the lye because it is heavier than water and needs to be mixed carefully for even results. If your baked pretzel goods are spotty or too bright in color, it is time to dispose of your lye and mix a fresh one.
Pretzel Problems and their Reasons
Your pretzel product tastes too strong or has a crust that is too thick: This happens if your lye is too strong (more than 4%)
Uneven color on your pretzel product: You've used your lye too many times or it is not mixed strong enough (3.5% to 4% is correct). I.e. use 965 g of water with 35 g of sodium hydroxide or 960 g of water with 40g of sodium hydroxide.
Uneven or wrinkled surface of the pretzel product: The dough hasn't had enough of a skin before it was in the lye or it was in the lye for too long.
Dots and craters on the crust of the pretzel product: The dough wasn't baked immediately after it was in the lye.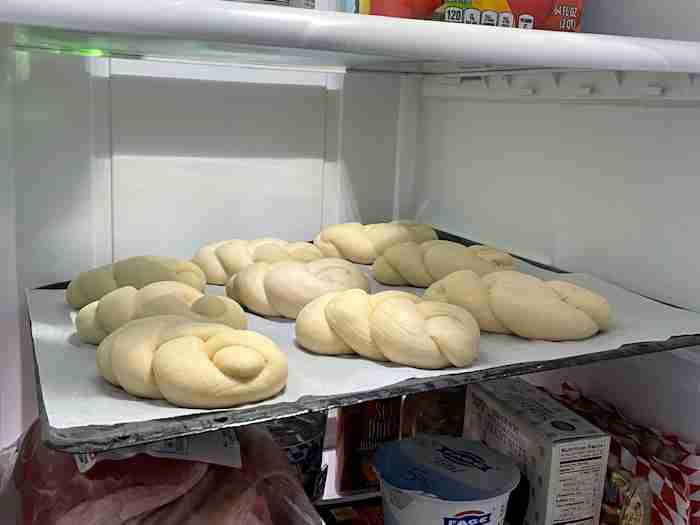 Alternative to Lye: The Soda Method
If the whole lye thing is too scary for you, you can still use the soda method.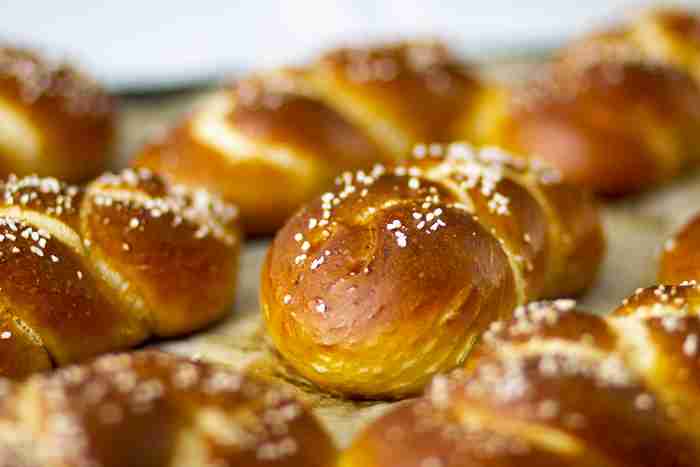 1.75 l (7 ½ cups) hot water, near boiling
50 g (3 ⅓ tbsp) baking soda
The water should be brought to a near boil – no bubbles though!
Add the soda to the water and wait that the foam has disappeared.
Add one dough piece at a time, let it float in the water for 15 seconds on each side (30 seconds in total), then remove it and place on a baking sheet.
When all dough pieces have are prepared this way, bake them in the oven.
Pretzel Storage
Pretzels don't stay fresh for long and it's always best to eat them ad fresh as possible. After just a few hours they will start to become stale. German bakeries bake pretzels several times a day to offer them fresh. At home, you should time the baking in a way that they are eaten shortly after baking. But this is not always possible so here are some tips:
Store pretzels in an airtight plastic bag, removing as much air as possible.
If your pretzels are not fresh anymore after some hours, just pop them into the oven at 200°C / 400°F for a few minutes to refresh them. Eat immediately after that, it only works once.
Freeze pretzels! You can either freeze them after putting the lye on or after baking. For using them later, preheat the oven to 200°C / 400°F and bake for a couple of minutes until ready.
If your pretzel braids are no longer fresh, make them into delicious Pretzel Dumplings!
Pin Pretzel Braids to Pinterest
Share this recipe with other German Food Lovers!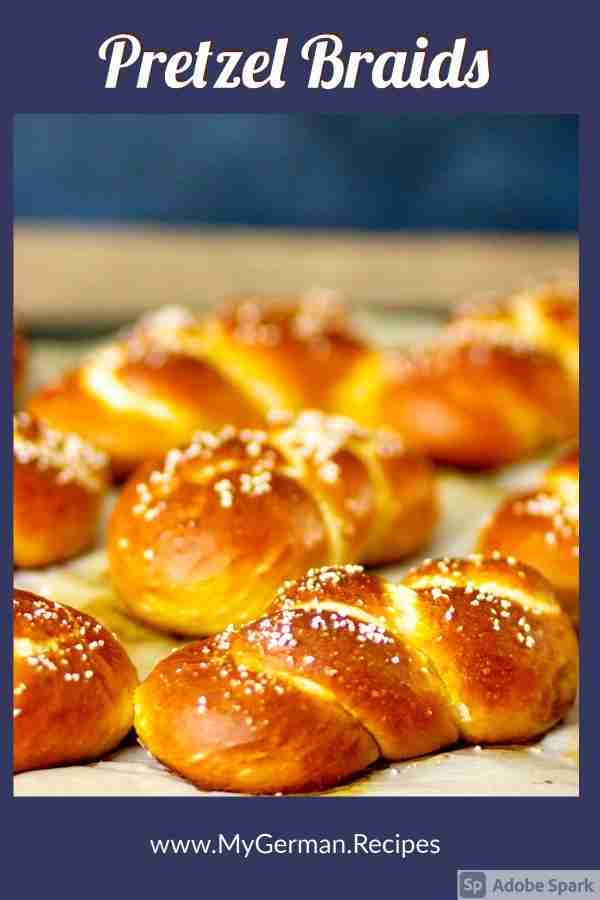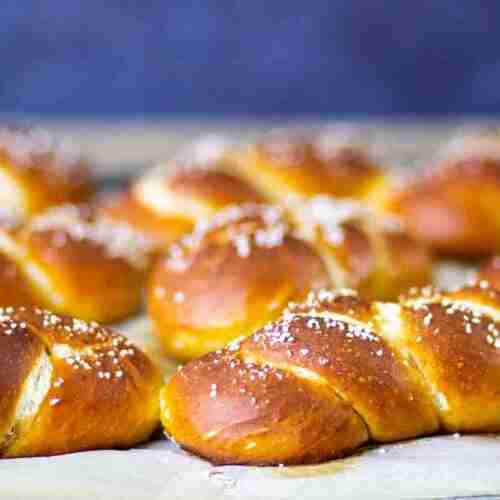 Soft Pretzel Braids (Rolls)
Ingredients
Pretzel Dough
500

g

Flour

15

g

dry Malt Powder or

10 g Malt Powder, 3 g Dextrose, and 2 g Soy Lecitin

275

g

Water

room temperature, no chlorine!

10

g

Salt

15

g

Butter

soft
Instructions
Making the dough
I highly recommend using a scale and the metric measurments for this recipe!

Put the flour through a sieve into a large mixing bowl.

Add the yeast and malt (or the mix of malt, dextrose, soy lecithin) and mix in.

7 g Yeast, instant dry,

15 g dry Malt Powder or

Now add the water and start mixing the dough at a low speed until the ingredients have mixed for about one to two minutes. Then add the salt and butter.

275 g Water,

10 g Salt,

15 g Butter

Now increase the speed and knead for 8 to 10 minutes, until a smooth dough is created.

Shape the dough into a sphere, cover it and let rest for 10 minutes.

Next, divide the dough into 9 portions of about 90 g. Shape them into spheres and let them rest covered for another 10 minutes.
Making the braids
Take a dough portion and shape it into a long string of about 15 inches / 36 cm.

Take the end of the string and attach it to the string at about ⅓ from the other end. This creates a loop. Now take the other end of the string and pull it through the loop.

Twist the remaining loop into the same direction of the attached string, then pull the remaining string end through the little loop. Watch the video!!! It shows this very well.

Next, cover the braids with plastic and let them rise for about 40 minutes. After that time, put them into the fridge without a cover for another 10 to 15 minutes so they create a thin skin.

While the pretzel braids are in the oven, preheat the oven to 220°C / 430°F and prepare the lye.
Preparing the LYE
Pay attention and follow the safety instructions in the blog post! Wear safety glasses, an apron and protect your workplace. Don't touch the lye! Pay attention to the order of mixing the lye.

In a large bowl, fill in the cold water.

Carefully and slowly add the Sodium Hydroxide, stirring it in without spilling anything.

38 g Sodium Hydroxide, Food Grade

Remove the pretzel braids from the fridge and one after another, carefully put them into the lye, using a slotted spoon. Do not leave them in the lye for long, max. 3 – 4 seconds!

Place the braids onto a cookie sheet covered with parchment paper and sprinkle some salt onto the pretzel braids.

Put the sheet with the pretzel braids into the oven immediately after they were in the lye.

Bake without steam and without convection (if your oven has it) for 12 minutes.

Remove from the oven and (optional) mist with a little water from the sprayer to add a little shine.
Storage
Eat pretzel braids ASAP! They don't stay fresh for long. You can freeze them very well and reheat them at 400°F / 200°C in the oven.

If you need to store them, use a plastic bag and remove as much air from it as possible. If the pretzel braids become stale, use them for pretzel dumplings, the recipe is on the blog.