Weisswurst is just one of the many sausages we have in Germany, but this one is very special! The word Weißwurst or Weisswurst can be translated to white sausage and it is indeed very white, rather than pink, red, or tan like other sausages. It is also never fried and never grilled, instead it is heated in water and needs to be enjoyed very fresh.
My grandfather used to say "The Weisswurst shall not hear the roster craw at noon!" meaning that it has to be consumed before noon because it is very perishable. Well, that is probably how it was before we had fridges and freezers. Today one can eat this sausage at any time of the day. While it is still a tradition to have it as a second breakfast in Bavaria, I like it better for lunch or dinner. But I am not much of a breakfast person anyway!
Jump to Video
What Makes it Special
The sausage is made with pork and veal and some bacon but the seasoning and the parsley in it make it so delicious. What is also special about Weißwurst, is that we don't eat it with the casing. In fact, there is a whole tradition about how to get the Weisswurst out of the casing. Several methods are accepted as appropriate, while I think at least one of it is not very civilized: That would be the technique where one soaks the Wurst out of the casing with the mouth.
The way my grandfather taught it to me is, to cut it in halves and then cut each half lengthwise but not the whole way through. Then you can easily remove the Weisswurst with a fork from the casing.
Apparently some people cut one end open and peel and eat it like a banana, but I have never seen anyone doing this, just heard about it.
Weißwurst is always paired with mustard, especially with the Bavarian Sweet Mustard (the recipe is here) and with a pretzel. Often there is also some beer involved – at least if you don't have it for early breakfast.
"….there are more different sausages in Germany than there are breakfast foods in America, and if there is a bad one among them then I have never heard of it. The run in size from little fellow so small and pale and fragile that it seems a crime to eat them to vast and formidable pieces that look like shells for heavy artillery. And they run in flavor from the most delicate to the most raucous, and in texture from that of feathers caught in a cobweb to that of linoleum, and in shape from straight cylinders to lovely kinks and curlycues."

H.L. Mencken (1880-1956)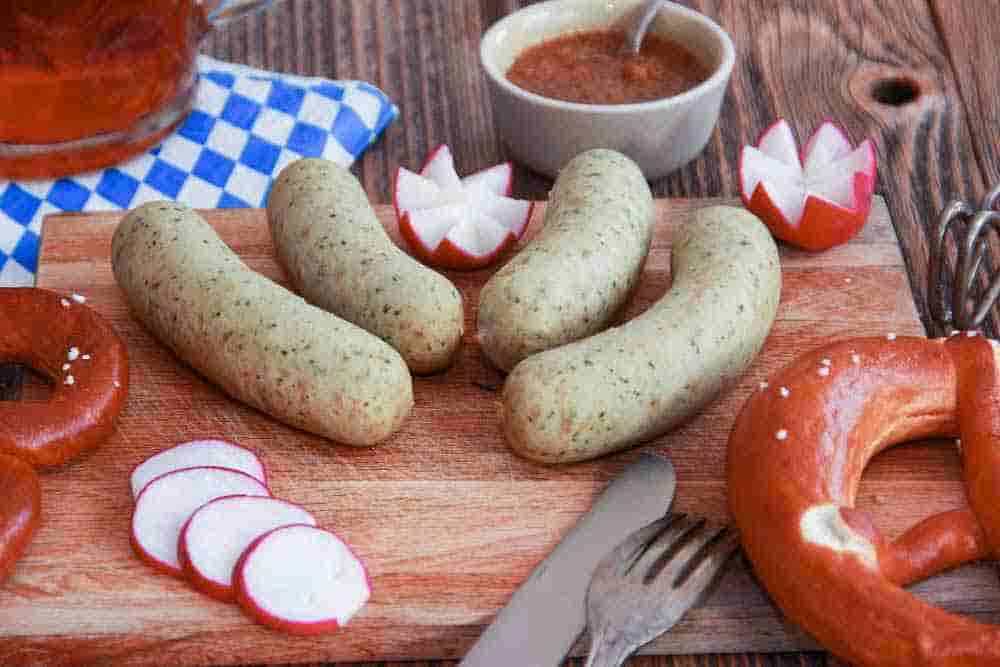 How it was invented
There is a legend that claims that it was invented 1857 when a restaurant owner ran out of the casing and send his apprentice to get some. He returned with pig casing instead of sheep casing so they decided to use it anyway and not fry it so they wouldn't burst. Instead, they heated them in water. However, there is evidence that the Weißwurst exists at least since early 1800 since there are pictures of people eating it. Apparently, it is simply a variation of the traditional May-Sausage with different spices.
Oktoberfest and other big celebrations in Munich made the Weisswurst worldwide famous over many years.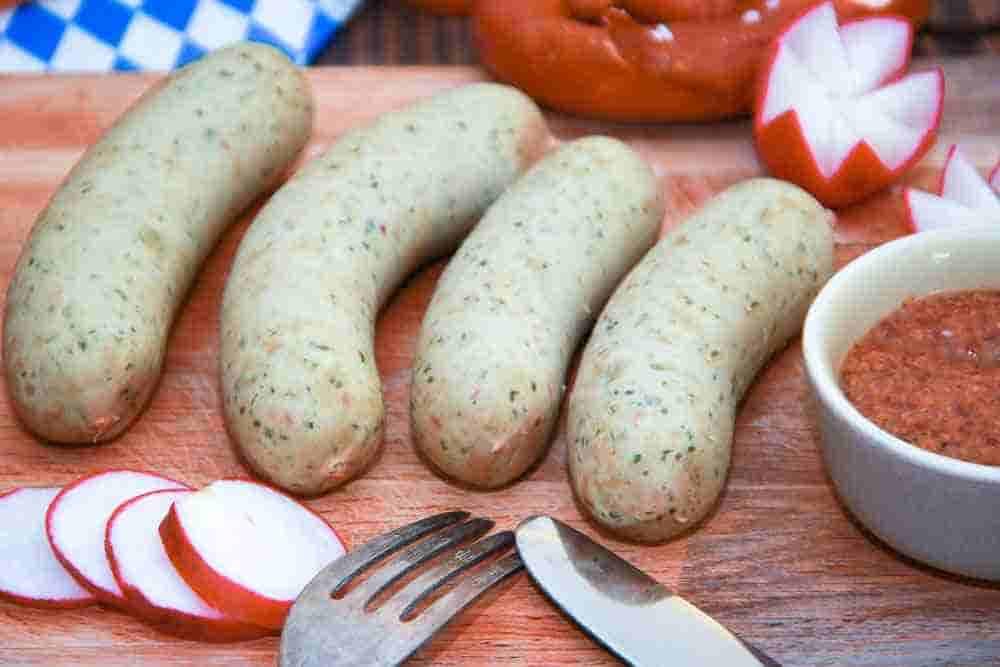 Can you freeze it?
Yes, absolutely. I make a whole bunch of White Saussage for our Oktoberfest weeks before it happens and then freeze all of them … ok, maybe I eat one or two … but I freeze most of them ;-) .
For our Oktoberfest, I thaw them overnight and later reheat them in hot water for our guests.
You need to keep the weisswurst in hot water. Usually, they are served in a bowl of hot water because they need to stay hot but also because they turn sort of grey after a while if you remove them from the water. You can see that on my pictures, which took a while to arrange and take.
Phosphate
While looking up the American equivalents of my German ingredients, I got a little worried that I might recommend the wrong stuff and accidentally have someone poison themself. I got my phosphate in Germany but the company doesn't deliver outside Europe, so I will tell you what my package contains and what I think might be an equivalent here in the US, but you please think & decide for yourself:
Phosphate – German package says "Diphosphat" – could be PhosThis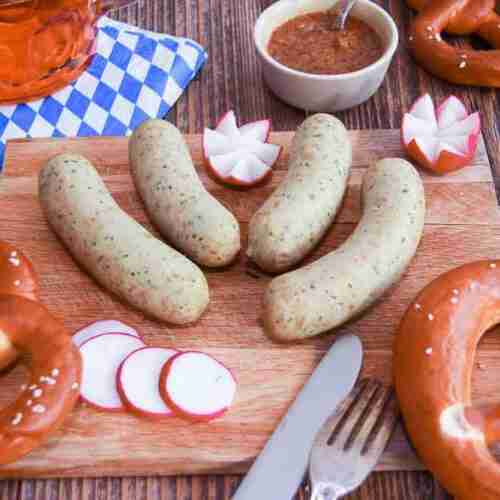 Weisswurst – White Sausage
Ingredients
2

pig casings

250

g

Veal

220

g

Pork (i.e. from the neck)

250

g

Bacon, no additives

30

g

Pork Rind

1

Lemon, zest from it

20

g

Salt

2

g

Phosphate

20

g

onion, finely chopped

2

g

White Pepper, ground

1

g

Ginger, ground

1

g

Macis, ground

250

g

crushed ice

30

g

Parsley
Instructions
Rinse the salt off the casing and soak it in a bowl in some warm water.

The meat should be very cool and needs to me grind in the meat grinder first on medium, then on a small size.

Put the ground meat into the freezer for a couple of minutes, while you prepare the other ingredients.

Wash the casing inside and out with tap water and put it aside, covered with a lid.

Use your food processor to crush ice cubes if you don't have crushed ice.

After removing the ice from the food processor, add the parsley to the machine and chop it finely.

Now add the meat and all other ingredients to the food processor and let it run for a minute.

Add the crushed ice and let the food processor run for a while. Inbetween check the temperature to be below 12°C / 53°F.

Prepare the sausage filler: Put some oil on the pipe to make it easier to get the casing onto it.

When you have the casing put on the pipe, move the hand crank until all air is removed from the pipe and some sausage comes out.

Make a knot into the casing.

Slowly turn the hand crank on the sausage maker to fill the casing. Don't fill it too tight though since you will need to divide the sausages later.

When you all sausage is filled, make a knot at the other end.

Now divide the sausages in the size you want: 10-12 cm usually, 8 cm for smaller ones.

Turn the sausages to separate them or use some kitchen twine but don't cut them apart, yet.

In a large pot, bring water to an almost boil at 75°C / 167°F.

Put the sausages into the water, use a plate or smaller lid to dunk them under water completely.

After 30 minutes the sausages are ready to be removed. Now you can cut them apart and either enjoy fresh or freeze for later.
Notes
There is alway a little leftover in the sausage stuffer. I remove it with a small spoon and shape it into little meat balls, which I throw into the water with the sausages. After a couple of minutes I can take them out and enjoy them with some sweet mustard as a reward for my work.