Often sweet dishes and desserts come with a vanilla sauce in Germany. While one can buy it in Germany like in a milk jug,
or as a powdered mix to make it either as a cold sauce or warm, here I haven't found anything like that. A very simple method to make a warm vanilla sauce though, is to use a package of vanilla pudding mix and just double the amount of milk, or – if you don't want to end up with too much sauce, just use half of the package.
Here is, how to make vanilla sauce from scratch: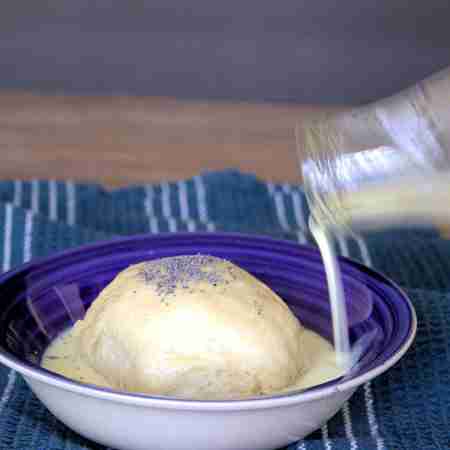 Vanillesauce / Vanilla Sauce
Ingredients
1

vanilla pod

25

g

corn starch

50

g

sugar

500

ml

milk
Instructions
Slice the vanilla pod in length and - using a knife - scrape the vanilla out of it's center. Use the rest of the vanilla pod for vanilla sugar (see other recipe).

Add the vanilla and mix it to the starch bowl.

Bring the remaining milk to a boil - careful! Don't set heat to high and observe closely, stir milk frequently to avoid any setting on the bottom of the pot.

When the milk starts boiling, remove it from the stove and stir the starch mix from the bowl into the pot.

Bring the sauce back to the stove and bring back to boil for lass than a minute while stirring constantly.

Let sauce cool, stir every now and then and use either warm or cold.