Sometimes I really miss pastries like Vanilla Pudding Swirls (Vanille Schnecken) from a German bakery. I never had to make them myself since it was so easy to just grab one at one of the bakeshops that are kind of everywhere in Germany. A recent trip to Germany reminded me of all the wonderful baked goods and I felt like I just need to have one right now and here in Texas.
There are a lot of recipes for Vanilla Pudding Swirls on the web and most of them are pretty much the same. There was one though, that was standing out since it had yeast AND baking powder in it. I just wanted to try it and see if that has any benefit to the consistency. It doesn't. The swirls turned out as I would have expected with just yeast in them. They were fluffy and soft. The outside was a little crisp though because I didn't brush them with egg wash. I will definitely use egg-wash next time.
Video How To Make Vanilla Pudding Swirls
Coffee & Vanilla Pudding Swirls …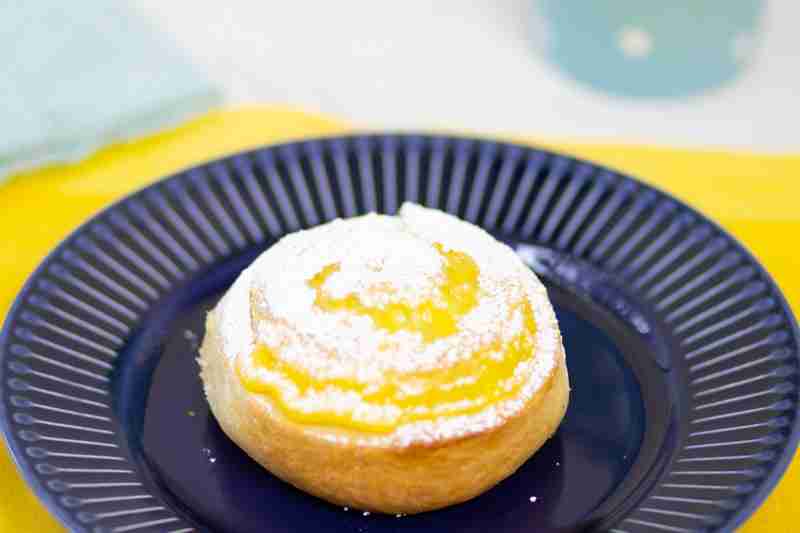 … to me, that is a match made in heaven! The traditional afternoon coffee that we Germans enjoy is often accompanied by pastries like Pudding Swirls. It is especially convenient since one can also eat it on the fly when you just grab something while heading to another appointment, running to the subway …you know what I mean.
Puddingschnecken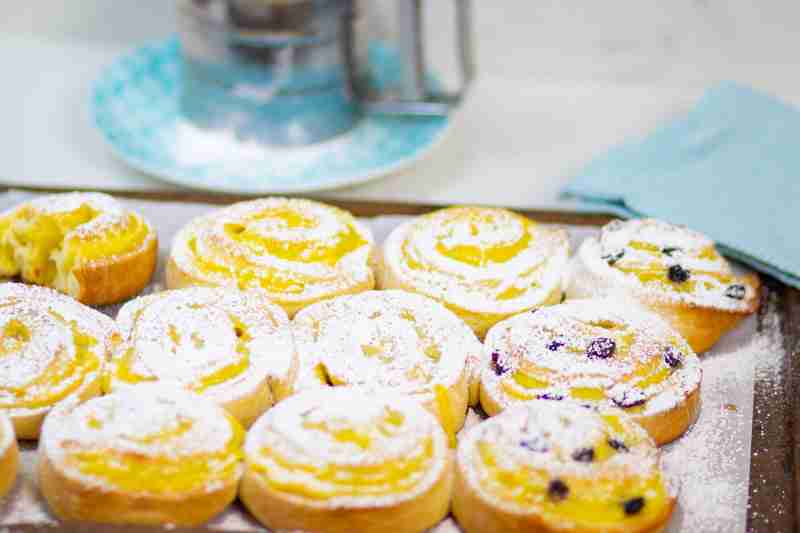 The German name for Vanilla Pudding Swirls is Puddingschnecken and it can be translated to Pudding Snails. I decided to not use the word snail though and go with swirls instead.
Ingredient Tips
Some notes on the ingredients: As mentioned before, I don't think adding the baking powder makes any difference in this recipe. You can just leave it out. The vanilla sugar can be easily made with sugar and a vanilla pod and how that is done, you can learn here. Or you just use some vanilla extract instead. There is no real conversion how much vanilla sugar equals vanilla extract. I would use as much extract as you would usually use in such a recipe, my guess is that it would be 1 teaspoon.
Raisins are not given any love in this house but if you like them, use them as described in the recipe, they are optional. I have seen some people using chocolate chips instead.
Different countries might have different vanilla pudding packages. Like, in Germany, the sugar is not added to the package, meaning that the person cooking it adds it. Also, the way it is cooked is a bit different from American packages. Since people from all over the world are using my recipes, I did not go into detail about how I cooked the pudding. Please check your package instructions and know that my pudding called for 500 ml or 2 cups of milk. You can use a little less milk to make the consistency a bit denser but that will leave you with less pudding to spread. Alternatively, just add a tablespoon of starch to the pudding which will make it denser.
Pin to Pinterest Pictures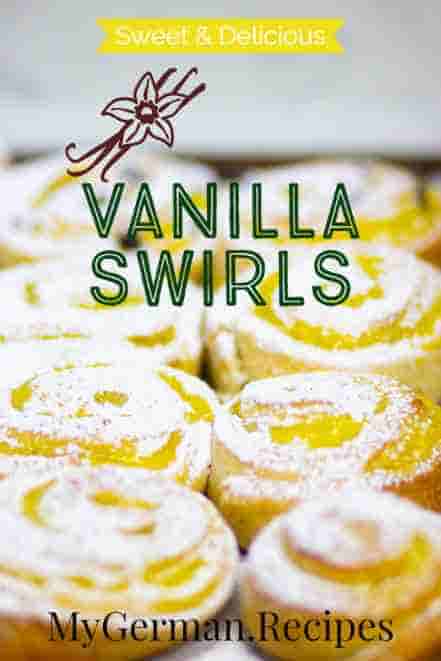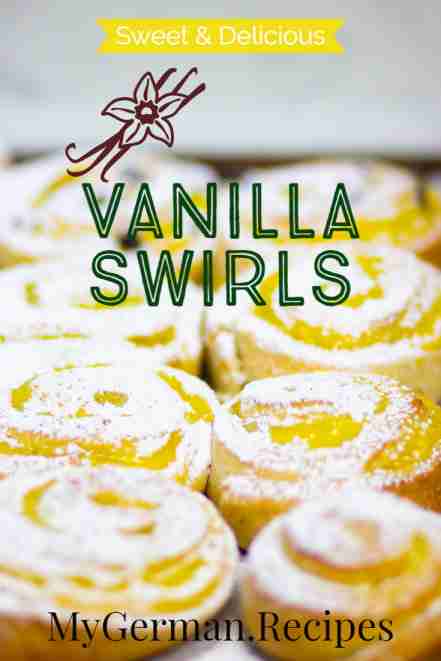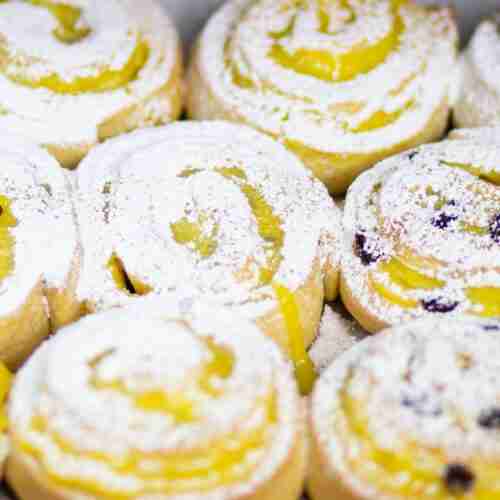 Vanilla Pudding Swirls
Ingredients
For the Dough
150

ml

Milk

lukewarm

3

tbsp

Jogurt

7

tbsp

Sugar

100

g

Butter

soft

1

pinch

salt

1

Egg

14

g

Yeast

instant

2½

tsp

Baking Powder

optional, seems to have not impact!

1

tbsp

Vanilla Sugar

or 1 tsp. Vanilla Extract

600

g

Flour

All Purpose
For the Filling
1

package

Vanilla Pudding

for cooking

accociated ingredients to cook the pudding, like 500 ml Milk

3

tbsp

Raisins (optional)

soaked in Rum or Water
For Decoration
3

tbsp

Confectioners Sugar
Instructions
Make the Filling
Start with making the pudding, following the instructions on the package.

1 package Vanilla Pudding,

accociated ingredients to cook the pudding, like 500 ml Milk

Cover the cooked pudding with some cling wrap directly on the surface and let cool completely. Do not stir while cooling!

Soak the (optional) raisins in rum or water

3 tbsp Raisins (optional)
Prepare the Dough
Add the yeast to the milk, add a little sugar, whisk and let rest for 10 minutes.

In a bowl, mix the flour with the sugar, vanilla sugar, and (optional) baking powder.

7 tbsp Sugar,

1 tbsp Vanilla Sugar,

600 g Flour,

2½ tsp Baking Powder

Put all dough ingredients (including fllour mix from previous step) except for the butter into the mixing bowl and start mixing.

3 tbsp Jogurt,

1 pinch salt,

1 Egg

Once the dough starts to come together, also add the butter and mix everything until a smooth dough is created.

Shape the dough into a sphere, put back into the bowl, cover it and let proof until it has doubled in size (about 45 to 60 minutes).

Roll the dough into a large rectangle.

Spread the cooled vanilla pudding onto the dough, leaving a gap at all sides. Sprinkle the raisins onto the pudding (optional).

Loosely roll the dough to a log.

Cut about 10 to 12 slices from that log, each about an inch / 2,5 cm wide.

Place the slices onto a baking sheet with parchment paper underneeth and cover with a towel.

Mix the egg yolk with the milk and brush the slices with this egg wash. I forgot to do this in the video.

Let rest for another 15 to 20 minutes and during that time start t preheat the oven t 180°C/350°F. I am using a convection oven, temperature and time might differ somewhat from other ovens
Bake and Decorate
Bake the Swirls for about 25 to 30 minutes. Let them get just a bit golden before taking them out.

Sprinkle with confectioners sugar, let cool somewhat, and either enjoy warm or cooled.

3 tbsp Confectioners Sugar
Nutrition
Calories:
338
kcal
Carbohydrates:
57
g
Protein:
7
g
Fat:
9
g
Saturated Fat:
5
g
Polyunsaturated Fat:
1
g
Monounsaturated Fat:
2
g
Trans Fat:
1
g
Cholesterol:
50
mg
Sodium:
212
mg
Potassium:
107
mg
Fiber:
2
g
Sugar:
17
g
Vitamin A:
281
IU
Vitamin C:
1
mg
Calcium:
89
mg
Iron:
3
mg
Summary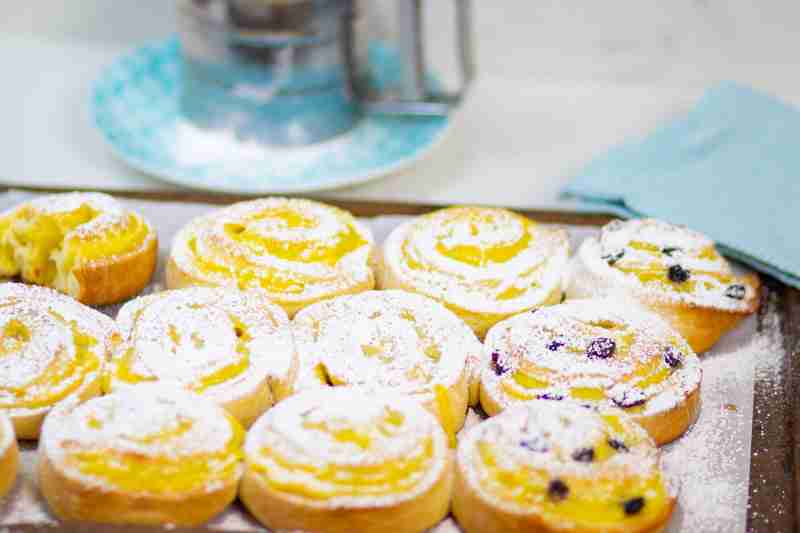 Recipe Name
Author Name
Published On
Preparation Time
Cook Time
Total Time