Vanilla Crescents are almond cookies with a rich vanilla taste and a moon shape. We call them Vanillekipferl and they have a soft texture that gently falls apart in your mouth to unleash a delicious vanilla taste.
How to bake Vanilla Crescents
The recipe is fairly easy and shaping the crescents is too. The ingredients are mixt either by hand or by a machine. I prefer to mix this by hand since this is how I have learned it and has become a tradition to continue to do it like that. The downside of this technic is that the temperature of your hands lets the butter in the dough get warm and too soft if you knead too long. So working fast is key! If you tend to have very warm hands you might prefer the electric mixer to make the dough.
Video how to make Vanilla Crescents
Which Almond Flour
I sometimes use the fine almond flour that is just white an has little to no almond skin in it. But traditionally we have the almond flour (or almond meal) that has the skin mostly on and therefore has a little more of a brown color. Either way will work.
If you can get almond flour in your area, here is how to make your own:
But almonds in a bowl and pour boiling water over them. Let stand for a couple of minutes, then remove the water. Put the almonds on a clean kitchen towel. Use a second kitchen towel on top of the almonds and use it to rub off the skin from the almonds. They don't need to be all gone, just remove as much as possible with a reasonable effort. Then put the almonds into a food processor or other kind of machine that can grind and grind until the almonds are finely cut into a flour like texture.
Please Pin this Recipe to Pinterest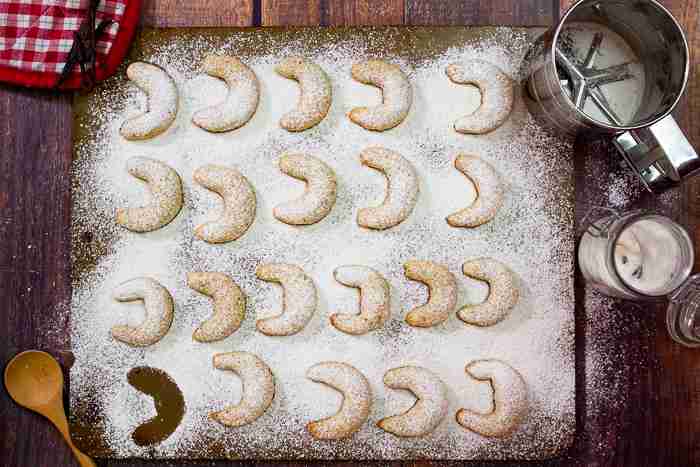 Vanilla Crescent Cookies
Vanilla Crescents – a traditional German Christmas Cookie
Ingredients
250

g

Flour

120

g

Almond Flour or Meal

125

g

Sugar

1

tbsp

Vanilla Sugar

¼

tsp

Baking Powder

3

Egg Yolks

200

g

cold Butter

some

Confectioners Sugar (Powdered Sugar)
Instructions
Mix all ingredients to a firm dough – either by hand or by machine.

Roll the dough into two thick strands.

Cut portions out of the strands.

Shape each portion into a crescent shape and place it on a baking sheet.

Leave enough space between the cookies since they will become larger during baking.

Preheat the oven to 200°C / 390°F.

Bake the Vanilla Crescents for about 10 minutes – maybe more or less, depending on the size of your cookies.

After baking, let the cookies cool just a few minutes, then continue with the next step.

Put the confectioners' sugar and optionally add some vanilla sugar and almond flour to it, then use a sieve to sprinkle it generously onto the cookies.

Let the vanilla crescents cool completely and store in an airtight jar or enjoy immediately.