Each year, lots of Germans start a Rum Pot during the summer months and enjoy the fruits of their work by the end of the year. This sort of "long-term project" also makes a great Christmas gift for friends and neighbors, if you refill the rum pot content into several smaller jars. It's like conserving the last summer in a jar and mainly in December, this delicious (alcoholic) treat is enjoyed on top of ice cream or other desserts.
The concept is pretty simple: Use the fruits you like (except for bananas, they don't work very well), clean and cut them, add them to the jar and add some sugar. Then add enough rum to the jar to cover the fruits. Every time you add fruits, add sugar and rum. Continue through the whole summer and finish it in fall maybe with some sugar plums. Let it soak until December and either enjoy it yourself or give the rum pot as a gift to other people. You can get some mason jars for that and decorate them nicely with my beautiful Rum Pot tags.
Which fruits for the Rum Pot
I chose fruits that have been available in Germany during my childhood but this doesn't mean that you have to stick to strawberries and peaches. You could go tropical or Asian and add pineapple, kiwi, lychees, … all kinds of fruits that you love. I recommend starting with fruits that will not get mushy easily at the bottom. Important is, that all fruits are undamaged, have no mold or rot or have anything you wouldn't want to eat in fresh fruit.
How much fruit?
Well, knock yourself out but keep in mind that your jar has its limits! It should all fit into the pot and still be covered with rum. And if everything is covered with alcohol, you don't have to fill the jar up to the rim.
How much sugar?
Good question, right? The answer is: As much as you like! If you want to cover the – let's call it "sharp" – taste of the rum, then you should use more sugar but if you are totally into the rum taste, maybe use a little less. I remember my parents completely covering each layer of fruits with sugar.
How long do I have to wait?
Since back in the days fruits had to be in season in order to be bought at the store or picked in the garden, we would finish the layers in September with sugar plums, pears, or apples. From then the rum pot would stand until December, which means 2 to 3 months. But since we can get most summer fruits already early in the summer, this could mean that you can enjoy your rum pot about 2.5 months after you added the last fruits. Also, there is no rule that forbids you from tasting the fruits earlier (as you could learn from the video I tried this quite successfully).
Rum Pot traditions
In many families, it is a tradition to start enjoying the rum pot on the 1. Advent, which is the last Sunday in November. I can imagine that Americans want to change that to Thanksgiving?
One more thing …
… keep it well hidden from your kids! The fruits are sweet and this attracts children like honey attracts Winnie Pooh. If you don't want your teens to taste, be creative, put up a "High Voltage" sign or anything the like next to the place where you hide that jar!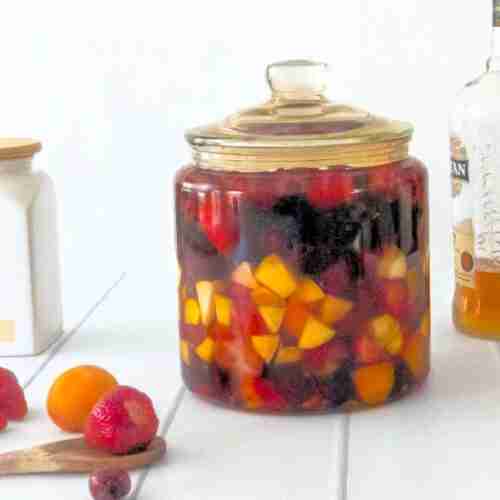 Traditional German Rum Pot – Rumtopf
Ingredients
fruits like peaches, strawberries, blackberries, …

sugar

rum, i.e. 54%
Instructions
Wash, clean and cut your fruits.

Add a layer of fruits to a large jar.

Add a layer of sugar on top of the fruits, then fill as much rum into the jar as needed to cover the fruits.

If the fruits float, use a plate on top of the fruits to weigh them down and make sure all fruits are covered with rum!

Continue to add a layer of fruits and sugar during the summer and always fill enough rum in to cover all fruits.

Let stand for 2.5 to 3 months (or longer).

Enjoy on i.e. ice cream, pudding or cake or eat the fruits without anything and drink the rum.
Notes
More ideas for rum pot
Since there is always more rum than fruits in the jar, chances are that you have some "leftover rum". You can add a tablespoon of rum to your coffee or tea. Another great idea: Add 1 – 2 tablespoons of that rum to a champagne glass and fill it up with champagne.
You can also puree the fruits and rum and freeze it to make a rum pot sorbet!