Not a fish fan? You might change your mind about that! This delicious tilapia recipe has been my absolute favorite at our Italien restaurant in Germany and I believe I've never ordered anything else than that. Don't be afraid of preparing something else than fishsticks!
The steps are easy to follow. For a side dish I would recommend fresh carrots. I didn't have any when I made this dish but broccoli worked just as fine. It's just that I think that the slight sweetness of carrots matches better with the juicy sweet taste of the sauce.
I didn't go to the fish counter, to be honest. I used frozen tilapia. It tasted great anyway! The whole family loves it, though my kids are usually not such big fish fans.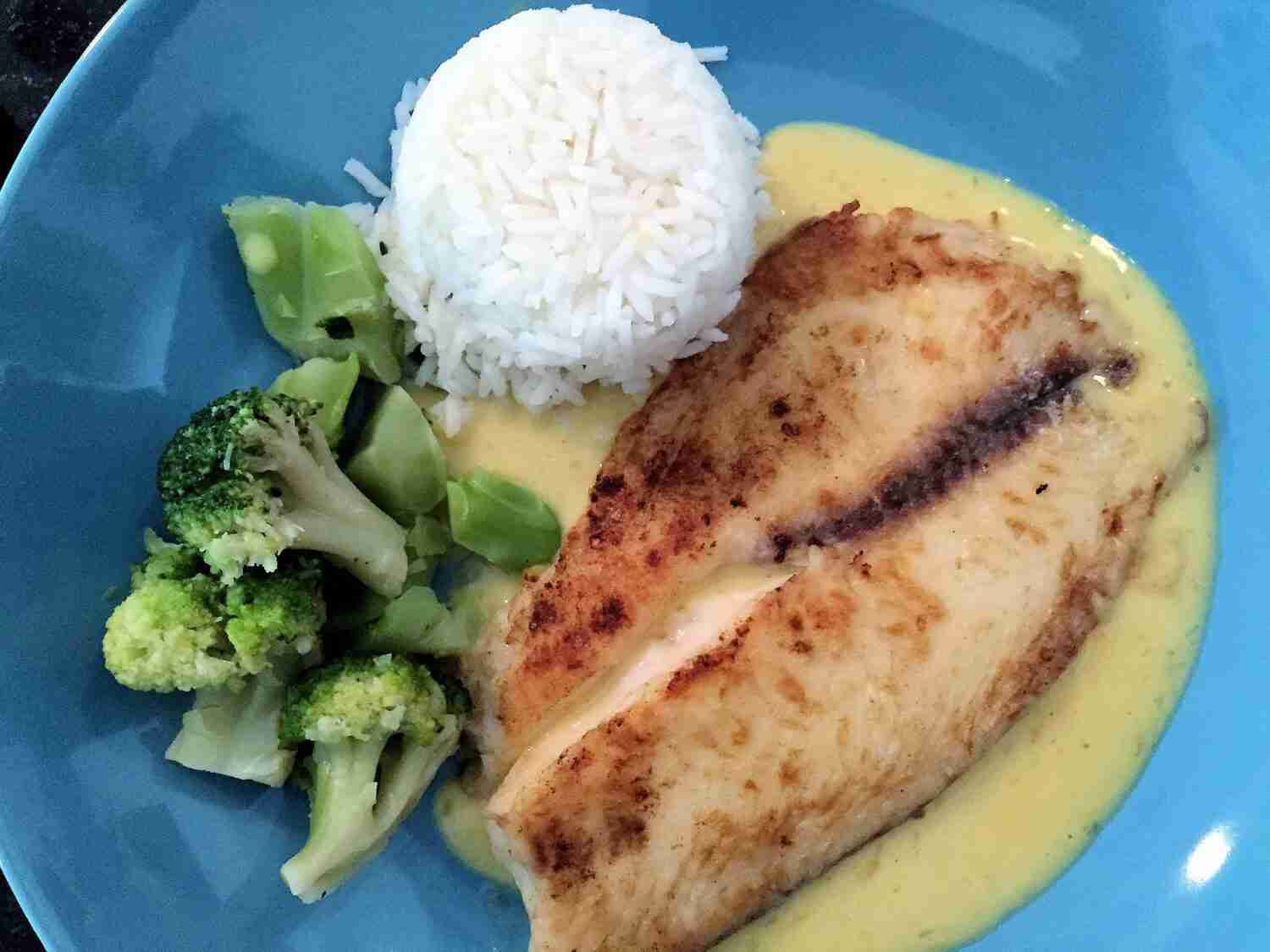 Tilapia in Orange Sauce
Fresh, juicy fish recipe - loved by many!
Ingredients
For the fish
4

tilapia filet

4

oranges

190

ml

white wine, or

broth if children are at the table

190

ml

whipping cream

(I used less and added some milk)

some

flour

1

lemon

(juice of it)

1

tsp

mustard

some

sugar

salt and pepper
For the sides
carrots

(I prefer the fresh carrots with greens on it for better taste)

rice

(use own judgment for how much you might need)
Instructions
Prepare the

rice

and the carrots for the sides and let them cook while preparing the fish.

Thaw the fish (if frozen) and wash it with cold water. Then dry it with paper towels.

Sprinkel salt and pepper on each side.

Place flour on a large plate, then one by one put each fish into the flour and cover it with the flour - again from both sides.

Take one of the oranges and cut some orange zest from it. Then peel the orange completely and cut orange filets (no skin).

Use the other three oranges to squeeze orange juice from it.

In a large pan melt some butter on medium heat and fry the fish from both sides.

Put the pan back on the stove and add the orange juice plus the wine or broth. Let cook for a while until the sauce is reduced.

If necessary, mix a tablespoon of starch with cold water and add, to thicken the sauce.

Give the sauce through a small strainer to remove fruit pieces from the oranges, if necessary. Then put the sauce back to the pan.

Ad the cream to the sauce, let cook for a minute and carefully put the fish back into the pan to reheat.

Add the orange filets and let them get warm in the sauce.