Do you like sweet rolls? These German Milk Bread Rolls or Milk Rolls (Milchbrötchen in German) taste like straight from heaven! They are light and fluffy and sweet – and they also fill you quite a bit. 
While it seems that sweet dinner rolls are a thing in the US, our German Milk Rolls are more a thing for breakfast or for in between meals. It is also very common to give them to our toddlers and kids. Especially giving a milk roll to the toddlers it is some sort of survival strategy of German moms. If we have to run errands with our fuzzy and easily irritated toddlers (keyword tantrum – say no more!) our first stop is at a bakery where we buy a milk roll. We give the roll to the toddler in the stroller and while this keeps him or her occupied and happy, we get a whole lot done – unless the milk bread falls to the ground and hell breaks loose and that's why I always had a second one on hand … yes, I am a seasoned mom and I know all the tricks ;)
Sweet Rolls or not?
While the dinner rolls from last week's recipe were crisp on the outside, these milk rolls are very soft and though I have never tried them, I think they are somewhat like Hawaiian bread maybe? At least they look like them. They can be made quite sweet like in my recipe or you use only a little sugar, no vanilla sugar, and no honey to reduce sugar or even plan them for hamburgers. It is absolutely up to you how sweet you want your milk rolls. You should, however, always use some salt because otherwise, the rolls will taste bland.
Some people like to add some raisins to the rolls. If you want to try that, first soak the raisins in some hot water for like 1/2 hour and add them to the dough when you have almost finished mixing.
Milk Rolls for Grandpa & Pregnancy
As we age, we have to accept some changes in our lifestyle. This especially applies to food. My father in law visited us last year and out of the sudden he wasn't so much into meat anymore. After a couple of days, we figured out that he was worried about his teeth. He still has his own teeth and he wants to keep it that way but he also knows that they are not as strong as they used to be. So, for the same reason, elderly people in Germany switch to milk rolls instead of the regular rolls.
I found another very good use for milk rolls during my pregnancies. During the first 12 weeks I had quite a bit of sickness to deal with and in order to keep the acid in my stomach down, I always kept a milk roll in my purse and ate a little of it every time I felt sick. It also kept my blood sugar at a good level, since I didn't really eat a lot during that time.
Proofing time
Like in the other recipe for Dinner Rolls, you can choose if you want to bake them for dinner or for breakfast. If you want them for breakfast, use a little less yeast and let the dough proof overnight in the fridge. Get it out of there in time so it can get to room temperature. Remember to always cover your dough with a damp towel if you have a long proofing time. Otherwise, a dry crust builds up on the top of the dough and will keep it from rising.
Edit: In my latest experience, it is best to shape the rolls and let them rise before putting them into the fridge if you want to bake them in the morning.
In my video, I introduced the reusable wax cover which I use instead of cling wrap. It works very well and I have covered all kinds of foods from fish to cheese with it and it works perfectly. I am very happy with it and glad I can avoid some cling wrap on my efforts to reduce plastic. If you are interested: I put the product link right below.
Product Link:
Any questions?
If you have any questions about my recipes, please use the comment section and ask. It might take a few days before I answer but I always answer! I would also love to hear how it went and if you like a recipe, so feel free to share your thoughts.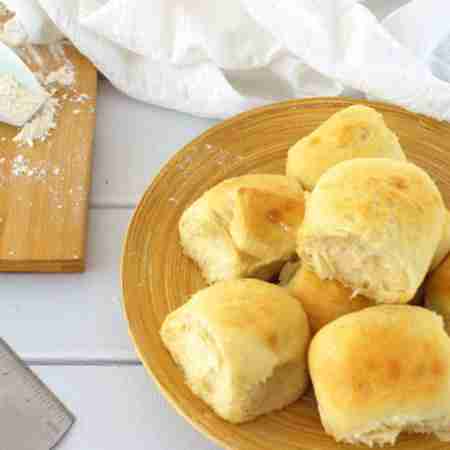 Milk Bread Rolls - Sweet Rolls - German Milchbrötchen
Fluffy, sweet rolls like from the German bakery: Milchbrötchen!
Ingredients
450

g

all purpose flour

(use weight, not cups for accuracy)

250

ml

milk, lukewarm

1

pouch

dry yeast (7 g or 0.25 oz)

2

Tbsp.

vanilla sugar

2

Tbsp.

sugar

1

Tbsp

honey

1

egg

½

tsp.

salt

½

stick

butter, cut in slices (=56g)

at room temperature
Instructions
Use some of the warm milk to delute the yeast in a small bowl.

Add the flour to a large mixing bowl.

Add the yeast milk mix to the flour, cover and let stand for 10 minutes.

After 10 minutes add the sugar, vanilla sugar, honey, salt and the egg.

Give it a quick mix until the ingredients are mixed well, then add the butter.

Mix the dough for 10 minutes.

After 10 minutes mixing, cover the bowl with a damp towel and let the dough proof for 2 hours.

After 2 hours the dough should be significant larger.

Give it a quick knead and if you have time, let it rest for a few minutes.

Preheat the oven tp 350°F.

Divide the dough into 9 parts of equal size.

Each dough part gets shaped into a sphere by moving it with a hollow hand in a circle on the table.

Grease a baking sheet or a caserole with butter and place the rolls there.

You can either place them close to each other so they grow together or apart so they bake seperated from each other.

Bake at 350°F for about 20 minutes (more or less, depending on the oven and size of the rolls).

Remove the rolls from the oven, let cool. Best enjoyed warm and fresh.
Notes
I recommend eating rolls the same day they are baked or within 24 hours.