Red, yellow, orange … but never green – that's how we like our bell peppers! Filled with ground beef and cooked until juicy and soft, paired with some rice … so good! My family LOVES stuffed bell peppers!
We love bell peppers and they contain a lot of vitamin C, beta carotin and other healthy stuff. Some people seem to have problems to digest them, some even peel them (how does that work?) but we eat them raw or cooked whenever it is suitable.
"Hey dude, you know that is raw, right?" said a peer to my son at lunch. I don't know, but it seems that bell pepper is not very common as a snack here in Texas. Anyway, my kids would never want to miss this in their lunch boxes and they don't even need Ranch Dressing to like it – though they wouldn't mind to have some.
Stuffed bell peppers are a classic weekday dish for Germans and there are actually two ways to prepare them:
Either cook the ground beef ahead and fill it into the peppers or fill them with raw but spiced ground beef and have it in the oven about 25 minutes longer. I usually prefer the second option because the peppers take in a lot of the flavor from the meat and there is more juice for the rice. I do not make any gravy for this meal since the juice from the bell peppers and the meat is so delicious and just right to give the rice a rich note.
One thing that I like about this meal is, that you prepare it and then everything cooks on it's own in the oven while I can do other things. You will find out, that a lot of my recipes are like that – hey, I am a busy women, I can't spent time to stir things at the stove!
How do you know how much ground beef you need to buy?
… that's what my daughter asked me recently when we bought the ingredients for stuffed peppers. My answer was actually a perfect addition to our math lessons with fractions!
First, I think about how many bell peppers I have and how big they are.
Second, I grab a package of ground beef, look at it and in my head I divide it in as many equal parts as I have bell peppers.
Ask yourself: Will one part be enough to fill one bell pepper? Or will I need a bigger package?
Now if you wonder why I don't give exact weight for the ground beef, that's because I don't know how big the bell peppers are, that you found at your grocery!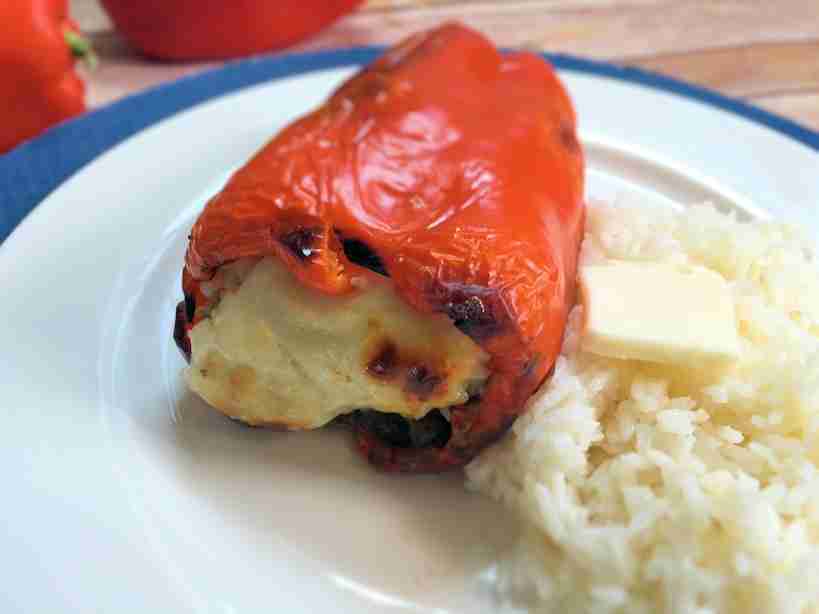 Stuffed Bell Pepper - gefüllte Paprika
You are so gonna love how easy and how great the outcome is!
Ingredients
4

bell peppers

red, yellow or orange

ground beef,

weight acording to size of bell peppers - read above text!

some

salt, pepper

some

garlic

1-2

tbsp

tomato paste

some

dried oregano leaves

some

ground

paprika

some

garlic salt

1

egg

some

plain bread crumbs

1

mozarella, fresh or shred
Instructions
Wash the bell peppers, remove the stem and everything in it.

In a large bowl mix the ground beef with salt, pepper, paprika, tomato paste, garlic, oregano, garlic salt.

Preheat the oven to 375°F.

You can decide whether you want to cook the ground beef in the pan and then add it to the bell peppers (the faster way!) or you stuff the bell peppers with the raw ground beef and cook it in the oven (more moist and tastes better) - it's your call!

Put the bell peppers in the oven for about 30 (precooked meat) to 50 (raw meat) minutes. Use a meat thermometer to make sure it is cooked through.