My parents hated split pea soup and any kind of stew. They had it a lot during WWII and didn't want to be reminded of their childhood in war. But once in a while, we had a celebration in our village and the firefighters brought pea soup for everyone.

When there was a new building to inaugurate, the firefighters would come with their fire truck. It would pull a small trailer called "Gulasch Kanone" to the location. Like the one on the picture below:
This trailer contained a whole lot of pea soup with wieners and it was free food for everyone. I loved it! Although I, in general, have a sweet tooth (I guess you've noticed), I really appreciated this hearty comfort food, even on a warm summer day.
There was a slice of baguette bread with it, which was also a treat for me. My mom only allowed whole wheat and whole grain bread at home. Yes, I can really say that this is comfort food for me and I love pea soup or pea stew ever since.
Pea Soup or Pea Stew?
I like my soup to be more a stew than a soup. It's rather on the mushy side. But this recipe goes both ways: If you want a rather liquid soup, you simply add a little more chicken broth and add the potatoes 10 minutes later, so they don't release too much starch into the soup. That's it.
Germans have one special sauce that is often added to the soup once it's on the plate: Maggi. In my personal opinion, it destroys every unique taste of any soup and makes everything taste the same. Some people are so used to it that they can't enjoy their soup without Maggie. Poor souls. I stick to seasoning with salt, pepper, and some apple cider vinegar or lemon juice and add some herbs like Majoran.
Inexpensive & Easy
This soup is very easy to cook. It's perfect for beginners. Just keep in mind that this soup needs to be stirred occasionally so it doesn't burn on the bottom. The ingredients are cheap so it is also great if the budget is tight or to feed a crowd or if at the end of the month you need to stretch your money a little bit. Being one of four kids I know a little bit about that and to this day I frequently even out our weekly budget with one or two cheap meals.
In case you are jealous of my wonderful cubing tool: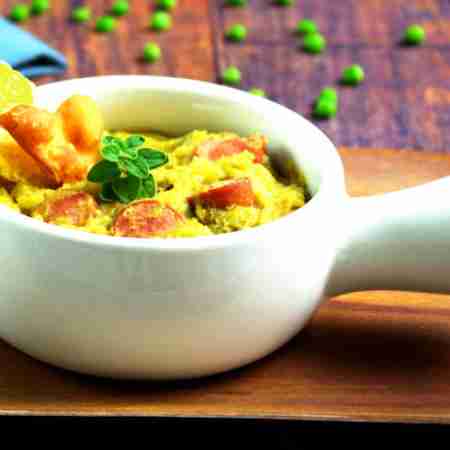 Split Pea Soup or Stew - Traditional German
Ingredients
250

g

split or whole Peas

1

leek

200

g

Celery Root

2

carrots

2

Tbsp.

olive oil

100

g

bacon, cubed

750

ml

chicken broth

250

g

potatoes

4

Wieners

some

salt, pepper

some

White Wine Vinegar
Instructions
Put the peas in a bowl and cover with water, let them soak over night.

The next day: Cut the leek into rings, the carrots, celery and the potatoes into cubes.

Heat the oil in a large pot and add the bacon.

Let the bacon fry for a few minutes, then add the Carrots, Leek and Celery Root.

Sautee for a few minutes, then add the Chicken Broth.

Remove the remaining water from the peas and add them to the pot.

Let cook for 45 minutes, stir inbetween and check that ther is enough liquid in the pot.

After 45 minutes, add the Potatoes and let them cook in there for 10-15 minutes, continue to stir frequently.

Slive the Wieners and add them to the soup at the end of the cooking time.

Spice with salt, pepper and vinegar.
Notes
Add more Brooth if needed.