Sauerbraten is translated to Sour Roast and is a German pot roast with a slightly sour taste for the meat and also for the gravy. To counter the sourness of the ingredients like wine and vinegar, some sweet ingredients are added.
There are different variations of the German Sour-Roast and like so often the recipe depends on the regions of Germany. There are different recipes in Saxony than in Rhineland or Swabia and so on.
My recipe for Sauerbraten is probably closest to the Rhineland version with a hint of Swabia in it. And while in Rhineland, in the past, it was common to use horse meat for this dish, it was usually beef that was used in other regions. Similar variations of this meal also exist in other European countries but though I am not entirely sure, I believe it originates from Germany.
Two Recipes for Sauerbraten
In this post, I will publish two recipes for Sauerbraten: A traditional German Sour Roast and a version that one of my followers, Martin Par, sent me. He highly recommends his recipe and I think it is worth trying, too. So, thank you, Martin, for sharing your recipe with us and letting me publish it!
Video for German Sour Roast
Marinade The Sour Roast
The traditional Sour-Roast was made with meat that was rather tough like the meat of an old horse or certain parts of the cattle. To make that meat tender, the meat is soaked in a marinade for at least 5 to 7 days or even more. The vinegar in the marinade is crucial for making the meat tender but the wine and spices give it a delicious and unique taste.
I would advise you to keep the roast in the fridge during the entire marinade time.
Raisins or No Raisins?
The Rhineland version of the recipe asks for raisins and I think they really make a difference when it comes to the taste of the gravy. Other regions like Swabia, usually don't have raisins in the recipe. You decide what you want to make out of that!
Gingerbread and Sour Roast
Pin Recipe to Pinterest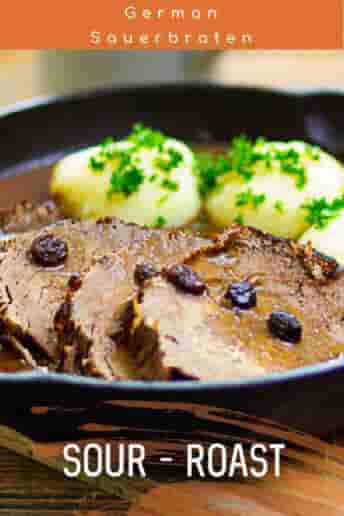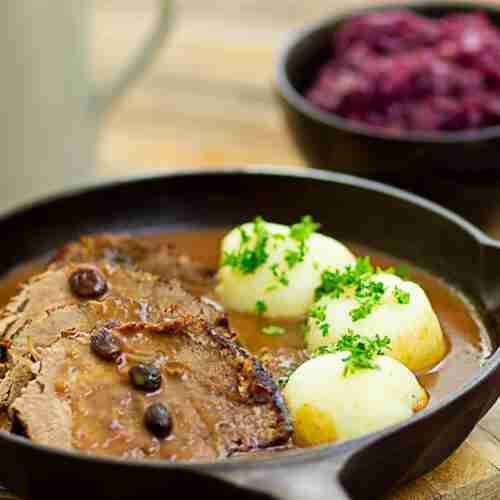 Sauerbraten – Sour Roast (traditional)
GermanPot Roast / Sour Beef
Equipment
Immersion Blender or equivalent
Ingredients
Marinade & Meat
1,2 

kg

Beef Roast 

i.e. from shoulder or roundroast

1

Carrot

¼

Root Celery

2

cloves

Garlic

½

Leek

1

Onion

large

2

Cloves

2

Bay Leafs

5

Juniper Berries

10

Pepper Corns

some

Salt

some

Pepper

400 

ml

Red Wine

200

ml

Red Wine Vinegar
For the Roast &Gravy
2

tbsp.

Oil for frying

1

Onion 

large

2

tbsp.

Honey

200 

ml

Beef Stock / Beef Broth

4

tbsp.

Raisins

100

g

Ginger Snaps

optional
Instructions
Marinade
Add roast, vegetables, and spices into a fitting pot.

Spice with salt and pepper if needed.

Cover with wine and red wine vinegar.

Close the lid, place the pot into the fridge and marinade for 5 to 7 days.
Cooking the Roast & Gravy
After marinating the roast, take the meat out of the pot and pad it dry from all sides.

Strain the marinade through a sieve, keeping the liquid and discarding the vegetables.

In a large pot, heat the oil.

Add the meat and roast it from all sides.

Add the chopped onions and sauté for a bit.

Now pour the marinade and beef stock over the roast and bring to a boil.

Let the roast simmer for 2hours, flip the meat every 30 minutes.

After 2 hours, remove the roast from the pot, cover, and let rest while making the gravy.

Put the Ginger Snaps into the gravy and let soak for a few minutes. Then blend with an immersion blender until smooth.

Add honey and spices if needed, optional smoothen with a little cream if the gravy has too much acid.

Cut the roast into slices, serve with the gravy and potato dumplings or spätzle or potatoes and red cabbage or carrots.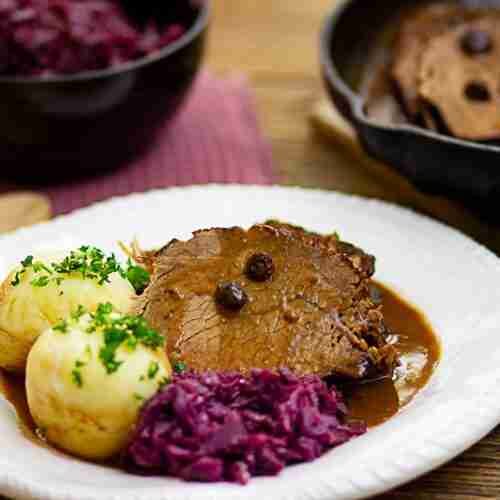 Sour-Roast / Sauerbraten nontraditional
Ingredients
1½ 

cups

Red Wine

½

cup

Red Wine Vinegar

½

tsp 

ground Mustard Powder

¼

tsp

ground Cloves

¼

tsp

Black Pepper

1

tsp

minced Garlic

3

lbs.

boneless Beef Roast

some 

cooking Oil to brown roast

1

tbsp.

Onion Powder

1

cup

shredded Carrots

¼

cup

Raisins

1

cup

Beef Broth

8

oz.

Tomato Sauce, canned

1

handful 

Gingersnap Cookies or more
Instructions
Mix the first 6 ingredients in a 1 gallon Ziploc bag –alternatively use a large bow.

Trim excess fat from the meat and place the meat into the Ziplocbag. Remove most of the air and let marinate 24 to 72 hours.

After meat marinates, remove the meat from the bag and pat dry.Heat oil in a 5-qt. pot and brown meat on all sides in hot oil. Use a papertowel to wipe up excess oil from bottom of pan.

Add carrots, raisins, beef broth, tomato sauce, and onion powder,bring to a boil, then reduce to simmer and cook for 1½ to 2 hours.

When meat is tender, remove the meat and cover to keep warm.

Strain liquids, add water if needed to make two cups of liquid andput liquid in a sauce pan, skim as much fat as possible from the liquid. Inyour hads, grind gingersnaps into the liquid and whisk, don't worry if thereare clumps as the gingersnaps will dissolve as the liquid cooks. Bring liquidto a slow boil and stir occasionally to prevent burning. Cook until saucereaches your desired thickness. Sauce will thicken as it cools down.

Slice meat and serve with red cabbage, Kartoffel-Knödel, Boehmische Hefeknoedel or Spätzle covered in sauce.