Slab Cookies are the perfect solution for holiday baking with very little time. Skip the cookie cutters and complicated decoration and just go for what's most important: The taste of the cookies!
I came to realize that the term "slab cookies" is used in the US for a different kind of treat, so my translation might not be what some people expect. But this is a perfect opportunity to learn about a different kind of cookies and if you try them, I am sure you won't regret stumbling across this recipe!
Video: How to bake Slab Cookies
Easy and Quick Baking
Like most cookie doughs, it is recommended to let it chill for some hours in the fridge. Other than that, this recipe is probably the quickest way to bake cookies from scratch. However, I recently tried to make them even faster by just adding all ingredients at the same time and they didn't turn out as good. So, don't skip the whisking of the butter and sugar at the beginning! It is also important to keep the dough together.
Go Nuts!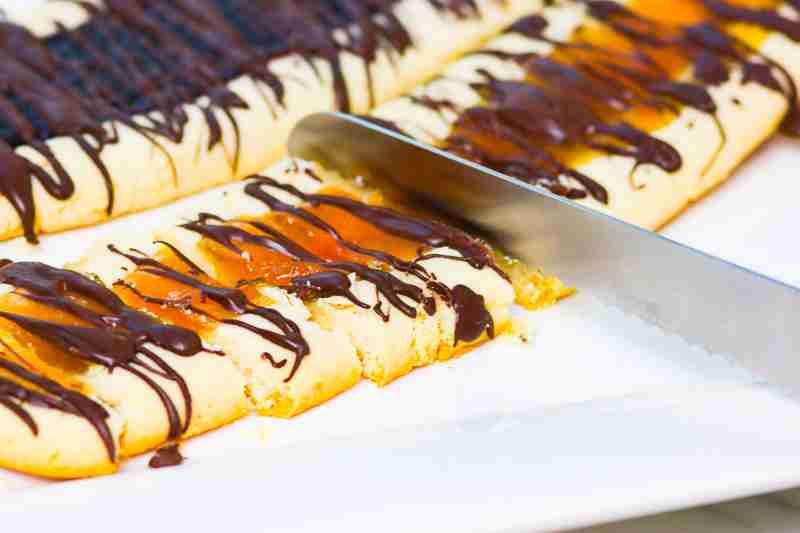 Hazelnuts are a very common ingredient in Germany but I can hardly get them here in Texas. For that reason, I frequently use almonds instead. Switching them out in this recipe was no problem and the cookies still taste amazing. So, if you can get ground hazelnuts, go for it. If you can't, just use the almonds as I do. It doesn't have to be a fine almond meal, if it is a bit more coarse, it's perfect.
What Jam to Use for Slab Cookies
I recommend using two different jams on two slabs of cookies so you have a bit of variety. Always great is the taste of apricot jam on these cookies. Black Currant jam is delicious but the seeds can be a bit weird on a cookie. Sometimes I heat up the jam to make it liquid and then pass it through a sieve to remove the seeds. This also works great for raspberry jam. If you have made some of my plum spread … this is heavenly on these cookies! In general, you can use any jam that you like.
The Chocolate Topping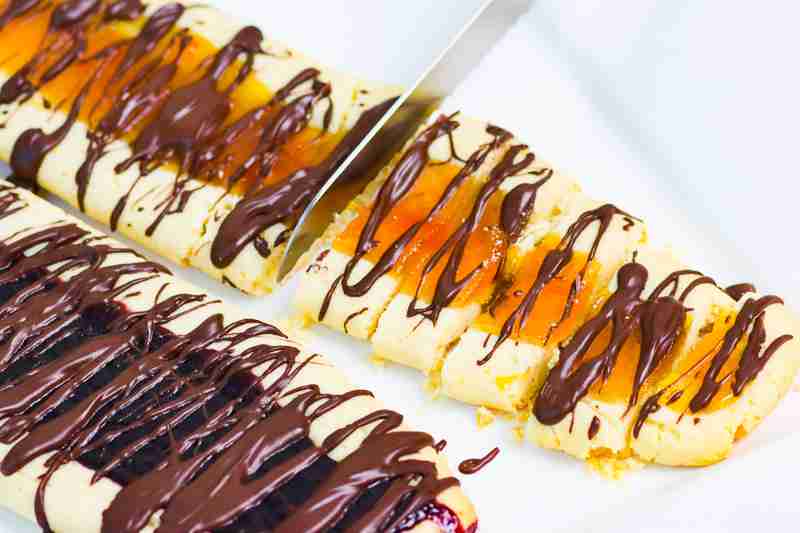 The sprinkled chocolate on top of the cookies is basically the "cherry on top" for the taste. I am using dark chocolate or semi-dark chocolate. This is a great contrast to the sweet cookies in brings out the taste even more. Don't skip this.
Twist for More Christmas Taste
If you want these cookies to taste a bit more like Christmas, simply add some cinnamon or some of my Gingerbread Spice Mix. But don't go overboard with it!
Pin Slab Cookies to Pinterest with Button in Recipe Block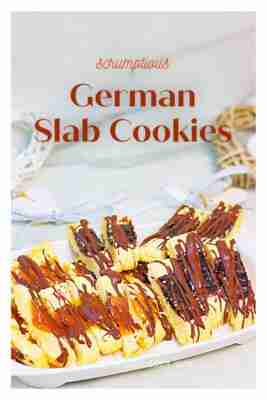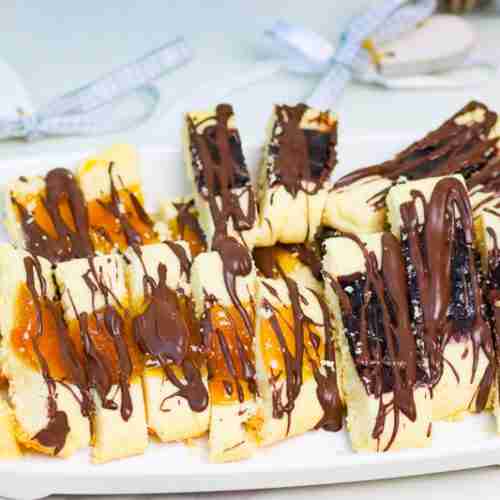 Slab Cookies – German Style
Equipment
Instructions
Whisk the butter, sugar, and vanilla with the whisk attatchment of your mixer until it is foamy.

Switch to the kneading attachment and keep mixing while adding the flour, salt, almond flour. Create a smooth dough.

Cut the dough in halves, shape them into two logs and place them onto a baking sheet. Then press them flat with your hands to create a slab, then make a mold where later the jam will be put (see video).

Let chill in the fridge for 4 hours.

Preheat the oven to 350°F / 180°C.

Put the jams each in a small bowl and stir until smooth.

Fill the mold of the first slab with the apricot jam and the second slab with the black currant jam.

Let cool, then melt the chocolate and drizzel it onto the slabs.

Once the chocolate has set, cut the slabs into slices.