"It just smells like at the Christmas market!", said my husband when he came downstairs while I was making the Schmalzgebäck. This fried Pastry might remind you of donuts or donuts holes and I am sure they are relatives but other than donuts these fried cakes must be eaten while they are warm. If you wait too long, they become a little chewy and just lose their freshness. With the powdered sugar, our Schmalzgebäck also reminds me of funnel cake, which I LOVE. So if you are into donut holes or funnel cake, this is for you!
If you ever visit a German Christmas market, you must pair your Schmalzgebäck with a mug of "Glühwein", which is our German mulled wine. Together they are the ultimate taste experience and the powder sugar will keep you thirsty anyway. Glühwein comes with many recipes and I couldn't make it here because I struggle to translate some of the spices. But I am sure I can pull this off with a little time since we have a lot of Indian food stores and I bet they have all I need. For the moment I'll stick to the store bought version that I can find in almost every grocery here in my area.
Frying temperature
The frying oil should have a temperature between 350F and 375F for the best result.
Reheat your Schmalzgebäck
This fried pastry really tastes best if you eat it fresh while it is still warm. However, if you want to enjoy it a little later (within 24 hours), you can reheat it in the oven at 300F for a couple of minutes and it will be almost as good.
You can also freeze the Schmalzgebäck and thaw it at room temperature. Then reheat it in the oven as described.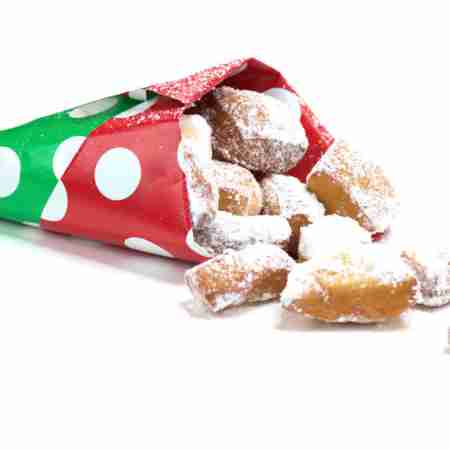 Schmalzgebäck - German Fried Pastry
Please see resting times.
Ingredients
700

g

flour

80

g

sugar

250

ml

luke warm milk

50

g

butter, soft

2

eggs

2

tsp

vanilla sugar

500

ml

frying oil

200

g

confectioners sugar

1

pkg

dry yeast (= 7g)
Instructions
Pour the flour into a large bowl and create a little cavity.

Next, add the lukewarm milk.

Sprinkle the yeast into the milk and let react for a couple of minutes.

When the yeast became foamy, you can continue.

Add the eggs and the butter and knead to a dough.

Cover the bowl and let the dough rise at a warm place until it has about doubled it's size (usually takes 45 minutes).

Give the dough a short knead, then roll it to about 1/2 inch thick.

Use a pizza cutter or knife and cut the dough into small rectangles.

Let rise again for 10 minutes and in the meantime heat the frying oil.

The oil should have a temperature between 350F and 375F.

Add some of the dough rectangles and let them fry until they are slightly brown on both sides (turn in-between).

Take the Schmalzgebäck out and put them on a plate with a paper towel.

Immediately cover with confectioners sugar and enjoy as soon as they are cool enough to touch.