I didn't grow up with sausage goulash but if my mom had known the recipe, she would definitely have made it every week. It is easy and quick, it contains vegetables and it is low budget – great for a family lunch (in Germany) or dinner (in the US) during the week.
How I came to cook this
The first time I stumbled upon sausage goulash was actually through an instant package! Can you believe it? The company Maggie sold those sauce packages where I only had to slice sausages and fry them, then add water and the content of the package and voilá the meal was ready. It tasted good but I felt that there has to be a better way to make it with fresh bell peppers and onions and other fresh ingredients. So I kind of reverse-engineered this recipe which was easy, knowing how to make real Vienna Goulash.
How to make Sausage Goulash Video
What's in Sausage Goulash?
The term "sausage" is sometimes used differently here in the US. It sometimes refers to Italian Sausage, which is seasoned ground meat, probably a mix of pork and beef. But when I talk about sausages, I mean Wurst or Würstchen or Brats – however you want to call it. So, in this case I mean Bratwurst – sausage that needs to be fried or grilled. One can make this with Frankfurters but it's really not the same.
My family loves bell peppers! We eat them raw or cooked, baked or fried, oven roasted … you name it. They are a great source of vitamin C and fiber, too. So, I always try to put bell peppers into this recipe. Onion also are a must, they give the meal a lot of taste.
The spices can be varied. I like to use Italian herbs and paprika, sometimes some rather hot spices or some garlic. But you can make your own variation with your favorite spices. There is no "official, traditional" way to cook this meal since it is not sold in restaurants. It really is a family meal and how it tastes in the end is absolutely up to you and your family's taste.
Difference between German and American Sausages
There are a lot more sausage variations in Germany than in the US and if you'd ask me about what is generally different, I would say that German sausages are generally leaner. Though there are some very fatty sausages in Germany (meant to be cooked in a stew like Grünkohl), our sausages don't leak fat like American sausages do. Don't get me wrong though, our sausages contain quite a bit of fat, too, just not as much as here. We use lean meat but then add some fat. This way we control the amount of fat in our sausages.
Pin Sausage Goulash to Pinterest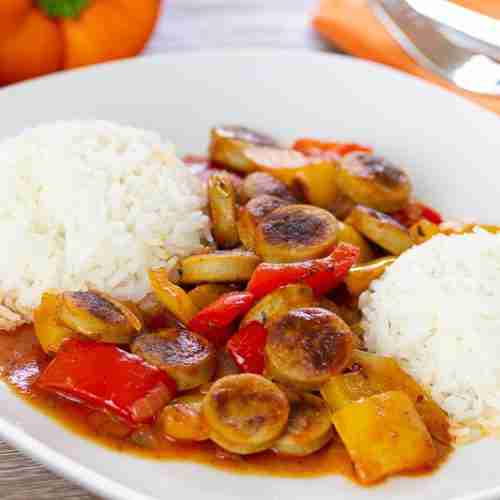 Sausage Goulash
Ingredients
6

ct.

Sausages / Brats

3

ct.

Bell Peppers

1

ct.

Onion, medium size

300

ml

Broth, vegetable or beef

2-3

tbsp.

Tomato Paste

some

Salt

some

Pepper

some

Paprika

some

Italian Herbs

dash

Sugar

optional

other spices

1

tbsp.

Oil for the pan
Instructions
Cut the sausages in slices and the bell peppers in bite size. Chop the onions.

Heat the pan with the oil.

First fry the sausage slices from both sides. Then remove them from the pan.

Then fry the onions and bell peppers until soft.

Add the sausages back to the pan.

Add the tomato paste and fry with the sausage and bell peppers for a minute, then add the broth and stir well.

Let boil until the sauce thickens.

Add some salt, pepper, paprika, Italian herbs, and a dash of sugar to taste. Optional add other spices as you like

Serve with rice or pasta or potatoes or dumplings.