Crisp Bread is originated in Sweden so I won't claim it's a traditional German bread. But crispbread is very popular in Germany and there are many, many different versions of it. I especially like the one made with rye flour!
How to make Crispbread
Now, I would usually not make it myself since it is available at my local grocery but someone asked me if I could cover crisp bread so I decided to take on the challenge. I had to search for a decent recipe for a while. There are a lot of grain loaded recipes with pumpkin seeds and what not. The crispbread I was going for though was the one that I had in my childhood, stacked 4 layers high with butter and honey in between. A simple rye crisp bread without any shenanigans. I eventually found a swiss blog post (www.streusel.ch) from a lady with the name Judith, who appears to have figured out how to make it. I gave it a try and made a video while doing this and it turned out perfectly!
The Recipe
I was a little unsure if the rye flour I'm using might be too fine for this recipe and therefore needs less water but it turned out that I needed the entire water from the recipe. A change to her recipe that I would do though: Before baking, first place the sesame seeds on the spread dough and then sprinkle the rye flour on top. This way the sesame seeds might attach to the dough better and won't fall off so easily.
Video
How I Like Crispbread Best
As mentioned before, I liked to stack several layers of the rye crispbread with just some butter and honey between the layers. I took this to school – tightly wrapped in cling wrap – and soon "it became a thing".
Today I like to have it with just butter or with a slice of ham. But there are so many other things one can put on top like salmon, salami, Nutella, jam, scrambled eggs, quark with herbs, plum spread, … if you have more ideas, please share in the comment section.
Simple Ingredients & Durability
What I like about homemade crispbread is that it is made from such few and simple ingredients (like bread in general) which makes it a "clean" food. It also lasts a long time if you keep it in an airtight container – this makes it perfect for our "hurricane food stock".
Pin Crispbread to Pinterest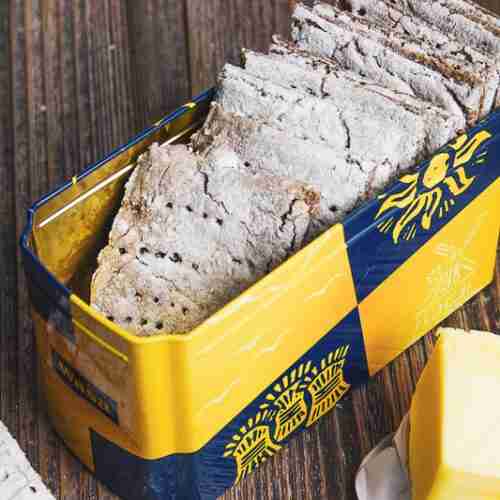 Rye Crispbread
Equipment
Cookie sheet(s) that fits into your freezer
Ingredients
200

g

Rye Flour

20

g

Sesame

6

g

Salt

280

ml

Water

10

g

Baking Powder

some

additional Rye Flour

some

additional Sesame Seeds
Instructions
In a bowl, mix the flour, salt, water, and sesame seeds. DO NOT ADD THE BAKING POWDER!

Use a cookie sheet with parchment paper and spread the dough onto it, creating an even layer.

Place the cookie sheet into the freezer for about ½ hour or until it is frozen but still bendable.

Take it out of the freezer and break the layer into pieces.

Place the pieces into a mixing bowl and mix at a hight speed until a smooth mass is created.

Again, spread the dough onto a cookie sheet with parchment paper and freeze for about ½ hour.

Preheat the oven to 200°C / 392°F.

Break the frozen dough into pieces and mix, this time ADDING THE BAKING POWDER.

Mix at high speed for a minute or two.

Again spread the dough onto the cookie sheet, create an even layer in a rectangle shape.

Sprinkle the additional sesame seeds on top, then sprinkle the additional rye flour on top and with a flat hand, press it a little into the dough.

Put into the oven immediately, keeping the oven door slightly open by putting a wooden spoon in the door. Bake for 10 minutes …

… after 10 minutes, take the cookie sheet out, use a fork and poke holes into the dough all over the place. Also, pre-cut the crispbread with a knife or pizza slicer.

Put the cookie sheet back into the oven and bake (again with slightly open oven door) for about 35 minutes, maybe more. Once the dough is no longer soft, turn off the heat, fully open the oven door and let it cool.

Once cooled, break the crispbread into individual slices – enjoy!

Keep in an airtight container.
Notes
If the crispbread is still soft and not as crisp as expected, put it back into the oven and bake a little longer. If it gets damp and becomes soft later, simply put it into a toaster.