Remembering my childhood this meal was something my mother cooked on a Sunday. The whole house would be filled with the scent of the meat and gravy. It doesn't need a lot of attention while it is simmering on the stove, most of the work is quickly done ahead of cooking. This gives you the opportunity to prepare some desert while the Rouladen are getting ready.
Rinder Rouladen (that's how we call it in Germany) or Braised Beef Rolls / Beef Rouladen seem to be just one version of the many beef roll-ups I have noticed on the internet. It seems that especially in Asia there are some versions of it, too. None of those have the typical mustard that gives the German Rouladen it's unique taste.
German Rouladen Video
The Perfect Sauce / Gravy
Besides these absolute delicious Rouladen, der sauce is an absolute dream come true of sauce. If you cook the beef and have some soup vegetables in the pot with it, it even increases the taste and makes it a perfect sauce for this meat. I highly recommend adding some kohlrabi, root celery and leek to the broth while cooking. In the end, you will pour the sauce through a sieve and just squeeze some of the vegetables through the mesh of the sieve and you will have all the great taste in the liquid.
There is one thing I want to mention though: The broth that I am using for the sauce, always seems to be too salty. I recommend either using a low sodium broth or mixing the broth with a part of water. You can always add salt if you need more but it is often difficult to reduce the salt at the end without reducing the taste of the gravy.
Rolled Beef for Dinner Guests
These beef roulades are a perfect meal for dinner guests! The preparation can be done ahead of time and you can prepare other courses like a desert while they cook on the stove. I also never met anyone who didn't like this meal, except for vegetarians and even they were tempted by the wonderful scent.
Roll and fix
As you can see in the video, I have some special meat needles to fix the meat once it is rolled. I am assuming that you don't have such needles but don't worry, you can also use some toothpicks or some kitchen yarn.
In the video I show how to do it with the kitchen yarn: Wrap it around one end twice, then lead it to the other end and wrap it twice again. cross the ends in the middle and make two knots (or whatever knot you have learned at the scout's meetings that is appropriate for this case).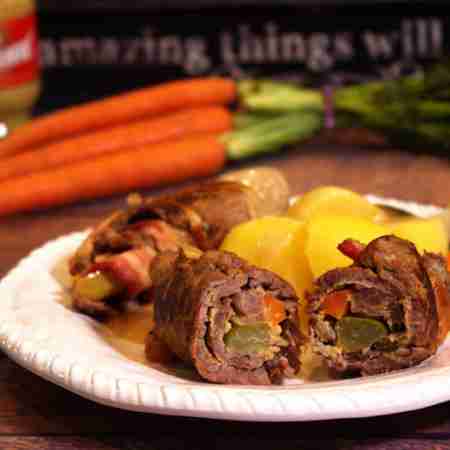 Rolled Beef – Rinder-Rouladen
This is a very traditional German dish which you will find in every area of Germany.
Ingredients
4

slices

beef, thin cut

or 8 smaller thin slices

4

tbsp

mustard

maybe a little more

4-8

slices

bacon

1

glass

pickles

4

carrots

carrots, fresh

1

onion

500 - 750

ml

beef broth

or water and beef-broth concentrate

2-3

tbsp

oil

for cooking

some

salt and pepper

for seasoning

1

tbsp

corn starch

3

tbsp

cold water

½

piece

root celery (optional)

1

leek (optional)

½

kohlrabi (optional)

2

carrots (optional)
Instructions
Flatten your already thin sliced meat with a meat hammer.

Put a thin carrot stick, a thinly sliced pickle, and some onion at the upper end of the meat.

Optional but recommended: cut the root celery, kohlrabi and leek into small pieces and add them to the pot - this will add a great taste!

If you added the vegetables to the broth, pour the sauce through a sieve and try to squeeze some of it through the mesh. Discard what is left in the sieve and work with the sauce.

Mix cold water and corn starch and add it to the sauce. Maybe you will have to add some more water or broth, too. Let boil for a few minutes and spice as needed to taste with salt, pepper, and mustard.

Best served with potatoes and if you want to go all German: Add red cabbage (Rotkohl) to the menue.
Notes
Suggested sides: Potatoes or dumplings or Spaetzle and red cabbage.