"Roasted Veggies in Peanut Sauce" – that doesn't sound German! Well, after asking on Facebook whether my followers would be interested in this recipe, there was a lot of interest in it. It is a meal that I frequently cook and it has been a surprise instant hit in my family.
I think the original reason why I tried this recipe in the first place was because it like Poke Bowls and also peanut sauce. It seemed to me that this is a great fusion of both and instead of fish, there was the idea of crispy fofu. Wait what? Tofu? It's the stuff that you can still find at the store when hurricanes, winter storms or what not limits food availability here in Texas. Nobody wants it, very few eat it and probably even less people like it, right? Actually, no. Once you figure out how to prepare it propperly, it is a delicious treat with lots of health benefits.
Watch Video for this Recipe
How to Make Tofu Edible
The secret of how to prepare tofu to make it delicious is pretty simple: Remove most of the liquid and then season it for roasting. But let's go into a bit of detail.
How to Press Tofu and Remove the Liquid
There is a simple way to do it with just some items that you have on hand or a convenient way using a Tofu Press.
For the simple way, you will need two small cutting boards, two heavy items (i.e. cans) and some papertowels.
Put some layers of papertowle on a cutting board and place the tofu on top.
Cut the tofu lengthwise into thirds, then at a 90° angle into 6th and also cut it once at its height.
You should still have a tofu block but now it contains of squares.
Place the second cutting board on top of the tofu and put the weight on it to press on the tofu.
Let it press for at least one hour.
For the convenient way, just place the tofu into the press, cut it as descibed in the previous methode and close the box with the pressing part set down.
How To Make Tofu Crispy
After pressing the Tofu, it should be a lot smaller and less wet.
Now add some reduced sodium Soysauce and Olive Oil to a bowl, put in the tofu squares and toss, making sure they are covered with liquid from all sides.
Then sprinkle the tofu with Corn Starch or arrowroot starch (both work the same), place them on a baking sheet and bake at 400°F / 200°C for 15 to 20 minutes.
Make sure to turn them once inbetween so they get crispy on all sides.
What You Shouldn't Do With Tofu
Once the tofu comes out of the oven, you should serve it immediately. I have not found a way to reheat it with it still beeing crispy. So, if you had your hopes up to prepare it prior and just put it in the microwave, it will just be warm but not crispy as before. I can also not recommend to try freezing it.
How To Make Peanut Sauce
I've had a delicious peanut sauce recipe for years but then lost it. I was pretty sad about it but when I found this peanut sauce, which I found it to be even better than my previous version.
The Other Ingredients
I've used fresh as well as frozen broccoli and both works great. For the bell peppers I always prefer fresh produce. I've also made this recipe with green beans, carrots, onions and other veggetables. It's always delicious.
For the rice, I have a general cooking instruction blog post. I am using white rice mixed with 1/3 whole rice. That's the amount of whole rice my family tolerates and I aim to increase the amount over time until they got used to it. Also, since we are eating this meal with chop sticks, I add a little more water to the rice to make it a bit sticky. It's easier to eat this way.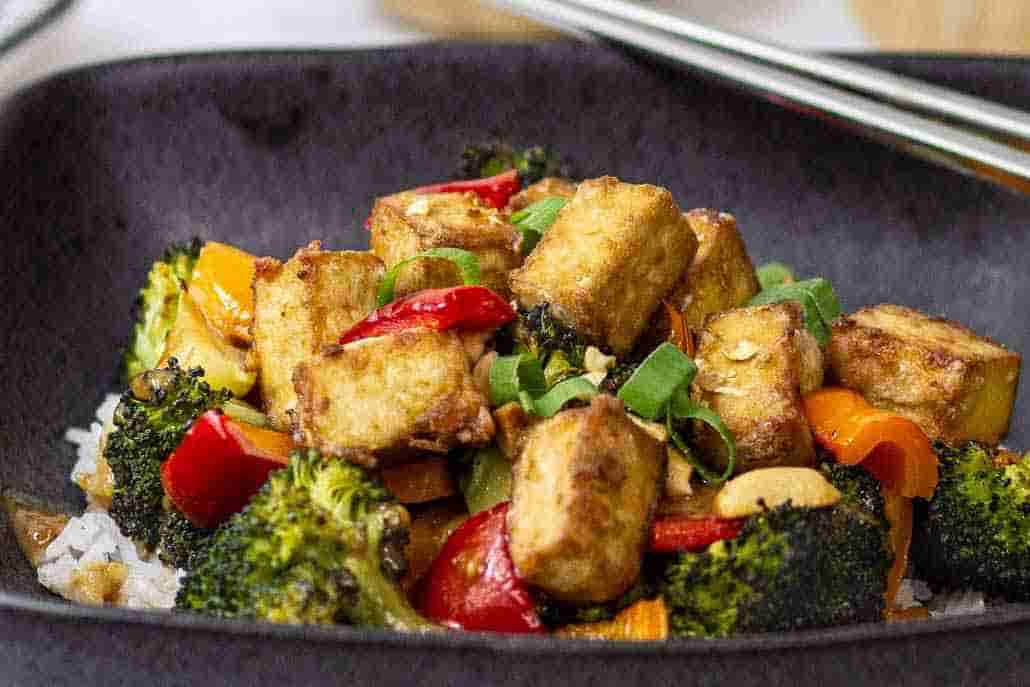 The original recipe comes from a cookbook I own and I highly recommend it. It has a lot of wonderful recipes. I just wish I had bought in as spiral bound version since it has a lot of pages and is difficult to keep open while cooking.
Love real FOOD by Kathryne Taylor
Pin Roasted Veggies in Peanut Sauce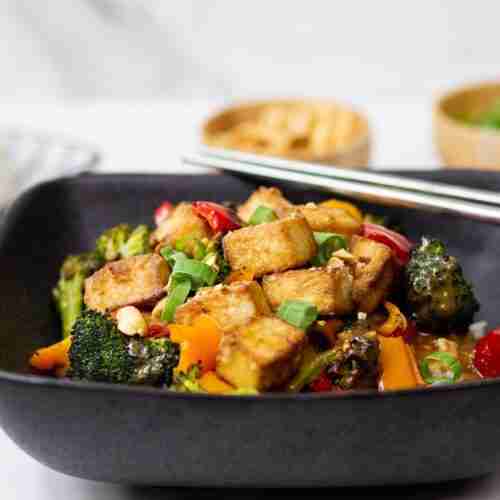 Roasted Veggies in Peanut Sauce with Crispy Tofu
Delicious vegan and gluten-free recipe
Equipment
1
Tofu-Press or
2 cutting boards, 2 heavy cans and some paper towels
Ingredients
The Rice
1⅓

cups

Rice

pinch

Salt

1

tsp

Butter

3

cups

Water

use a little less for non-sticky rice
The Tofu
1

block

Tofu

extra firm

1

tbsp

Olive Oil

1

tbsp

reduced sodium Soy Sauce

1

tbsp

Corn Starch

or Arrowroot Starch
The Vegetables
2

bunches

Broccoli

or green beans, onions, … other veggies

2

Bell Peppers

2

tbsp

Olive Oil
The Sauce
¼

cup

smooth Peanut Butter

(I often use some more)

1

tbsp

Rice Vinegar

2

tbsp

reduced-sodium Soy Sauce

1-2

tbsp

Honey

½

tbsp

Chilie-Garlic Oil

optional

2

tbsp

toasted Sesame Oil

1-3

cloves

Garlic

pinch

Red Pepper Flakes

some

Water

if needed

some

chopped roasted Peanuts and green Onions

for decoration, optional
Instructions
Drain the Tofu
Cut the Tofu into squares while keeping the block in shape. See description in the blog post.

Either use a tofu press or the methode described in the blog post to drain the Tofu. Let drain over-night or for at least one hour.
Cook the Rice
Soak the rice in water for 15 minutes, then drain to remove toxins … or use organic rice.

Add the Water, Salt and Butter to the pot and bring to a boil.

pinch Salt,

1 tsp Butter,

3 cups Water

Remove the heat after one minute of boiling and let just stand for 20 minutes. It takes a bit longer for whole grain rice.
The Vegetables
Preheat the oven to 200°C / 400°F

Cut the broccoli into bite-sized florets and the bell peppers in bite-sized squares.

2 bunches Broccoli,

2 Bell Peppers

Add the Olive Oil and toss until all is covered with some oil.

Spread on a baking sheet.

Bake at 200°C / 400°F for about 20 minutes. Ideally bake at the same time as the Tofu.
Prepare the Tofu
In a medium-sized bowl, mix the olive oil and soy sauce.

1 tbsp Olive Oil,

1 tbsp reduced sodium Soy Sauce

Add the tofu squares and toss until all is covered in sauce.

Sprinkle the starch on top, toss again until all is covered.

Spread on a baking sheet.

Bake for 15 – 20 minutes, turning the tofu once to get it crispy on all sides. Ideally, bake together with the vegetables.
The Sauce
While the veggies and tofu are in the oven, prepare the sauce.

Mix the peanut butter, sesame oil, chili oil (optional), soy sauce, rice vinegar, honey, garlic, and red pepper flakes in a bowl. Whisk and check consistency. If you want it more liquid, add some water. Season to taste.

2 tbsp Olive Oil,

¼ cup smooth Peanut Butter,

1 tbsp Rice Vinegar,

2 tbsp reduced-sodium Soy Sauce,

1-2 tbsp Honey,

½ tbsp Chilie-Garlic Oil,

2 tbsp toasted Sesame Oil,

1-3 cloves Garlic,

pinch Red Pepper Flakes,

some Water
Serving
Add the rice to a bowl or plate. Top with the vegetables, add the sauce, and put the tofu on top. Decorate with chopped roasted peanuts and green onions (both optional).

some chopped roasted Peanuts and green Onions
Notes
Allergic to peanuts? Just substitute peanut butter with almond butter.
Nutrition
Calories:
735
kcal
Carbohydrates:
86
g
Protein:
27
g
Fat:
35
g
Saturated Fat:
6
g
Polyunsaturated Fat:
9
g
Monounsaturated Fat:
18
g
Trans Fat:
1
g
Cholesterol:
3
mg
Sodium:
629
mg
Potassium:
1297
mg
Fiber:
12
g
Sugar:
14
g
Vitamin A:
3788
IU
Vitamin C:
348
mg
Calcium:
307
mg
Iron:
5
mg