Springtime is rhubarb time and I love this rhubarb meringue cake that we make in Germany. It's pretty easy to make and tastes heavenly!
Rhubarb was one of the many plants growing in our vegetable garden in my childhood. My parents didn't pay much attention to it though. But I harvested some every now and then and use the large leaf as a plate. I put sugar on that leaf and dipped my rhubarb into it and then took a bite.
Video for Rhubarb Meringue Cake
What Germans do with Rhubarb
I guess every country has its own ideas about what to make with rhubarb. In Germany, we like to pair it with strawberries and make strawberry-rhubarb jam. Some make juice from it but most of the time we bake a rhubarb cake. Now, I know that Americans make rhubarb pie, so the idea of baking with it is not new. However, we make either a crumble cake much like the crumble plum cake or this cake here with meringue.
About Rhubarb
It seems odd but rhubarb is classified as a vegetable and if you think of celery, it makes a little more sense. Still, nobody eats it as a side with potatoes and meat, right? It is generally used in sweet recipes. Now, depending on the age of your rhubarb stalks, you might need to put a little extra work into it. If the stalks are young and fresh, there is not much to do but if the stalks are a little older, they can have tough strings that need to be removed. With a small, sharp knife, lift those strings at the top of the stalks and peel them off. That's it. Later you can cut the rhubarb into bite-size and use in your recipe.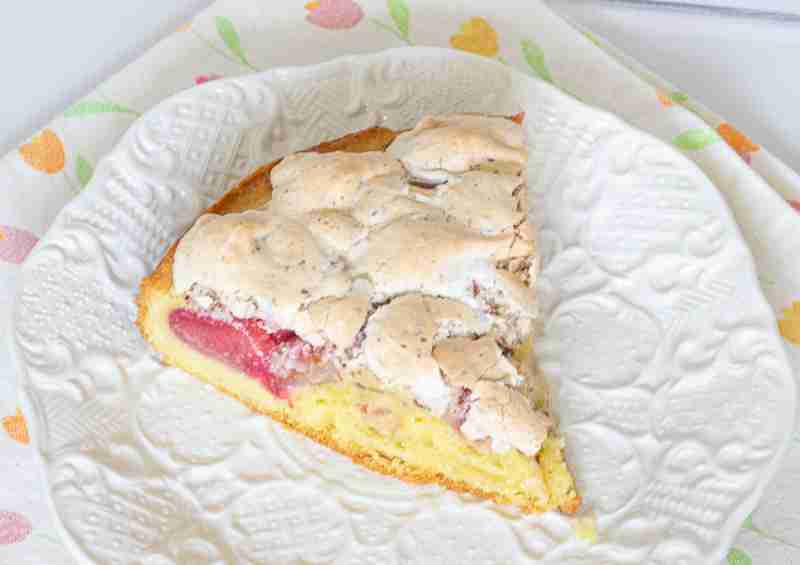 If you buy frozen rhubarb, it is already prepared and you just need to thaw them.
Pin Recipe to Pinterest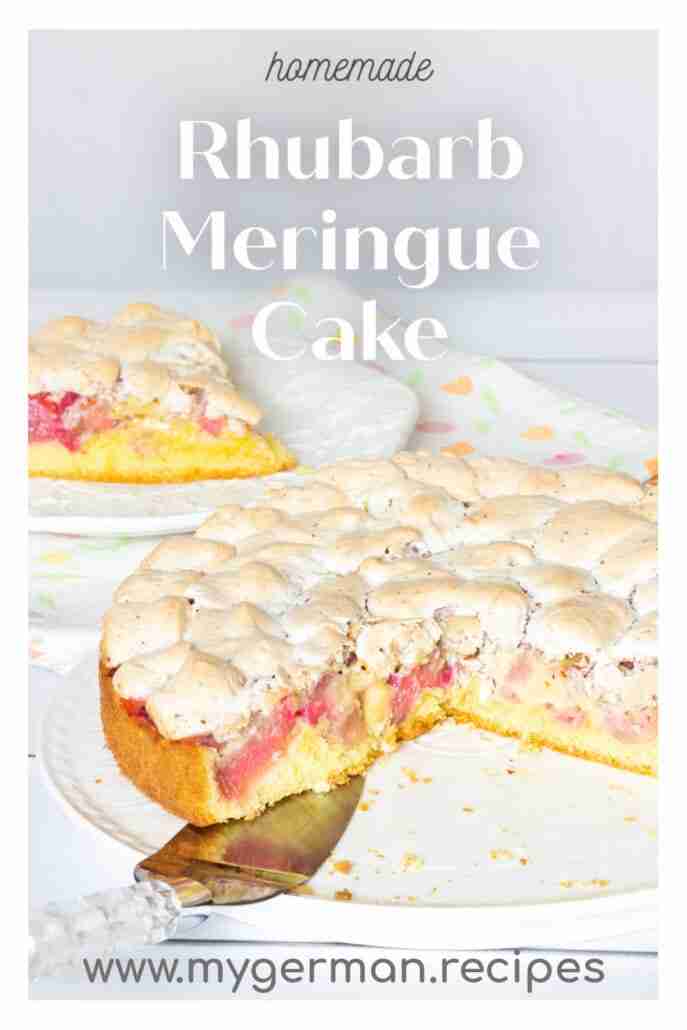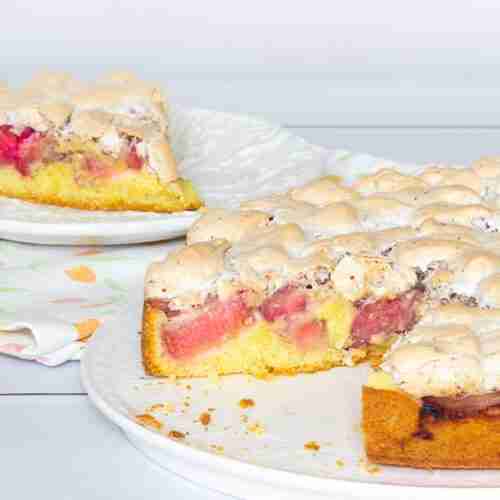 Rhubarb Meringue Cake
Equipment
baking pan about 10 inch / 25 cm
Ingredients
For the cake batter & cake
600

g

Rhubarb, fresh

or 450 g frozen

150

g

Butter

soft

100

g

Sugar

1

tsp

Vanilla Extract

2

Eggs

3

Egg Yoolks

150

g

Flour

All Purpose

75

g

Corn Starch

2

tsp

Baking Powder
For the meringue
3

Egg Whites

150

g

Confectioners Sugar

1

pinch

Salt

1

tbsp

Lemon Juice

50

g

Almond Meal / Almond Flour
Instructions
If using fresh rhubarb, wash it, remove strings and tough parts, cut into bite-size.

Prepare a baking pan with parchment paper on the bottom and grease the sides with butter.

Preheat the oven to 175°C / 350°F (convection oven).

In a large bowl, whisk the butter, sugar, and vanilla extract at high speed until foamy and the sugar has dissolved.

Slow down the speed of the mixer, add 2 eggs and 3 egg yolks – one at a time while mixing.

In a different bowl, mix the flour, starch, and baking powder.

Add ⅓ of the dry ingredients to the butter mixture, start to whisk, and keep adding the dry ingredients and mix until it is all incorporated. Don't mix too long or your cake will be chewy!

Fill the batter into the cake pan, then put the rhubarb on top of the batter. Press the rhubarb into the batter.

Bake the cake for 20 minutes. In the meantime, prepare the meringue.
Make the meringue
In a clean and grease-free bowl, whisk the egg whites with a pinch of salt until it is foamy, then start to slowly add the confectioners sugar and whisk until eggwhites are firm.

Add the almond meal and lemon juice and incorporate.

When the cake has baked for 20 minutes, take it out but leave the oven on heat.

Spread the meringue on top of the cake or use a piping bag to set the meringue in dots onto the cake.

Put the cake back into the oven for another 15 to 25 minutes – check with a wooden skewer if the cake is baked through at the center.

If the meringue gets too dark while baking, cover it with some aluminum foil.

Remove the cake from the oven and let cool completely before removing the pan.