Rye bread often contains a certain percentage of wheat flour, that's why we call it "Mischbrot" which means "Mixed Bread". However, sometimes, people want a pure rye bread and this is the recipe you need for that.
Because rye flour has almost no gluten, we usually add about 40% of wheat flour to a rye bread, so it has a better texture. However, it is possible to bake bread with 100% rye flour. This is a very delicious and rustic bread – perfect for people who want to reduce their wheat intake or who are gluten sensitive.
The Rye Bread
This bread will be a lot more dense than many store bought breads, which makes it great for sandwiches. Whether you want to enjoy it with jam or honey or go for something hearty – I recommend cheese ore salami – it tastes fantastic with either.
The Sourdough
Like all breads with rye flour, this recipe needs a sourdough. You can make a sourdough from a sourdough starter and how this all works, is described in this article and video: https://mygerman.recipeshow-to-make-and-feed-sourdough-starter/
The Rye Bread Dough
Be prepared for a very sticky dough! If possible, leave one hand clean in case you need to grab something – usually the phone rings the moment you have touched the dough ;-) – and work with the other hand on the dough.
Also very important to know: Clean all tools and bowls asap. If rye dough dries, it can be like concrete and difficult to clean off.
Pin to Pinterest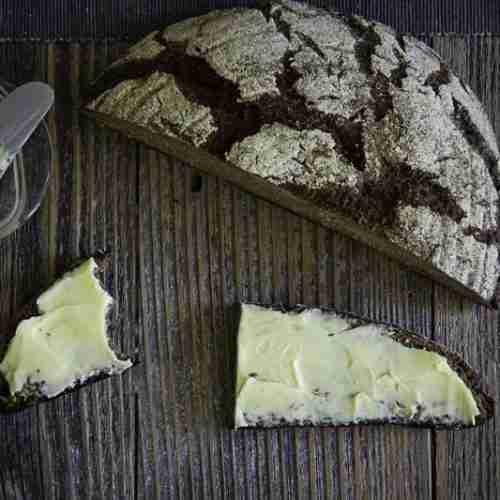 Rye Bread with 100% Rye Flour
Pure Rye Bread with Sourdough
Ingredients
Sourdough / Pre Dough
60

g

Sourdough Starter (see recipe on this blog)

270

g

Rye Flour

300

ml

Water

6

g

Salt
Bread Dough
100

%

of the Sourdough from above, made the day before

300

g

Rye Flour

162

ml

Boiling Water

24

g

Honey

7

g

Salt
Instructions
Making the Bread Dough
Put the 162 ml boiling water into a large bowl and add the rye flour, salt and honey and mix it all together.

Now add the Sourdough that you started the day before. If your sourdough starter is rather young and the sourdough seems to be not very active, add a little yeast to the dough.

Mix everything with your hands until all flour is incorporated.

Cover and let rise for an hour or until it has increased its size by one third.

Place a good amount of flour on a large board and put the dough on top of it.

Begin folding the dough from the top to the center, rotate it 90° and again fold the top of the dough to the center. Continue to do this until you made it two to three times around.

Dust a proofing basket or bowl with a thick layer of rye flour and put the dough into it.

Let rise until it has almost doubled its size (about 1 hour).

After the first 30 minutes: Preheat the oven to 250°C / 482 °F with the baking sheet in it.

When the hour is over: Flip the bread onto the hot baking sheet and place it in the oven. Then reduce the heat to 230°C / 446°F.

Bake for about 60 minutes or until the bread has the prefered color and sounds hollow if you knock on its bottom.

Let the bread cool completely before cutting it. Even better: Wait one day to increase the taste.