Pretzel dumplings are comfort food and when they come with a delicious mushroom cream sauce, a culinary dream comes true. These two things just go so well together, it's like a match made in heaven!
Pretzel Dumplings with Mushroom Cream Sauce
Leftover Pretzels – is there such a thing?
One would think that pretzels are all eaten and there should never be something like a leftover pretzel. But truth be told, pretzels dry out pretty fast because of the salt on top. So, rather than gnawing on a dry pretzel, we'd get a fresh one and leave the dry pretzels for pretzel dumplings.
Pretzel dumplings are pretty much made the same way as regular dumplings from rolls, just with pretzels. I, however, don't add bacon as I do with the other version. The reason is, that I think it would take away from the pretzel taste and I don't want that. But you feel free to decide differently.
In the video, I show a different dumpling technique than in the other dumpling recipe: Servietten Knödel = Napkin Dumplings. It's a different way to shape the dumplings. Instead of several spheres, one creates a long string, wraps it into a napkin and boils it in the napkin. Once cooked through, you can then cut the dumpling in nice slices which looks pretty on the plate. The slices are also easier to fry, in case you have a leftover from the leftover pretzel dumplings. Well, nothing goes to waste here!
The Mushroom Cream Sauce
This sauce is quite common in Germany. It is often made as a sauce with meat but also can stand along as a side for dumplings. This way it's vegetarian and that is what I was going for in this recipe.
You can make this sauce with any (edible) mushrooms that you like. My favorite is to make it with chanterelles but they are hard to get here in Texas and also quit expensive.
If you don't want to use the wine and prefer an alcohol free version of the mushroom sauce, just leave the wine out and use a little more broth.
Pin to Pinterest: Pretzel Dumplings with Mushroom Cream Sauce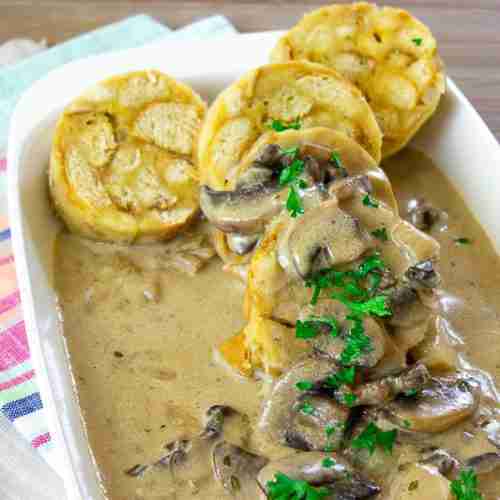 Pretzel Dumplings
Dumplings from leftover Pretzels
Ingredients
500

g

Pretzel

any kind or shape

2

ct

eggs

500

ml

milk

warm

1

medium

onion

1

pinch

salt

1

pinch

pepper

1

tsp

butter to fry
Instructions
Remove the salt from the pretzels and cut them into small pieces.

Put the pretzel pieces into a large bowl and add the milk but be careful: Don't add all at once, you might need less, depending on how dry the pretzels are.

Mix the milk and pretzels and let soak for a while.

Meanwhile, cut the onions into small cubes and fry them in some butter.

Check if the pretzels have soaked well, maybe add some more milk if needed. It should have a mushy but not liquid consistency, that still can be shaped.

In a small bowl, scramble the eggs and add the eggs and fried onions to the pretzel bowl.

Mix all well, add salt and pepper as needed (taste some of the mass to season right).

In a large pot, bring lightly salted water to a boil and reduce the heat so it only simmers lightly.

For napkin dumplings:

Place a thick string of the mass onto the upper third of a fabric napkin. Roll the napkin around the mass, creating a tight kind of sausage. Close the ends with kitchen twine.

For sphere shaped dumplings:

Create several spheres, press them tight!

Place the dumplings into the water so they are mostly covered, and let simmer for 20 minutes.

Remove the dumplings from the water and remove the napkin and cut into slices (napkin dumplings only) and serve.
Mushroom Cream Sauce
Ingredients
400

g

Mushrooms

any kind but edible

1

medium

Onion

90

ml

White Wine

250

ml

Broth

1

tbsp.

Butter

400

ml

Cream

some

Thyme

dried or fresh

some

Salt

some

Pepper

1

tbsp.

olive oil

or other cooking oil like avocado oil
Instructions
Clean the mushrooms with a damp fabric, remove the stems, and cut the heads into slices.

Heat a pan with the butter and oil.

Fry the onions and mushrooms in the pan.

Add the wine and let this cook until the wine is almost evaporated.

Now add the broth, and add the cream and bring to a boil.

Let boil for a little bit so the cream thickens.

Add the thyme, salt, and pepper to taste and serve.