Potato Pockets or Stuffed Potato Cakes are often found on the menus of less formal and lower-priced restaurants. Made at home, this meal is gentle on your budget and still filling you and your family up.
We call them Kartoffeltaschen, which translates to potato pockets but it seems that they are more known in the US as "stuffed potato cakes". They seem to be somewhat similar but are still different. The term "potato pancakes" is usually reserved for something else in Germany: check out this recipe for it.
With my version, there comes a filling of cream cheese with herbs and vegetables. You can of course switch this out with whatever you like but at least try it with my filling once before you move on to other experiments. It's worth it!
Video for Stuffed Potato Cakes
Use The Right Potatoes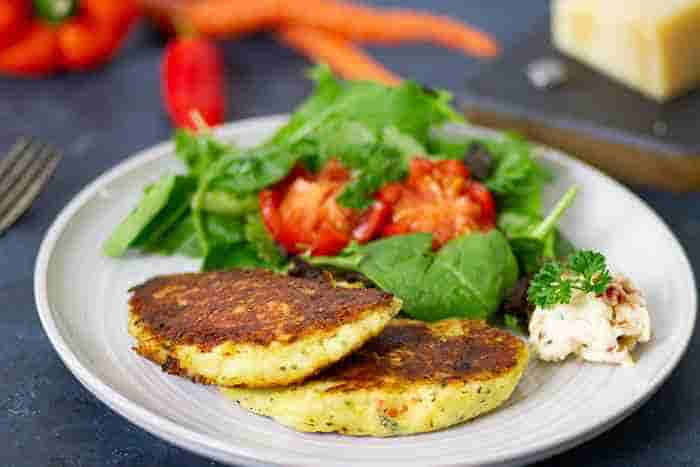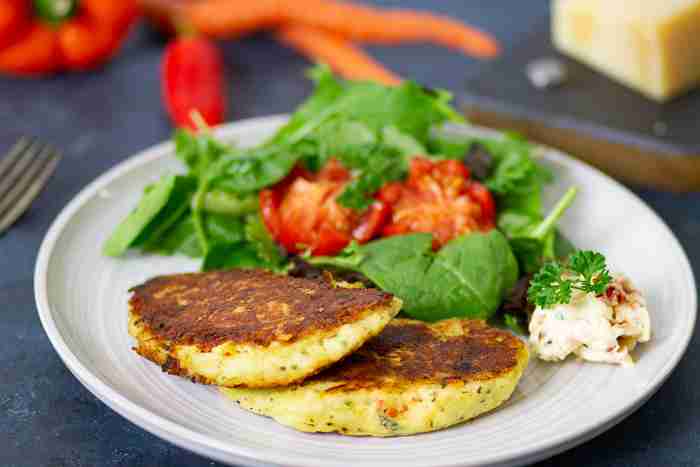 Depending on the country where you live, there will be different names for different kinds of potatoes. Use the kind of potatoes that you usually buy for mashed potatoes. They should have a high content of starch like Russel or Idaho potatoes. I often use Gold potatoes because I like their taste. They have a little less starch than Russel or Ido though. In the case that there is not enough starch to get a good texture, I can still add some corn starch to the mass later.
Little Tip: If you want a little more texture, add a small, raw shredded potato to the dough.
How to serve Stuffed Potato Cakes
The Stuffed Potato Cakes or Potato Pockets are best served with a fresh, green salad. I personally like to add some sour cream or tzatziki to the plate but that is not really necessary since they are already filled with cream cheese.
Pin Potato Pockets to Pinterest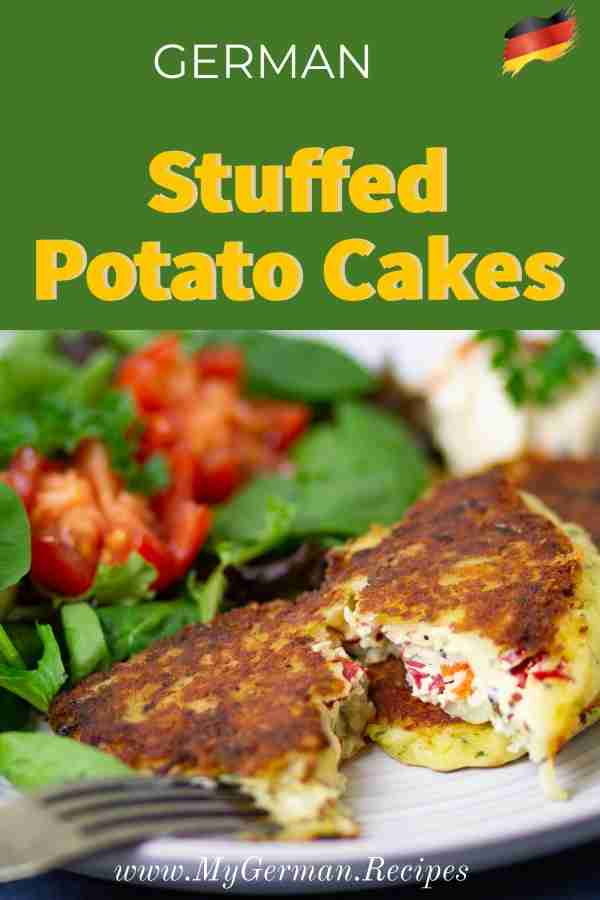 Potato Pockets / Stuffed Potato Cakes
Ingredients
600

g

Potatoes

i.e. Idaho, Russel or Gold potatoes

1

Onion

1

tbsp

parsley

chopped

2

tbsp

Gouda Cheese

shredded

2

Eggs

small, or 1 large egg

some

Salt

some

Pepper

some

Nutmeg

1

Carrot

1

Bell Pepper

red

3

tbsp

Oil

1

pckg

Cream Cheese

some

Herbs and Spices that you like
Instructions
Boil the potatoes in their skin for about 20 minutes or until cooked through.

In the meantime, chop the onion.

When the potatoes are cooked, remove the skin and mash them while still hot.

Let the mashed potatoes cool completely before you add the next ingredients!

Add the cheese, egg(s), onion, and parsley to the cooled potatoes. Then use salt, pepper, and nutmeg to taste. Set aside.

1 Onion,

1 tbsp parsley,

2 tbsp Gouda Cheese,

some Salt,

some Pepper,

some Nutmeg,

2 Eggs

Peel the carrot. Dice the carrot and the bellpepper very small.

Fry the carrot and bell pepper in 1 tbsp. oil until soft. Then mix it with the cream cheese. Add salt and pepper if needed, add the spices and herbs of your choice and mix well.

1 Carrot,

1 Bell Pepper,

1 pckg Cream Cheese,

some Herbs and Spices that you like,

3 tbsp Oil

Divide the potatoes dough into 6 portions of the same size. Shape each portion into a ball, then flatten it into a large circle.

Add some of the cream cheese mixture for the filling, flip one side over and press together at the rim, creating a half-circle.

Heat the remaining 2 tbsp oil and fry the potato pockets from both sides.

Remove from the pan when both sides are golden brown, then serve with a fresh salad.