This is not the plum jam you know in America. It's also rather a plum spread than a plum jam. This spread has a more intense taste and a different consistency. The secret is in the procedure to make it!
When I was a child, I could barely wait for the plums on our plum tree to be ripe. Often, I ate them while still a little green and paid this lack of patience with some stomach ache. To this day, plums are one of my favorite fruits and plum spread always has a place in my heart and in my pantry. Plum spread conserves the taste of a late summer day and lets me eat plum cake and treats throughout the year.
Many Uses for Plum Spread
There is a lot one can do with the plum spread. It is mostly used for baked goods like "Friesentorte" or for fillings in danish pastry or strudel. It is the traditional filling for Dampfnudeln/Germknödel and most of all it is used as a bread spread in the morning. My favorite way to eat it, is to spread some fresh Quark on a half of a breakfast roll and then put some plum spread on top. So good!
Plums are multi-talented!
We all know the most obvious effect of plums on our body: They regulate our digestion quite a bit! That's because they contain a lot of fiber. But plums can a lot more: They help you to detox from heavy metals like mercury, they can lower your cholesterol and can help with fibromyalgia.
Plums also contain a lot of vitamins which help you with emotional balance: Vitamin B1 which is important for your nerves, Zink & Copper helpirritability and depression.
You will also find polyphenols in plums, which seem to increase immunity, help preventing cardiovascular disease, are anti-inflammatory, and potentially protect from cancer. A study at Texas A&M showed that plum extract can keep breast cancer cells from growing and can even defeat them, without affecting healthy cells. I could go on and on about the health benefits but do I even have to say more? So: Eat your plums!
A fresh plum also contains:
220 mg potassium
60 µg Vitamin A
5 – 9 mg Vitamin C
880 µg Vitamn E
10 µg Vitamin K
Sugar Plums vs. Japanese Plums
There are about 2000 different kinds of plums on the planet. The two most common ones in my area are sugar plums and Japanes plums. The plums you see me using in my recipe video for plum spread and also for the plum cake, are sugar plums. They are smaller than Japanese plums and their flesh is denser and less moist but with a more intense taste. But when it comes to my recipes for plums, you can use both varieties. The plum spread made with Japanese plums will taste a little different and have a rather brown color, while the plum spread with sugar plums has a violet color. The Japanese plum spread will also be a little gooier. But you can use both spreads just like a plum jam or any other jam.
The Procedure
While a jam is usually cooked in a pot, this spread is made in the oven! Over a longer period of time (four hours, actually!) at a low temperature, the moisture is reduced to a minimum and all that's left is a whole lot of great taste! You should not stir the plums while they are in the oven! Otherwise, they will start to burn and you will have to keep stirring during the entire four hours, just to prevent that. Just leave them alone, ok?
Due to the little moisture and the lots of sugar, plus the antibacterial cinnamon, it is rather unlikely to mold. So, your plum spread will be good for a year or more. Once you open it and it gets in contact with a knife or spoon, things might change, though, so keep an open jar of plum spread in the fridge, just to be on the safe side.
To label your plum spread, just use the template that I made for you: Plum Jam / Plum Spread Label – You're welcome!
Pin Plum Jam to Pinterest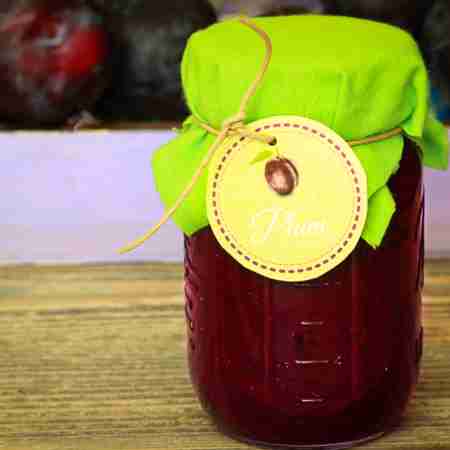 Plum Spread / Plum Jam
Ingredients
1

kg

plums

300

g

sugar

some

cinnamon

1

Tbsp.

Water

1

Tbsp.

Vinegar (i.e. Apple Cider Vinegar)
Instructions
Wash the plums and cut them in halves.

Put the plums into a casserole and add the 300g of sugar. If your plums are very ripe, you can reduce the amount of sugar!

Add 1 Tbsp. of Water and 1 Tbsp. of Vinegar and stir.

Optional: Add some cinnamon.

Mix plums and sugar well, then cover and let sit overnight.

The next day, preheat the oven to 300°F/150°C.

Stir the plums one more time, then put the casserole into the oven for 4 hours (yes, you read this right).

After four hours remove the casserole from the oven and use the immersion blender to blend the plums to a nice spread.

Clean and boil a glass jar or two and fill the spread into the glass, all the way up to the rim.

Cut some cerane to the size of the lid and dip it into vinegar, then put it on top of the spread and close the lid.

This spread will last for a long time - unless you eat it. Keep it at a dark, cool place. It will develop even more taste after a couple of days.