Here is another childhood memory: Pickled Sweet & Sour Mustard Cucumbers! It's a very traditional North German recipe. My grandmother used to make them all summer and we'd eat them as a side with many meals like Bauernfrühstück or just for dinner with some salami bread. I'm usually not very much into pickles but THIS is different!
It's no secret that I have a sweet tooth and there is quite a bit of sugar in the vinegar mixture. It gives the cucumbers a slightly sweet taste and takes away some of the sting from the vinegar. No wonder, my kids and my husband like it very much, too. As stated in the video: My cucumbers in the garden can't grow as fast as my family is eating these Pickled Sweet & Sour Mustard Cucumbers.
Video Instructions for Pickled Sweet & Sour Mustard Cucumbers
Pickling for Beginners
Let's be honest: Who is still pickling when there is the invention of freezers? I am usually not up for the pickling challenge and making jams is as far as things in jars go for me. But the taste of these cucumbers is worth making an exemption and maybe – just maybe – I will do more pickling in the future so I don't have to freak out every time we have a longer power outage here in Houston.
So, since I am not into the whole "can it, boil it, use a preasure pot …" thing, this is a surprisingly easy canning project that even a total beginner can manage. And in fact, the result is edible after just a few days and has the most delicious taste! All you need to do is preparing the cucumbers (peel and remove seeds) and then bring the mixture from vinegar, water, sugar, salt, and spices to a boil and put everything into jars. Done! It's so easy, it almost feels wrong.
Pin to Pinterest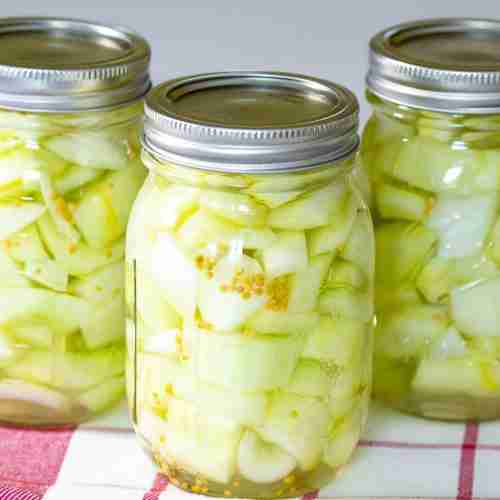 Pickled Sweet & Sour Mustard Cucumbers
Ingredients
Pickling
1

kg

cucumbers

250

g

sugar

250

ml

white vine vinegar

250

ml

water

1½

tsp

salt

½

tbsp

mustard seeds

1

large

onion

some

dill, optional

some

pickling spices, optional
Instructions
Preparing the cucumbers
Peel the cucumbers, cut them lengthwise into halves and remove the seeds.

Cut the cucumbers into smaller, bite size pieces and put them into a large bowl.

Use the 2 tbsp. salt and mix it into the bowl. Stir, cover, and let sit in the fridge over night.
Pickling
Remove the liquid from the cucumber bowl and wash off the salt from the cucumbers.

In a saucepan, mix the vinegar, water, sugar, salt, mustard seeds and optional other spices and bring to a boil.

Let boil for three minutes.

Cut the onion into chunks.

Layer the onion and cucumber alternating into the jars. If dill is used, put it in, too.

Fill the vinegar mixture into the jars, all the way up to the rim.

Close the jars, place upside down and let cool completely.

Store in teh fridge and start eating after a couple of days or up to 6 month later.