Pfeffernüsse, or Peppernuts in English, are typical Christmas cookies in Germany and the pepper is not just in the name!
Along the spice trading route, which went through the city of Nüremberg, spiced cookies were created and peppernuts are one of these cookies. While today there are many, many recipes that contain no pepper and no nuts, my recipe still contains pepper. It does not have nuts though, while other recipes have almond flour as an ingredient. However, I believe that my recipe is very close to the original peppernuts from the 18hundreds. Proof of that is one of the ingredients, called "Hirschhornsalz" (Bakers Ammonia).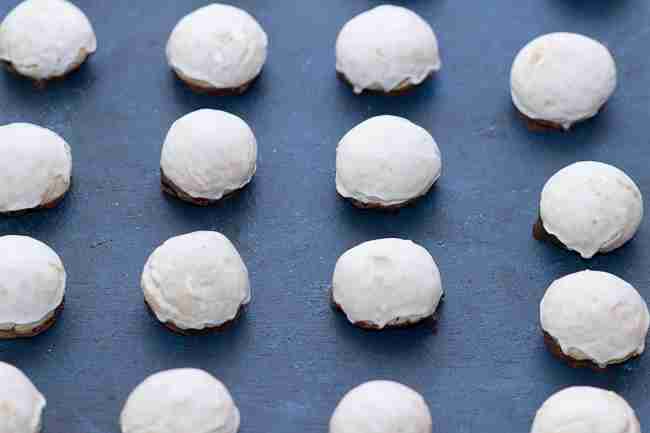 Hirschhornsalz = Bakers Ammonia = Ammonia Carbonate
What on earth is Hirschhornsalz? … you might ask. If I translate the name word by word, it would say Deer Antler Salt and that's basically what it was originally made of. They used to make this from the antlers of deer … back in the days. But not anymore and that's probably for the best.
The use of Bakers Ammonia is as a raising agent in baking, somewhat similar to baking powder. But baking powder wouldn't do the job here because the dough is very heavy – too heavy for baking powder. While modern recipes often switch the Bakers Ammonia out for baking powder, it is important to know that it's not the same thing and that Bakers Ammonia is in general the better choice. It also adds to the taste. On that note: It doesn't smell that good and was therefore also used to wake fainted women by letting them breathe it in.
Bakers Ammonia is usually not found in stores but can be ordered online: Bakers Ammonia at Amazon
How Much Pepper?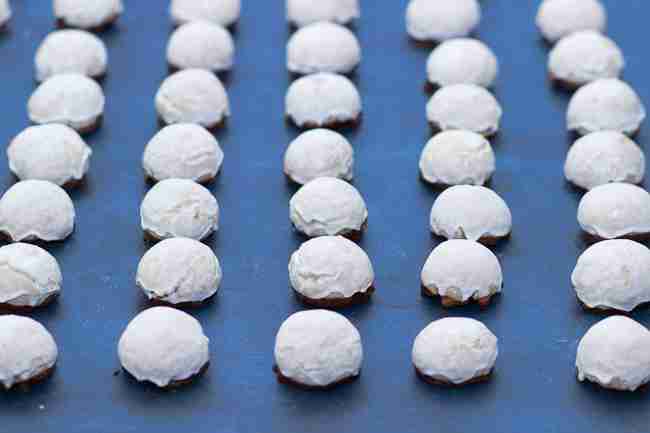 My recipe has 1/2 tsp of pepper in it but I want you to know that for some it might be too much. It leaves a little bit of a tingling sensation on the tongue. I like it that way but my husband said it was a bit too much pepper for his taste. Well, everyone is different and has different taste.
Storrage of Peppernuts
Right out of the oven, peppernuts are wonderfully soft and delicious and I always eat some just like that. But who could eat 80+ peppernuts? I for sure can't and they are not finished when they are baked. Traditionally, in Germany, they are glazed and optionally also dipped in some chocolate. Once that is done, they need to be stored in an air-tight tin in order to not become rock hard. It is even better if you add an unpeeled orange to that tin. Over time, the peppernuts will even increase their aroma. Make sure you replace the orange before it goes bad. You can also stick some cloves into the orange for some extra aroma.
Pin Peppernuts / Pfeffernüsse to Pinterest
Pfeffernüsse – Peppernuts
Traditional German Christmas Cookie
Ingredients
Dough
5

Eggs

300

g

Light Brown Sugar

200

g

Sugar

regular

1

Lemon

zest of it

1

pinch

Salt

¼

tsp

ground Cinnamon

¼

tsp

ground Nutmeg

¼

tsp

ground Ginger

¼

tsp

ground Allspice

¼

tsp

ground Cardamom

¼

tsp

Gingerbread Spice

recipe on this blog

½

tsp

ground White Pepper

60

g

candied Lemon Peel

60

g

candied Orange Peel

3

g

Ammonium Bicarbonate

(Baker's Ammonia)

20

ml

Rum

750

g

Flour

All Purpose
Frosting
250

g

Confectioners Sugar

2

tbsp

Milk

plus some more if needed

some

Rum Extract

1

bar

semisweet Chocolate
Instructions
Use a mixer to whisk the eggs while slowly adding the brown and the white sugar. Whisk for about 10 minutes, the egg mass should be foamy and most of the sugar dissolved.

5 Eggs,

300 g Light Brown Sugar,

200 g Sugar

Chop the candied lemon and orange into smaller pieces. Add this and all the spices and the salt to the egg mass.

Grate the lemon skin for the lemon zest and add it to the egg mass.

Slowly mix the ingredients into the mass.

1 Lemon,

1 pinch Salt,

¼ tsp ground Cinnamon,

¼ tsp ground Nutmeg,

¼ tsp ground Ginger,

¼ tsp ground Allspice,

¼ tsp ground Cardamom,

¼ tsp Gingerbread Spice,

60 g candied Lemon Peel,

60 g candied Orange Peel,

½ tsp ground White Pepper

Dissolve the Ammonium Bicarbonate in the rum.

Switch to a kneading attachment and slowly add the rum and the flour to the egg mass. Knead just long enough to get a smooth dough.

3 g Ammonium Bicarbonate,

20 ml Rum,

750 g Flour

Cover the dough and let rest in the fridge for one hour.

Preheat the oven to 180°C / 350°F.

Remove the dough from the bowl and shape it into a log. If the dough is sticky, add a little flour.

Cut the log into 4 even pieces and shape each piece into a thinner log.

Cut slices of the size of a hazelnut from the log and repeat with the entire dough.

Shape each slice into a sphere and set it on a baking sheet with parchment paper. Keep some distance between the spheres since they will get larger during baking.

Bake for about 16 to 20 minutes – the time is up when the Pfeffernüsse just start to get light brown.

Let the Peppernuts cool completely.

Mix the confectioner's sugar with the milk and rum extract. Dip each of the Peppernuts with the round side into the mix to glaze them. Leave the bottom as is. Let dry completely.

250 g Confectioners Sugar,

2 tbsp Milk,

some Rum Extract

Melt the chocolate (in the microwave or over a pot of hot water) and dip the bottom of the Peppernut into the chocolate. Put them on parchment paper and let set.

Enjoy!

1 bar semisweet Chocolate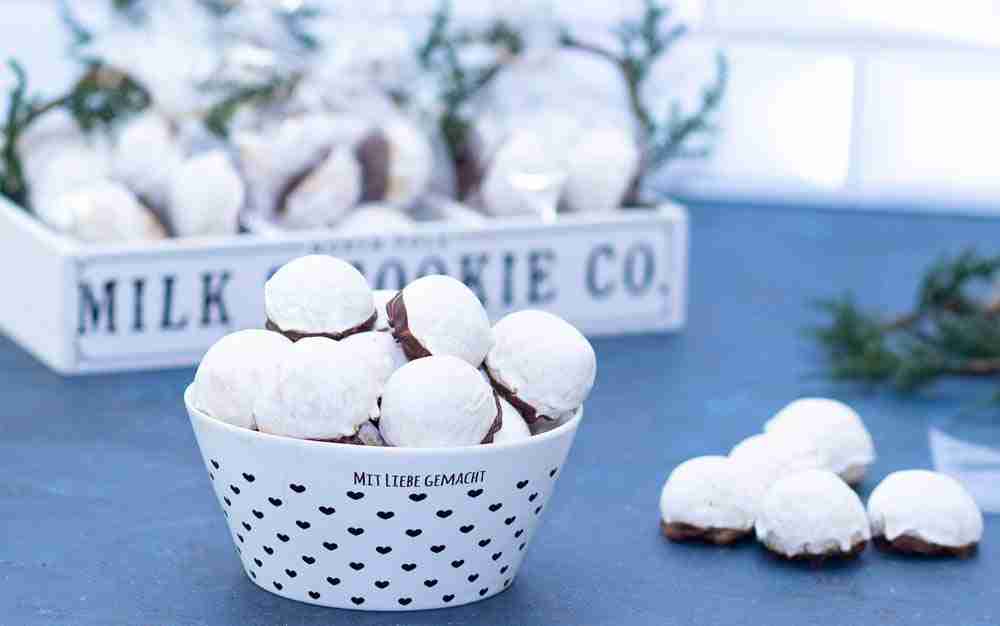 Summary
Recipe Name
Peppernut Cookies - German Pfeffernüsse Cookies
Author Name
Published On
Preparation Time
Cook Time
Total Time
Average Rating





Based on 1 Review(s)