A beloved Fall recipe from Hamburg is Pears, Beans & Bacon. My grandmother made this every Fall and everyone enjoyed the sweet and savory taste of this easy dish.
Pears in Germany
We have the same pears in Germany as those that I find here in Texas but there is also a kind of pears that I have not seen here: Cooking Pears (Kochbirnen). They are small, firm pears with a sweet taste. We use those pears for cooking and they keep their shape so we don't cut them. We only remove the little fluffy part on the bottom, that's it.
Video: How to Make Pears, Beans & Bacon
The Dish "Pears, Beans, and Bacon"
"Birnen, Bohnen und Speck" which translates to "Pears, Beans, and Bacon" in English, is a traditional German dish that reflects our country's rich culinary heritage. This hearty and savory meal is particularly popular in the northern regions of Germany, such as Lower Saxony, Hamburg, and Schleswig-Holstein. Here, ingredients like beans and bacon have a long history of being staples in the local diet.
The dish is relatively simple to prepare, yet its flavors are deeply satisfying. It typically consists of green beans, fresh or canned, paired with ripe pears and cooked bacon. The beans are sometimes stewed with onions and seasoned with salt, pepper, and a dash of sugar for a hint of sweetness. The bacon is adding a smoky and salty dimension to the dish.
"Pears, Beans, and Bacon" is a harmonious blend of sweet, salty, and savory flavors, making it a delightful comfort food. We traditionally serve it as a main course, especially during the late summer and early Fall, when pears and beans are in season. This dish offers you a taste of Germany's rustic and wholesome culinary traditions. It continues to be cherished by both locals and visitors for its simplicity and deliciousness.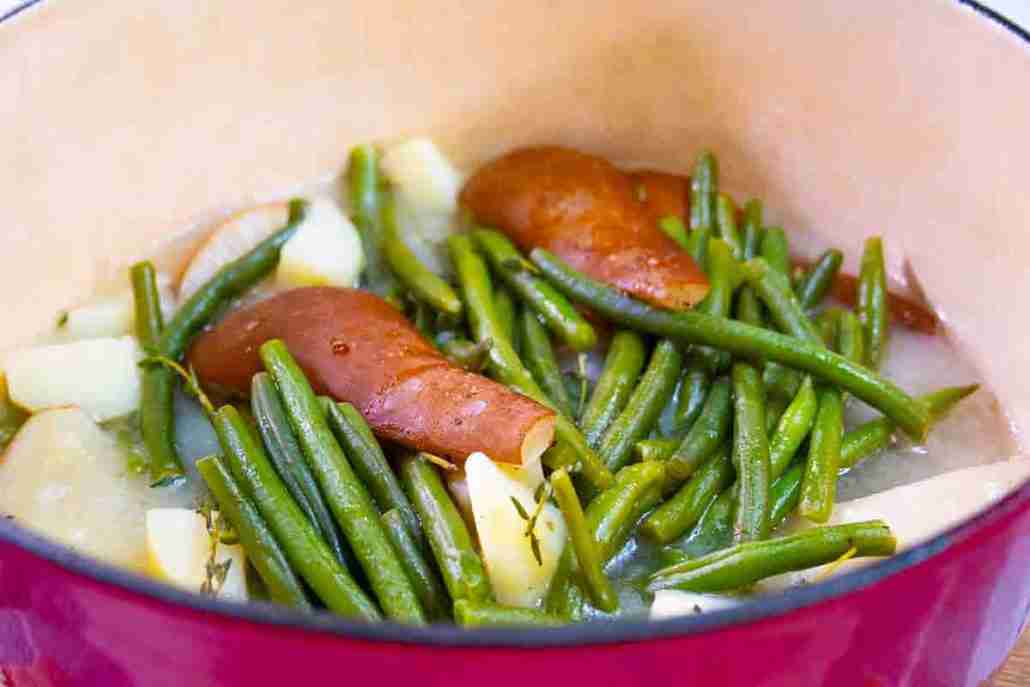 Variations of this Recipe
There are probably as many variations of this recipe as there are families in Northern Germany. Some boil the bacon with some onion, others add sugar or honey to the sauce, and a newer variation even contains chili peppers. So, if you feel you need this dish to have a personal twist, knock yourself out. This is just the basic, traditional version and you are free to make it your own! I'd be curious what you will come up with, so leave me a comment here or on my Youtube Channel about how you changed the recipe.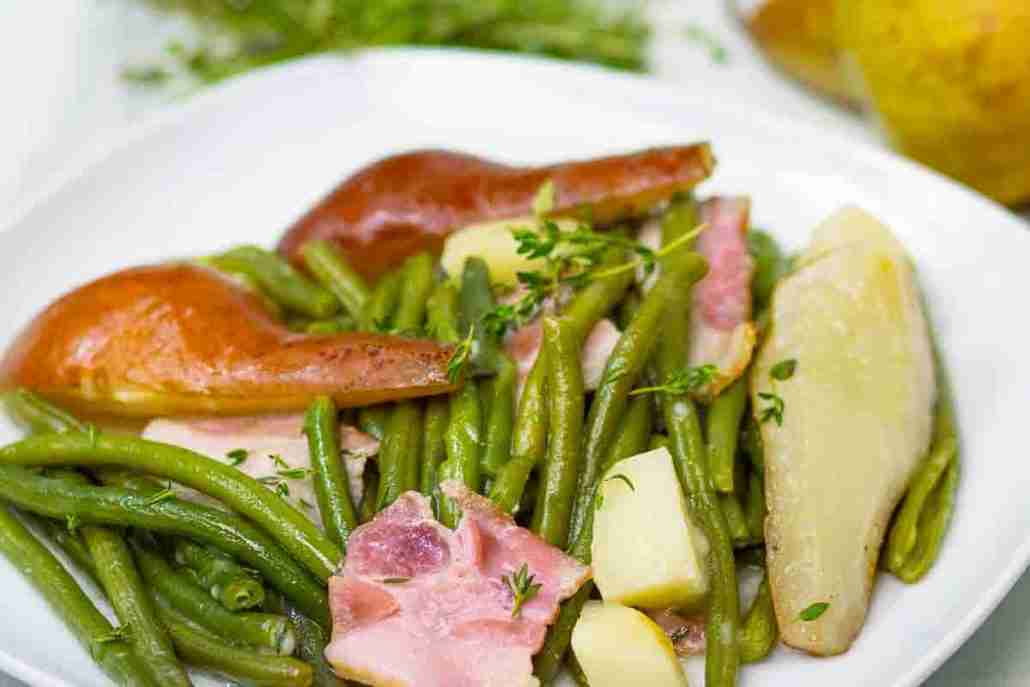 Link to the Nakano Knife
➡️ NAKANO knife: https://nakano-knives.com/mygermanrecipes
➡️ Nakano discount code: MYGERMANRECIPES
Pears, Beans & Bacon (Birnen, Bohnen & Speck)
Ingredients
400

g

Bacon

500

ml

Water

800

g

green Beans

500

g

Potatoes

some

Thyme

fresh, or Savory if you find it

6

Pears

2

Tbsp

Flour

some

Salt

some

Pepper

1

Bay Leaf

optional
Instructions
Cut the bacon into bite-size.

Pour the water into a large pot, add the bacon & bay leaf, and bring to a boil. Simmer for 5 minutes.

Meanwhile, prepare the beans, peel & cut the potatoes. Cut the pears into quaters and remove the core.

800 g green Beans,

500 g Potatoes,

6 Pears

Add the beans to the pot, creating a layer. Put the potatoes on top and then the pears onto the potatoes. Add some of the thyme.

Close the lid and boil for 20 to 30 minutes.

Add salt and pepper as needed. Optional, add some sugar.

Mix the flour with some cold water and add it to the liquid in the pot. Stir it in as good as possible and boil for a few minutes to slightly thicken the liquid.
Notes
Variations:
Some people add half an onion to the pot with the bacon, some people add a bit of sugar for a sweeter taste. 
Nutrition
Calories:
447
kcal
Carbohydrates:
62
g
Protein:
13
g
Fat:
18
g
Saturated Fat:
3
g
Polyunsaturated Fat:
11
g
Monounsaturated Fat:
4
g
Cholesterol:
1
mg
Sodium:
994
mg
Potassium:
906
mg
Fiber:
14
g
Sugar:
23
g
Vitamin A:
967
IU
Vitamin C:
40
mg
Calcium:
106
mg
Iron:
5
mg