With the recipe for German Pancakes, you can easily make filled Palatschinken. I learned this from my grandmother in Augsburg and she learned it from her cook who was from Hungary.
Palatschinken is a pancake filled with sweetened Quark (you can substitute cream cheese here!) and raisins (optional). It's a cheap meal and a kids favorite, great for hot summer days as well as for cold winter days. The video further below shows you how easy it is to make Palatschinken.
While we eat this as the main menu in Germany for lunch, I can imagine that Americans would love it for breakfast, too.
Since I understand that you might not be as obsessed with the ingredient "Quark" as we Germans are, this is one of the situations where you can just use cream cheese instead of the quark. In the video I mix the Quark with some cream but since cream cheese has already so much cream in it, I would suggest mixing this with milk instead of cream.
You will need the recipe for pancakes, which you can find here.
For the measure of the ingredients it is hard to tell how much you will need. It basically depends on how many pancakes you baked, which depends on how thick you made them and how large they are. For a rule of thumb I would think 2 – 3 cups of Quark or cream cheese should be enough. Mix it with powdered sugar to your taste – yes, dip your finger in there and check how much sugar you need!
Video: Apple Pancakes and Palatschinken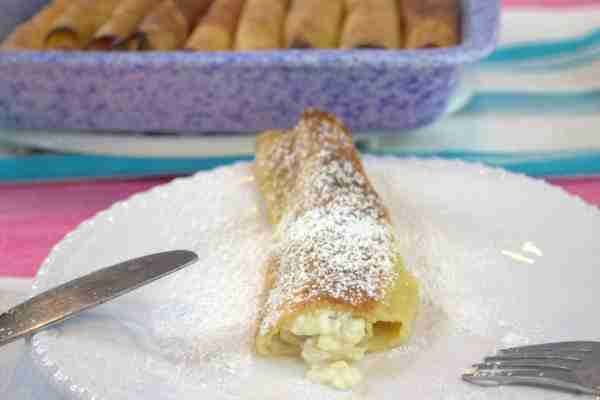 Palatschinken - Pancakes with Sweet Filling
Ingredients
2-3

cups

Quark or Cream Cheese

some

milk or cream

3

Tbsp.

confectioners sugar

(more or lesse as needed)

some

raisins, soaked in water

some

additional cream
Instructions
Soak some raisins in water or rum for at least an hour.

With the recipe for pancakes, bake a pile of pancakes.

In a bowl mix either Quark and cream or cream cheese and milk.

Add about 3 tablespoons of confectioners sugar (use more or less to your taste) and mix well.

Drain the raisins and add them to the filling.

Spread some of the filling on a pancake.

Roll the pancake and put it into a casserole.

Continue to do this with all pancakes.

Brush some cream on top of the pancakes once they are all in the casserole.

Bake at 375°F for about 15 minutes or until they get slightly brown on the top.

Serve with powdered sugar and maybe some apple sauce.