This recipe for onion pork might be the big hit at your next potluck. Easy to make and delicious in many ways, it is perfect to please a crowd. You can also often find this dish on German fairs and Christmas markets, prepared in a huge pan.
Video for Onion Pork
Onion Meat
One could call this recipe onion meat or onion beef or even onion chicken since it can be made with different kinds of meat. I like the pork version best and in some way, it is like the pulled pork here in the US.
Seasoning The Meat
You are of cause free to season this dish as you like but the seasoning in my recipe is how I like it best. I was using hot paprika and you can decide if you want to use mild paprika instead since not everyone is into spicy food.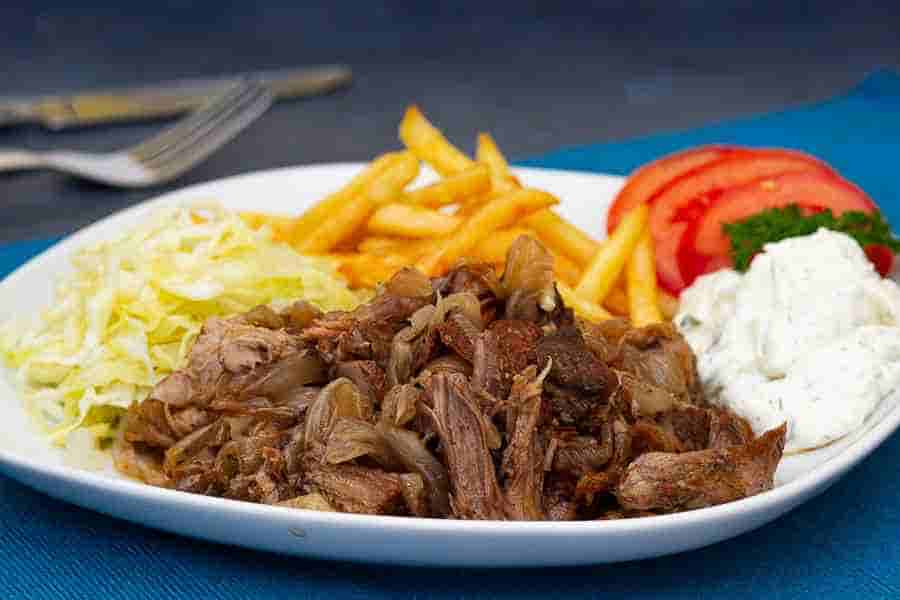 Once you have rubbed the seasoning onto the meat and have a leftover, don't throw it out since you can add it to the onions as well. Just mix it in with the other ingredients that are mixed with the onions.
Oven or Grill
It's your choice to either make this in the oven or on the grill. In Germany, this is often made on the grill. Both methods require the same temperature and time and also a large casserole or heatproof pan. I said it in the video, that there are large stainless steel pans that are perfect for this and I think the reason why someone called it "Sweden Pan" is because they can be purchased at IKEA – I just recently saw them there.
Serve it With …
There are many ways to serve this dish. I like it most as shown on the picture with fries, cabbage salad and tzatziki but you can as well serve it as a "Döner" which is a very common street food. To make a Döner (or Döner Kebab) the way you get it in Germany, you need to bake a Turkish Pide bread (recipe on the blog), cut it open, add some salad, the meat, some cabbage salad and tsatziki, and some slices of a tomato – absolutely delicious!
But this can also be served as a regular dinner meal with sides like rice or potatoes, and some vegetables.
On a party, were everyone helps themselves at a buffet, it is simply combined with any kind of salad that is available.
Pin this Recipe to Pinterest
Onion Pork / Onion Meat
Meat dish with either pork, beef or chicken
Ingredients
1,5

kg

Pork (from the neck)

or beef or chicken

15

Onions

cut inro rings or slices

3

cloves

Garlic

100

ml

Apple Cider Vinegar

300

ml

Red Wine

4

tbsp.

Sugar
Spice Mix
3

tbsp.

Paprika

mild or hot

1

tbsp.

Pepper

1

tbsp.

Caraway Seeds

ground

½

tbsp.

Salt
Instructions
Preheat the oven to 160°C / 320°F or prepare the grill to that temperature.

Cut the meat into slices.

Mix the ingredients of the spice mix and rub it on the meat (both sides).

In a large bowl, mix the onions, garlic and sugar.

"Knead" the onions while mixing the ingredients.

Put a layer of onions on a large, hight casserol, then place the meat on top and finish with a layer of onions on top of the meat.

Mix the vinegar with the wine and pour it over the meat and onions but don't use all of it, you might need less and can always add some when there is need for more while cooking.

Cook in the ovon for 1,5 to 2,5 hours (depending on the meat thickness)

You will know that the meat is ready to be taken out of the oven, when you can easily pull the meat apart with two forks. Then pull apart the entire meat and mix with the onions.

You can eat this i.e. with Kraut Salad (recipe on the blog) and tsaitsiki and fries, or in a bun with tsaitsiki, or with potatoes and steamed vegetables as sides.