Oktoberfest is all about beer, Brathändel (rotisserie chicken) … and Lebkuchenherzen (Oktoberfest Gingerbread Hearts)!
One could almost say that the Oktoberfest is some sort of Bavarian Valentine because it is a "must do" for the men to get their beloved girlfriend or wife a gingerbread heart with a nice writing on it.
Writings would be like "Schatzl" or "Spatzl" or another Bavarian word with the meaning like "darling". These Gingerbread hearts have a ribbon attached, so the women can wear them like a necklace.
An Oktoberfest treat for young and old
These hearts are quite expensive and I was really surprised how easy it is to make the dough and just bake them myself. If you make only a few of them, then the icing and writing aren't too much trouble either … it's just that I always make so many of them, that at the end my hands hurt from all the decorating.
I made a lot of them for one of our Oktoberfests, packed them in small bags and gave one to every child that came with their parents. They loved it! My hearts were smaller than the original Gingerbread Hearts, though. In Munich, they have about the size of an iPad.
Important to know about the Oktoberfest Gingerbread Hearts
Preparing the dough is a little uncommon with the melting of the sugar, honey, and butter but I swear, once the dough is ready it is the softest dough you've ever touched!
One important thing one must know is, that after baking and cooling, the hearts are sort of hard but that's OK. You need to put them in a tin jar for a few days and then they get nice and soft and ready to be eaten.
A German Christmas gift?
I really hope you try this, it's so much fun and some friends like them so much that I bake a large batch before Christmas as a gift for them.
Actually one finds Gingerbread Hearts not only at the Oktoberfest they also are on every Christmas market in Germany.
What to write onto Oktoberfest Gingerbread Heart in German / Bavarian
"I mog di" (I like you)
"Wiesn' Madl" (Oktoberfest is also called "Wiesn" which means meadow, so this can be translated to "Meado Girl")
"Herzl" (Heart)
"Wiesn Gaudi" (kind of refers to the fun you have at Oktoberfest which is also called "Wiesn", the German word for meaddow)
"Gib ma a Busserl" (Kiss me)
"O'zapft is" (means that the first barrel of beer has been opened)
"Fesches Madl" (beautiful girl)
"Du fehlst mir" (I miss you)
"Ich liebe Dich" (I love you)
"Wiesn Prinz" (Oktoberfest/ Wiesen prince)
"Shenk mir Dein Herz" )Give me your heart)
Other Ideas
Will you marry me?
Name of your girl
"Oktoberfest" (followed by the year)
Happy Birthday
It's a boy / girl
xx'th Anniversary
Be Mine
Forever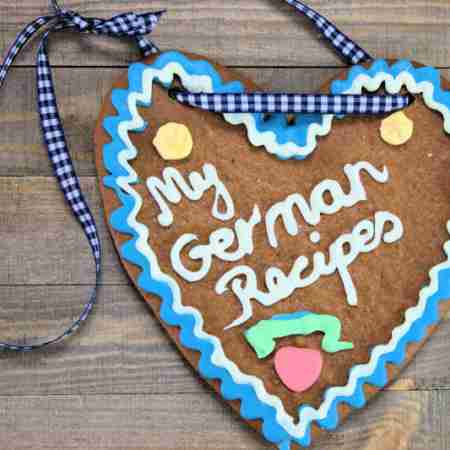 Oktoberfest Gingerbread Hearts - Lebkuchenherzen
Bake these Oktoberfest Gingerbread Hearts a few days ahead to give them time to soften.
Ingredients
300

g

honey

150

g

sugar

100

g

Butter

some

lemon zest

500

g

flour

2

tablespoons

cocoa powder

15

g

baking powder

(3 to 4 tsp)

½

teaspoon

cinnamon

1

pinch

salt

1

egg yolk

1

egg white

200

g

confectioners sugar

several

different

food colors
Instructions
In a sauce pan combine the honey, the sugar and the butter and melt (don't boil!).

In a large bowl mix the flour, cocoa, baking powder, cinnamon, salt and egg yolk and lemon zest.

Add the butter-honey-sugar mix to the dry mix and knead all to a nice, soft dough.

Roll out on a large surface and use a heart cookie cutter for smaller hearts or use a larger heart shape to cut out a larger heart.

Place the gingerbread hearts on a baking sheet and bake at 350°F for about 11 to 12 minutes.

After baking, let them cool and prepare the frosting.

Whisk the egg white and gradually mix the confectioners sugar to it until it is a nice, stiff texture.

Divide into several different batches and add different food colors to each batch.

Fill into piping bags with apropriate tips and decorate like in the pictures.
Notes