Look at these sweet beer mugs: I can't believe it's not beer! Two Jell-O flavors mixed and then topped with a divine lemon cream! Looks like real beer, right? The absolute perfect Oktoberfest dessert!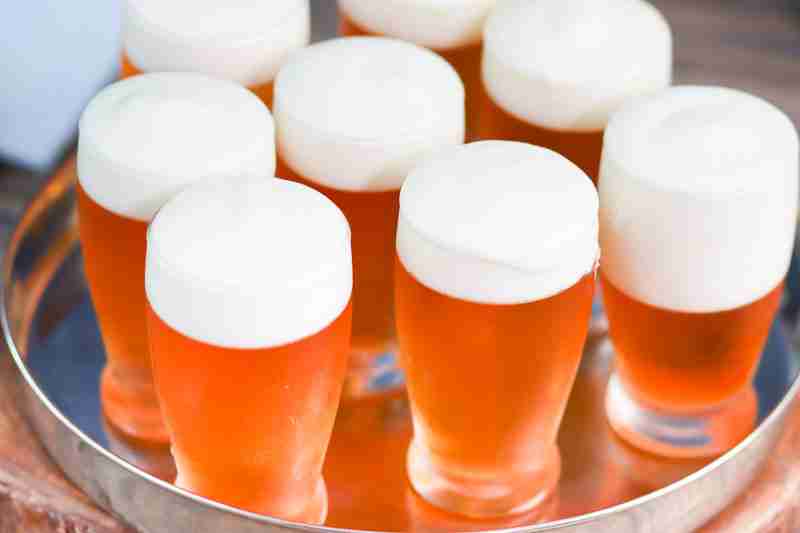 Video How To Make Oktoberfest Dessert "Beer Mug"
I got some little glasses at Dollar Tree. They are "Dessert Glasses", $1 for three. I used them in the years before for this Oktoberfest dessert but recently found some tiny beer glasses at Target and now use them instead. If you are looking for little beer mugs, here are some at amazon: https://amzn.to/3RtjBXt
The "Beer" is simply a mix of lemon and apricot Jell-O and if you would like your beer to have a lighter color, just use lemon Jell-O allone. The foam on the "beer" is a wonderful fluffy German lemon cream. Now, if you would like to have your beer dessert taste like beer, you can simply substitute the cold water for the Jello-O with some stale beer and use only lemon flavor for the Jello.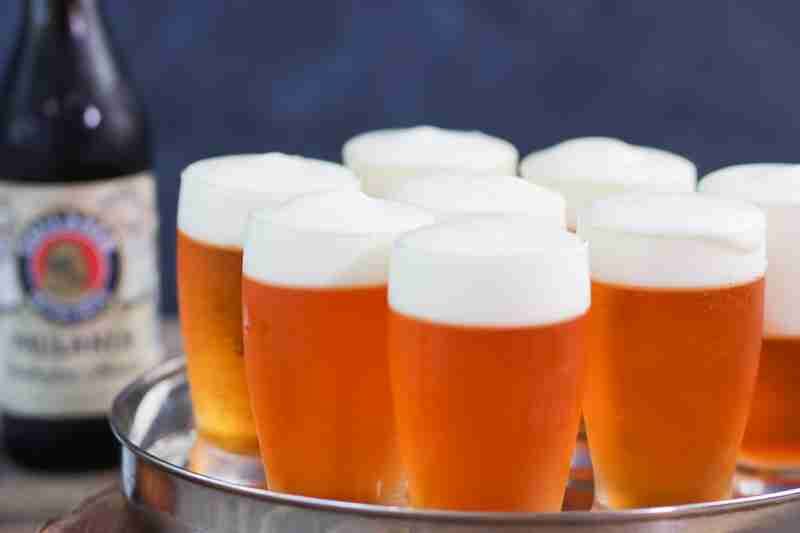 There is not much to tell about how to make the Jell-O. You simply follow the instructions and then fill the glasses up to about 1/2 inch under the rim. Put them in the fridge and let them get solid.
The lemon cream I had to figure out how to do it with US ingredients since our German Gelatine comes in sheets and needs to be soaked while here in the US the Gelatine is a powder. I figured it out: 4 sheets of gelatine equal 2 tsps. of powdered gelatine. So here you have the perfect Oktoberfest Dessert for your beer party, enjoy!
Pin Oktoberfest Dessert "Beer Mug" to Pinterest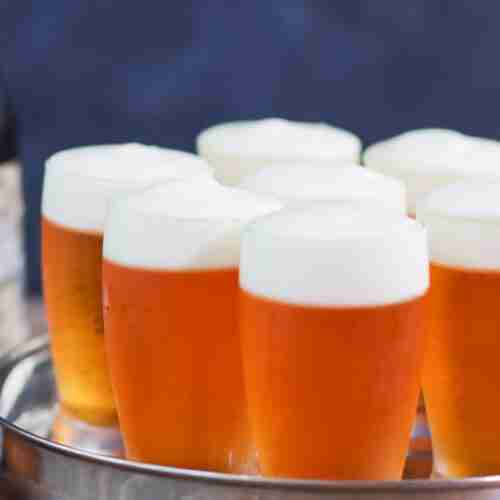 Oktoberfest Dessert Beer Mugs
It's not beer … it's a dessert!
Ingredients
1

package

Jell-O Peach

1

package

Jell-O Lemon

some

water (or optional also beer)

2

tsp

Gelatine

(or 4 sheets)

150

ml

lemon juice (about 1 1/2 lemons)

150

g

sugar

150

g

yoghurt

300

g

wipping cream
Instructions
Use the Jell-O according to package the instructions. Optional: Use stale beer instead of the cold water.

Fill the Jello into the dessert glasses, leaving a little bit of space to the rim of the glasses. Chill in the fridge for about 4 hours or until solid.

1 package Jell-O Peach,

1 package Jell-O Lemon,

some water (or optional also beer)

Put the lemon juice in a small saucepan and sprinkle the gelatine on top. Let soak for a few minutes.

2 tsp Gelatine,

150 ml lemon juice (about 1 1/2 lemons)

Stir in the 1/2 cup sugar.

Heat the juice just enough to let the sugar and gelatine dissolve but don't let it get too hot, otherwise it won't gel later.

Let cool down, then add the yogurt, stir and put into the fridge.

When the mass starts to become slightly solid, whip the cream and mix it with the mass.

Create an even cream.

Spoon or pipe the cream on top of the "beer". If it's too liquid, let it chill in the fridge for a bit to gel a little more.

Put in the fridge until solid.

Serve cold!
Notes
For the servings, it depends very much on the size of the glass you use. It can be anything between 6 and 12 glasses of this dessert. Just test how many of your beer glasses you can fill from 4 cups of water.
If you live outside the US and don't have Jell-O, just use any other brand of Jelly.
Happy Oktoberfest!
Nutrition
Calories:
303
kcal
Carbohydrates:
41
g
Protein:
6
g
Fat:
14
g
Saturated Fat:
9
g
Polyunsaturated Fat:
1
g
Monounsaturated Fat:
3
g
Cholesterol:
43
mg
Sodium:
119
mg
Potassium:
58
mg
Fiber:
0.1
g
Sugar:
39
g
Vitamin A:
563
IU
Vitamin C:
8
mg
Calcium:
49
mg
Iron:
0.1
mg