In my last video about Pretzel Muffins, you heard me mentioning Obatzda and maybe you were wondering what that is. Now, it is basically a cheese spread that people in Bavaria often enjoy with a pretzel or on some bread.
Obatzda is mainly made from Camembert and Butter, some spreadable cheese is added and it is spiced with Paprika and Onions and some more things. So they're pretty basic things which get mushed together and the process of mushing the ingredients is usually made by hand and called obatzten.
Where does Obatzda come from?
This is a recipe from Bavaria, the part of Germany where you find Munich. It was originally a recipe to use soft cheese that has become too ripe and too strong in its taste. With the help of butter, it gets softened in its taste. Spices add to the taste and the onions give it the right kick. Some people also add Caraway Seeds. It is really optional and I am not a big fan of it, so I leave it out.
How to eat it
The best way to eat it, is cutting a fresh pretzel open and spread it between the slices, add some chives on top and enjoy with a glass of beer. The Pretzel Muffins from my last recipe are perfect for this, too!
But I know you won't always have a fresh baked pretzel, so here are some other ways, we enjoy this delicious cheese spread:
Spread it on some bread or rolls.
Dipp little pretzels or crackers in it.
Cut radish into halves and dip it into the Obatzda.
Enjoy it with some freshly boiled potatoes.
If the taste is too strong
Sometimes the Camembert has a very strong taste. In that case, it is advisable to use cream cheese instead of the butter, to make the taste milder. You can also add more of that cream cheese to further reduce the camembert taste. Adding some beer also helps.
If the smell is too strong …
… then I hope you have a balcony and that your neighbors don't live too close. No, seriously, this cheese needs to be kept in an airtight container – I find that glass containers work best. Some people make their Obatzda with Limburger cheese – which will definitely send the biohazard crew to your house ;-) just hang in there and eat your Obatzda as soon as possible
.
Adding beer to the Obatzda
If your Obatzda is not very spreadable, add some beer to the mix. It is great for the taste and helps to make the Obatzda soft. I especially advise you to add some beer if you plan to keep the spread in the fridge: The butter will turn it into a big hard mass, that is not very spreadable when you take it out. The beer helps to keep it soft and spreadable at any time. If you don't have beer, add some cream or a little bit of carbonated water. Mix it in with an electric mixer until it has become a smooth mass.
Adding Spreadable Cheese to the Recipe
The spreadable cheese can be found at groceries here in Texas but I am not sure if that applies to every region from where people are watching/reading. Because of that, I showed in the video, how to make homemade spreadable cheese. It is pretty simple and you will find the recipe further down below the Obatzda recipe.
Adding the Onions
You should add the onions right before serving the Obatzda, otherwise the onions and with it the entire spread will become bitter after a while. Some ways to avoid that:
Set the onions next to the Obatzda, so everyone can add them individually and the leftover of that delicious spread can go back into the fridge without becoming bitter.
Use scallions instead of onions.
Fry the onions before you add them to the Obatzda – but that will also take some of the desired "zing" from their taste.
Love it or hate it
If you never liked Camembert, this is probably not for you. Although I know a lot of people who go wild for Obatzda, there are also a lot of people who can't stand it. So, if you do this the first time and you are not sure about it, maybe start with a smaller batch. If you taste it and you don't like it, just ad a lot of cream cheese and see how you like that. Maybe add some garlic (everything is better with garlic!) if you feel that it would be a good idea.
Pin this Obatzda Recipe to Pinterest
Obatzda Recipe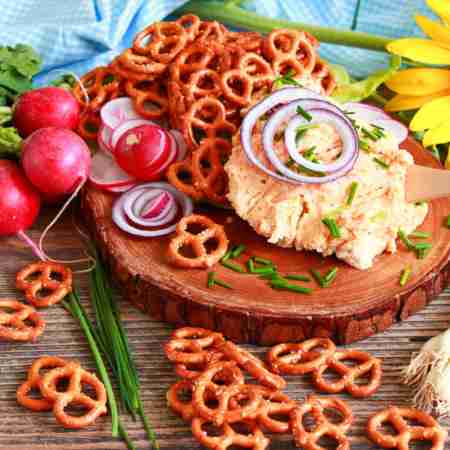 Obatzda Recipe
Ingredients
250

g

camembert, very ripe

30

g

spreadable cheese

75

g

butter, soft

1

medium sized onion (or scallions)

some

paprika

some

salt

some

pepper

some

beer (German Oktoberfest beer, if possible)
Instructions
In a bowl, combine the Camembert, the butter and the spreadable cheese and mix everything with a fork.

Mix with an electric mixer now or use an immersion blender.

If the spread is too thick, add some of the beer and mix a little more.

Spice with paprika to your liking.

Add salt and pepper to taste.

Cut the onions very finely, either add them to the spread if you want to eat it now or do this step right before you plan to serve the Obatzda.
Homemade Spreadable Cheese (Schmelzkäse)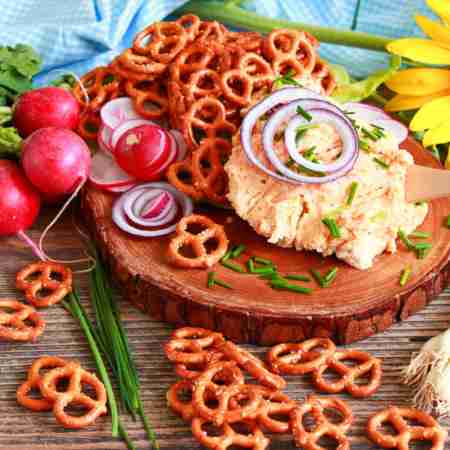 Spreadable Cheese
Ingredients
65

g

Cheese (leftover cheese like parmesan, gouda, ...)

25

ml

heavy Cream

2-4

tsp.

Butter

2-4

tsp.

Creme Fraiche
Instructions
If the cheese isn't grated, cut it as small as possible.

Add the cheese with the butter and cream into a small sauce pan and let it melt over medium heat.

When the cheese is melted, turn out the stove and add the Creme Fraiche and stir until a smooth mass is created.

For the Obatzda you will only need 30g of this cheese, use the remaining cheese on bread.